New month, new network and DEX announcement!
Last month we added support for the Avalanche and Polygon networks to Dispatch, along with Pangolin, Trader Joe and QuickSwap DEXs — providing Avalanche and Polygon communities an easy way to get custom crypto market alerts and data streams. Today we welcome the Binance community, with the addition of BSC and PancakeSwap!

Update 8/3/23: We're discontinuing BSC and DEX pairs Trigger for now to focus on other networks.
Want us to bring BSC back? Let us know

In the meantime, exciting news! Dispatch's Event Monitor Trigger is now live!
Our goal is to help crypto communities and projects advance by providing fast, powerful alerts and data. A crucial part of that is continuing to expand the networks and dApps we support. With the constant influx of new projects and trading activity, it can be tough to keep track of the data you need to initiate your next move.
What is BSC?
BSC is short for "BNB Smart Chain", formerly "Binance Smart Chain" — Binance's EVM (Ethereum Virtual Machine) compatible blockchain network.

BSC is one of two chains comprising "BNB Chain", the other being BNB Beacon Chain (formerly "Binance Chain") — limited to network governance (staking, voting). Dispatch currently supports activity on BSC.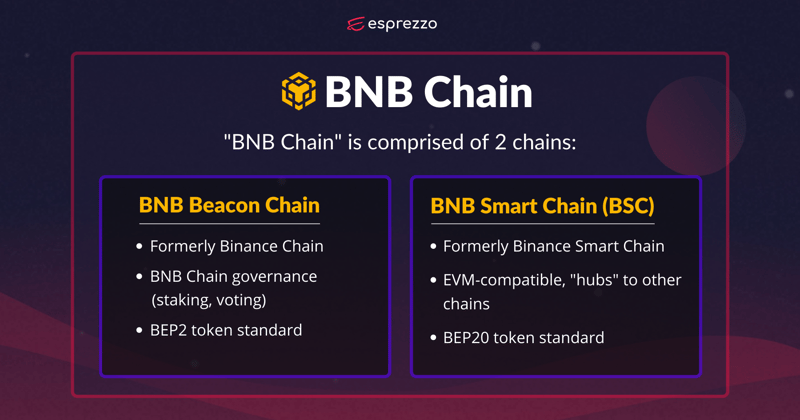 BSC being EVM-compatible is advantageous since it facilitates the connection of the Binance world to Ethereum's tools and dApps.
Why BSC?
When we first integrated the Ethereum network, we knew we didn't want to stop there. We've added and will continue to add support for more chains to make Dispatch more useful to more people. Given how much activity there is on BSC and PancakeSwap alone, adding BSC to the list of networks we support was a no-brainer.

Here are a few advantages of Binance Smart Chain:
Speed: per Cointelegraph, BSC block times are around 3 seconds compared to Ethereum's 2-14 seconds
Lower gas fees: cheaper transactions and cheaper to build on when compared to Ethereum
EVM-compatible: being compatible with Ethereum brings several advantages: (1) a potentially bigger community of developers and dApps coming from the Ethereum ecosystem (2) increased token liquidity and utility.
BSC Alerts on Dispatch
The BSC Dispatch integration means you can get alerts for the following via Discord, Telegram and email:
Address balance changes and threshold crossings for BNB and top BEP-20 tokens
New PancakeSwap

pools
Get PancakeSwap crypto alerts
This brings us to the next exciting part of the announcement! With the BSC integration, we've added PancakeSwap support to Dispatch as well. Being one of the highest volume DEXs across chains, PancakeSwap is very active with new markets and tokens constantly being added; staying on top of all the new opportunities can be a pain. With Dispatch, finding out about new PancakeSwap trading pools is a piece of cake 😋.
Popular features of PancakeSwap
PancakeSwap is the largest DEX (decentralized exchange) on Binance Smart Chain and consistently one of the top DEXs across chains in trading volume.
The PancakeSwap DEX features:
Trading
Yield Farming
IFOs (initial farm offerings)
Trading competitions
Lottery opportunities
An NFT marketplace
If you're interested in trading on PancakeSwap, you can learn how to do it here.
See how easy it is to create your own PancakeSwap alerts:
Tip: adding a minimum liquidity to your DEX alerts can filter out some of the noise
Have you ever wanted an easier way to get automated crypto alerts and data from multiple chains? Well, now you have it. We're building Dispatch to be your multi-network hub for crypto alerts and data streams, and we're just getting started! Wallet monitoring and new DEX pairs are just the beginning.
Currently, access to the Dispatch beta is by invite only. Want an invite? Get on the waitlist! We're sending out our next round of invites soon.
We're always excited to hear your feedback and are happy to answer your questions. If you're looking for other alerts or data sources, we'd love to chat with you on Discord!
Related reading
Legal Disclaimer
This content is for informational purposes only; you should not construe any such information or other material as legal, tax, investment, financial, or other advice. Nothing contained on our site constitutes a solicitation, recommendation, endorsement, or offer by Esprezzo or any third party service provider to buy or sell any securities or other financial instruments in this or in any other jurisdiction in which such solicitation or offer would be unlawful under the securities laws of such jurisdiction.