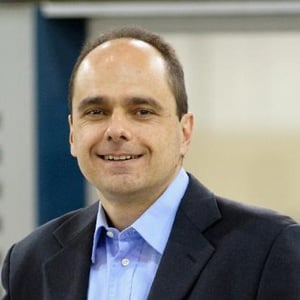 The Esprezzo community continues to grow, and you can now add Aizoon USA Inc. President Rob Dolci to that community.
We are excited to announce the addition of Rob to the team, as he brings over 25 years of success in the manufacturing, processing, and technology industries. His experience lies in supporting companies seeking improvements in their manufacturing and distribution process via new technologies. And he is currently consulting companies on how to adopt blockchain to improve track and trace operations.
Read on to find out why Rob believes Esprezzo can enable new blockchain-based supply chain management solutions.
What aspects of Esprezzo encouraged you to join the company as an advisor?
Primarily the impression of a group focused on developing a pragmatic solution to several questions that any blockchain developing team has to tackle. Other larger companies at this stage seem more dispersed than Esprezzo.
How would you describe your overall role within the blockchain and crypto communities?
I support companies looking to improve their operations via new technologies, primarily in the manufacturing and distribution processes. In this role I am often required to opine or to support the test and adoption of new technologies, and to do so I need to be an early adopter most times. This has led me to support several companies as they pilot and start some blockchain projects to improve their track and trace operations.
What are the greatest barriers you see to large-scale adoption of the use of blockchain technology in industry?
At this stage there is so much hype — fueled in part by media reports on cryptocurrencies — and this pulls businesses in opposing directions: the fear of being left behind vs. the fear of being the guinea pig. The hype and lack of standards is the greatest barrier to a rational, orderly adoption of blockchains.
From your point of view, what excites developers most about building applications on blockchain?
The developers I deal with most often are excited by the ability to unearth new paradigms and develop cases that were not possible before.
Looking specifically at supply chain management, where do you see a product such as Esprezzo making the greatest impact on efficiency and productivity?
The ability to cache lots of data and not be bogged down in terms of processing time and resources is huge when considering supply-chains run on razor thin margins and transactions need to be executed very reliably in a few seconds. A distribution center makes very little money, and therefore cannot afford to stop or lose any productivity.
I believe Esprezzo can enable the implementation of new blockchain-based Supply Chain Management (SCM) solutions in a correct manner.
Outside of supply chain management, what other industries using blockchain do you most closely follow, and why?
I helped three separate startup companies move their first steps in the field of digital healthcare and one is focused on blockchains to achieve a better control of one's medical records. More generally, in my view, the control and sharing of medical records is a great case for blockchain application.
In considering the people and teams that make up early ventures in the blockchain/crypto space, what qualities do you feel people/groups need to possess in order to be successful?
One important quality is experience with other traditional technologies. This helps you avoid the syndrome of "when you have a hammer, everything looks like a nail." In other terms, when pushing any technology — in this case blockchain — as the panacea for any and all problems, you have to deliver on that message. Looking at VR, AR and IoT, the hype machine has led to extremely emphatic statements about how we can solve this, that, and just about any problem under the sun.
If you take a step back, you see that in the last three years there are very few real projects and these spaces are still very slow moving.
You need to have laser-focused targeting of this technology to drive faster and more durable adoption.