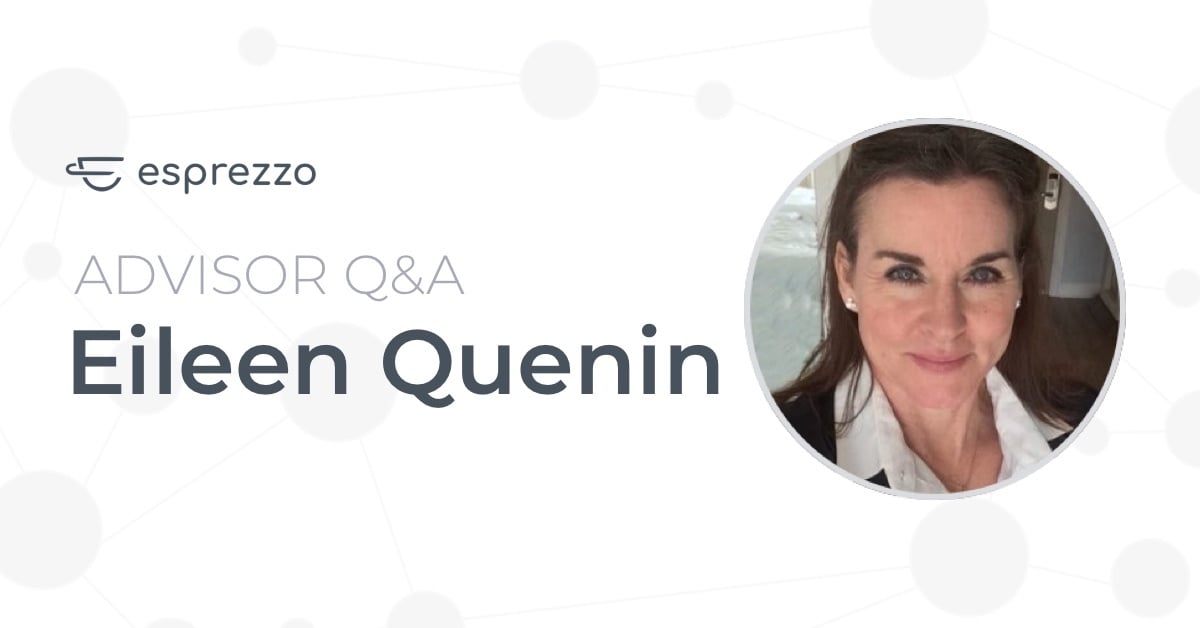 We're excited to introduce another member of Esprezzo's growing advisory board, Eileen Quenin. Eileen played a key role in bringing Dragonchain to where it is today and is a huge proponent of blockchain technology and the new business models it enables. With expertise in the UX and Information Architecture fields and experience at The Walt Disney Company, Amazon, GE Healthcare and LexisNexis, Eileen brings a wealth of knowledge to the team.
We recently sat down with Eileen for a Q&A so we could share some of her perspectives and experiences with you.
Read on to learn about her experiences with blockchain technology so far and what excites her about the future.
What about Esprezzo encouraged you to join as an advisor?
Being asked to join Esprezzo as an advisor afforded me an exciting opportunity with a company that is taking a pragmatic approach in the blockchain and realistic understanding of the crypto space that I'm genuinely interested in.
This space is moving at lightning speed and there's an urgent need for technologists who aren't full-stack DevOps and don't have cryptography experience to work on blockchain.
Remy's team discovered this while working on migrating their product CampusTap to blockchain. They have a clear understanding of the problem they themselves faced and set out to solve it.
Getting to know the team and learning more about the other advisors convinced me that Esprezzo was on the right track. It was clear they had the team in place to execute and I genuinely like them as people.
This next year will be an exciting challenge to come to grips with the more pressing needs in uses cases such as identity, supply chain, IoT and the real-world business-facing side of blockchain and token economics.
I want to learn more about how to make blockchain-based solutions work from a corporate standpoint, and about the regulatory and financial hurdles that seem to come up daily.
Overall, I want to keep gaining knowledge whilst I'm sharing my experience with the team, and I'm certain being among such intelligent and accomplished individuals will afford me that opportunity.
How would you describe your journey and experience within the blockchain and crypto communities?
I'll be frank: it's been arduous and deeply satisfying. Having started a scrappy little project during my time at The Walt Disney Company, growing that into a successful open source project, then working with Dragonchain to further that endeavor has taken many long hours and a huge amount of effort. Going on roadshows and conferences has been fantastic and I've met incredible people who have blown my mind. I have not felt this kind of energy for a very long time. It's been deeply rewarding. I can't wait to do more with Remy and Esprezzo, and dig deeper into this emerging space
What are the greatest barriers you see needing to be overcome for blockchain technology to be adopted by businesses?
As is often the case in tech, and especially so with blockchain, there is a dearth of talent. It's difficult to find qualified technologists. Then, of course, there is the issue with scaling.
Esprezzo recognizes this. Early on, working through many concepts with a seasoned and cohesive team has put them ahead of the curve. Because they are solving a problem they themselves had, they are keenly aware of what is needed.
They understand the immediate need for ways to deal with the issues of scaling and I like their rationale and approach.
From your point of view, what excites developers most about building applications on blockchain?
As is often the case, top talent is drawn to the latest and greatest. In the case of blockchain, it's that and so much more.
Business minds have woken up to the tsunami that is blockchain and they are connecting the dots. This is the next evolution of the internet. This how we will solve some of the most pressing issues of our time.
Privacy, security, transparency, connectivity, how we can handle things like the industrial Internet of Things, advancements in machine learning and exciting opportunities not yet imagined.
These are heady times.
Where are you seeing the biggest potential for blockchain to improve efficiencies across different industries?
I am most interested in how blockchain can be used in government in terms of transparency and eliminating inefficiencies, and cost savings, which of course translates to improved lives of ordinary people.
That, and of course IoT, device orchestration and big leaps in machine learning.
Where do you see Esprezzo making the greatest impact?
I mentioned how Esprezzo is starting out by recognizing and solving a problem that they themselves needed to solve:
The need for more accessible and scalable ways to develop on blockchain. This will be huge.
Esprezzo's recognition and courage to address a problem they were experiencing, harkens back to my remembrance of my time at Amazon. In the early 2000s, they were struggling with their e-commerce systems scaling.
They had to build systems to deal with the hyper-growth they were experiencing. Once they had achieved this, they recognized they were pretty good at running infrastructure services. To me, this is a similar story to Ezprezzo. They build their platform and APIs out of need, and they have to be as lean and efficient as possible.
What new business models do you see blockchain enabling?
Wow. So many, but I'll touch on one that was part of a brainstorming session I did with some University of Kentucky students looking at blockchain and the insurance industry.
I helped them craft ideas around how a traditional insurance business where a single owner or a central authority has control could be upended for the good of everyone and still be profitable.
This is counter-intuitive, but such ideas empower an ecosystem of mutual and cooperative models. I love that idea.
What UX trends or principles do you think are especially important for designing blockchain- or crypto-integrated products?
To me, starting any project one needs to recognize that it's about recognizing a need. It's about seeing an opportunity or a problem to be solved. That's User Experience.
If you follow the idea of solving a problem or exploiting a recognized opportunity and take it to its logical end, it's about a deep focus on the user.
It's about the humans. It's about the humans who are using, who are benefiting, and/or who are affected by the system. Esprezzo's middleware address those users (developers) who are building on blockchain.
Developers, product owners, designers, business owners, entrepreneurs will be building apps for any number of products, services, new economic models and knowing the participants on a deep level is key. So, we are talking about human-to-human transactions, we are talking human-to-machine, we are talking machine-to-machine economies.
Is there anything else you'd like to share?
Just how grateful I am to be part of this project. I love the community and have such respect for the team and the advisors. I can't wait!