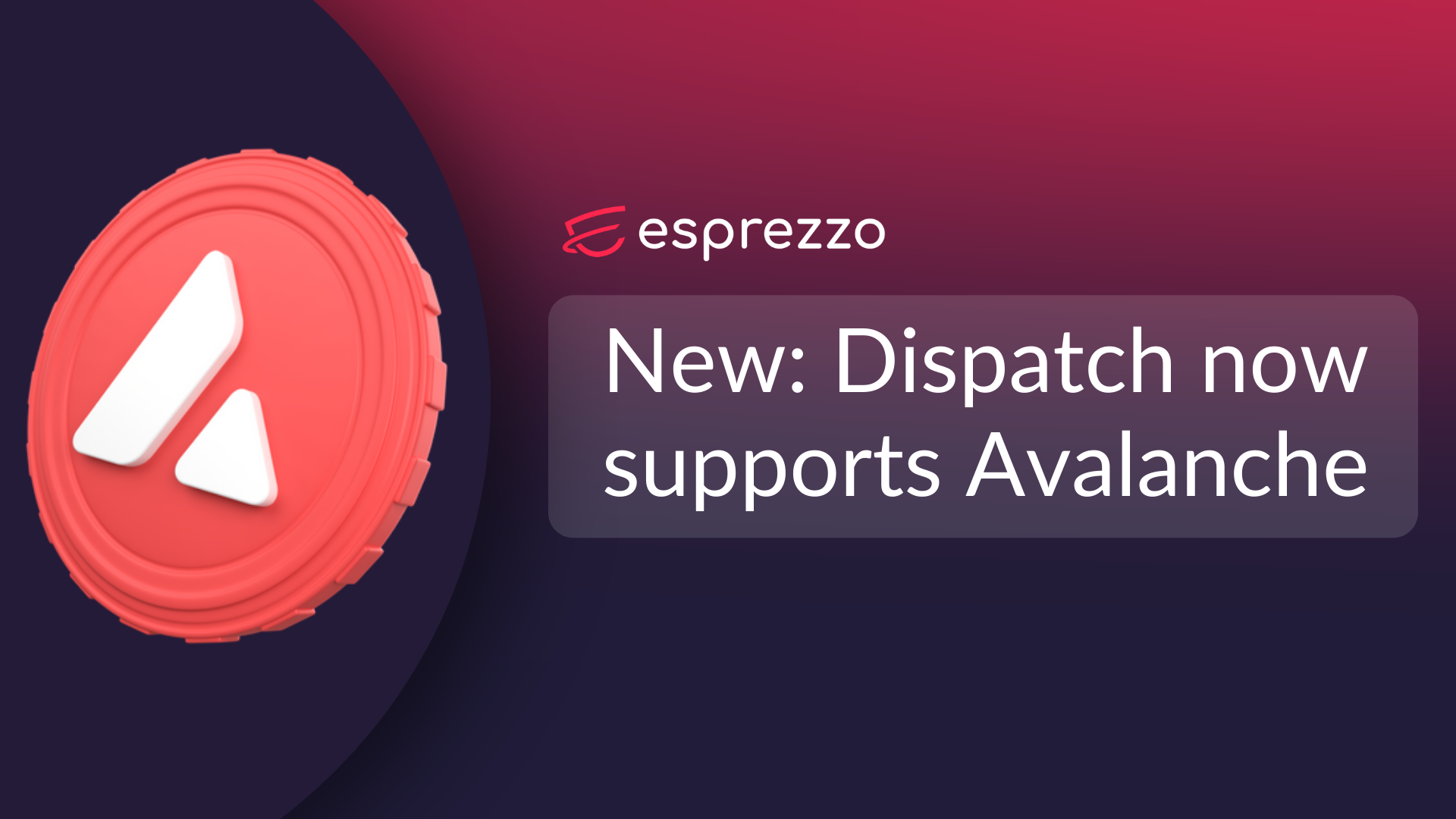 We are excited to announce that Dispatch now supports Avalanche, a blockchain with quick scaling capabilities. With the ability to process thousands of transactions per second, Avalanche is one of the leading smart contract platforms in the industry. Esprezzo is eager to start onboarding top Avalanche-based projects and dApps into Dispatch to offer more value to the community.
Why Avalanche?
Avalanche is quick, low-cost, and eco-friendly. According to Coindesk, Avalanche can process 4,500 transactions per second (TPS), compared to Ethereum's 14 TPS. The project was launched by Ava Labs and has grown in popularity. In March 2022, the Avalanche Foundation launched an incentive program called the Multiverse to support new ecosystems to achieve various use cases in blockchain-enabled gaming, NFTs, and more.
Avalanche is also more eco-friendly than other blockchains. According to CCRI (Crypto Carbon Ratings Institute), Avalanche consumes 35,000 times less energy than Ethereum and 200,000 times less than Bitcoin.
Avalanche on Esprezzo Dispatch
Dispatch now supports Avalanche. So what does this mean for you?
You can use Dispatch to get alerts for token and DeFi activity on Avalanche. For example, if a new trading pair has been created on a DEX, you can automatically be notified through Telegram or email to get a jump on new investment opportunities. Of course, make sure you do your own research before investing! Additionally, you can also monitor balance changes and volume movements for Avalanche-based tokens, and more!
Esprezzo aims to be the go-to platform for DeFi and Crypto users to receive fast and intuitive data and alerts to initiate their next big move. In our last blog post, we discussed some of the new updates coming to Dispatch. As we continue to grow, we will share more news, partnerships, and exciting announcements.
Subscribe for updates and follow us on Twitter and Discord to hear about what's coming!