Update: PRKL was listed on STEX April 4! Since then, it's also been added to portfolio trackers Blockfolio and Delta.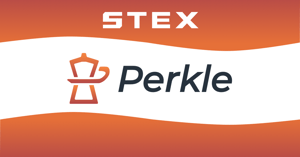 As we continue building out our product suite for developers and organizations, demand for Perkle is growing, as it is an important component of the Esprezzo ecosystem. As such, we want to increase the security of the platform and make it as easy as possible for developers to build on. Not every developer is able to mine the coins needed to deploy a smart contract, and miners who help secure the network need a quick and easy way to liquidate their holdings. The obvious solution to both those problems is an exchange listing. Providing liquidity to the network will attract new miners and as a result make Perkle a more robust and safe network to build and transact on. And so we're pleased to announce an exchange listing for Perkle! Starting April 4, you will be able to trade PRKL on STEX.
Trading will open at 12pm EST, with a trading pair against ETH. A STEX account is required to trade. You can store PRKL coins on the exchange, on a self-hosted or local full node, on our Discord PerkleBot wallet, or by using MyEtherWallet (MEW) with a custom node — the most secure options being a full node or MEW. For step by step instructions on how to set up a PRKL wallet and transact using MEW, go here.
What is Perkle?
Perkle is a Proof of Work, fairly released Ethereum-compatible open source blockchain and smart contract platform designed to provide an affordable, egalitarian alternative for developers. Perkle will also make life easier for developers by providing a seamless way to transition code and libraries built on Perkle to the Ethereum Mainnet or any other Ethereum-compatible network. Mining generates PRKL, which can be used to pay gas fees for transactions and smart contract initialization.
With the addition of Perkle, Esprezzo provides a complete solution for developers and businesses getting started with blockchain-related software development, whether building new decentralized apps (DApps), or integrating blockchain data with existing products. Perkle is just the first of many blockchains developers will be able to choose from when using Esprezzo to build serverless applications.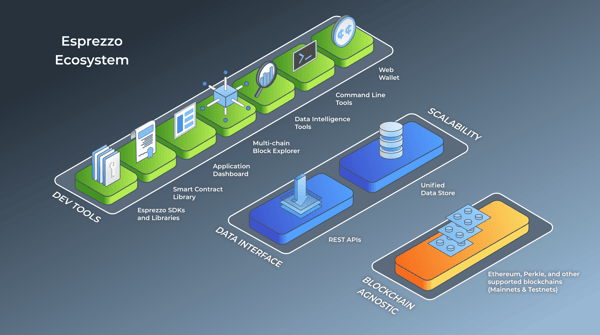 The Esprezzo ecosystem: bridge to blockchains including Perkle
Interested in viewing Perkle network activity? Check out the official block explorer.
Stay tuned for more developments!
Other posts you may be interested in:
About Esprezzo
Esprezzo is building a NoOps mobile and web development platform that empowers developers and organizations to quickly build smarter, faster, serverless blockchain-integrated apps and grow their next-gen businesses. We help clients and developers understand where, when, and what data makes sense to store in a decentralized manner. Through education and user-friendly tools, we aim to make integrating blockchain technology into new or existing business applications accessible to all developers.
Make sure to join our email list if you're interested in applying for the private developer beta program!
Have questions or feedback? Join the Esprezzo community and connect with us: