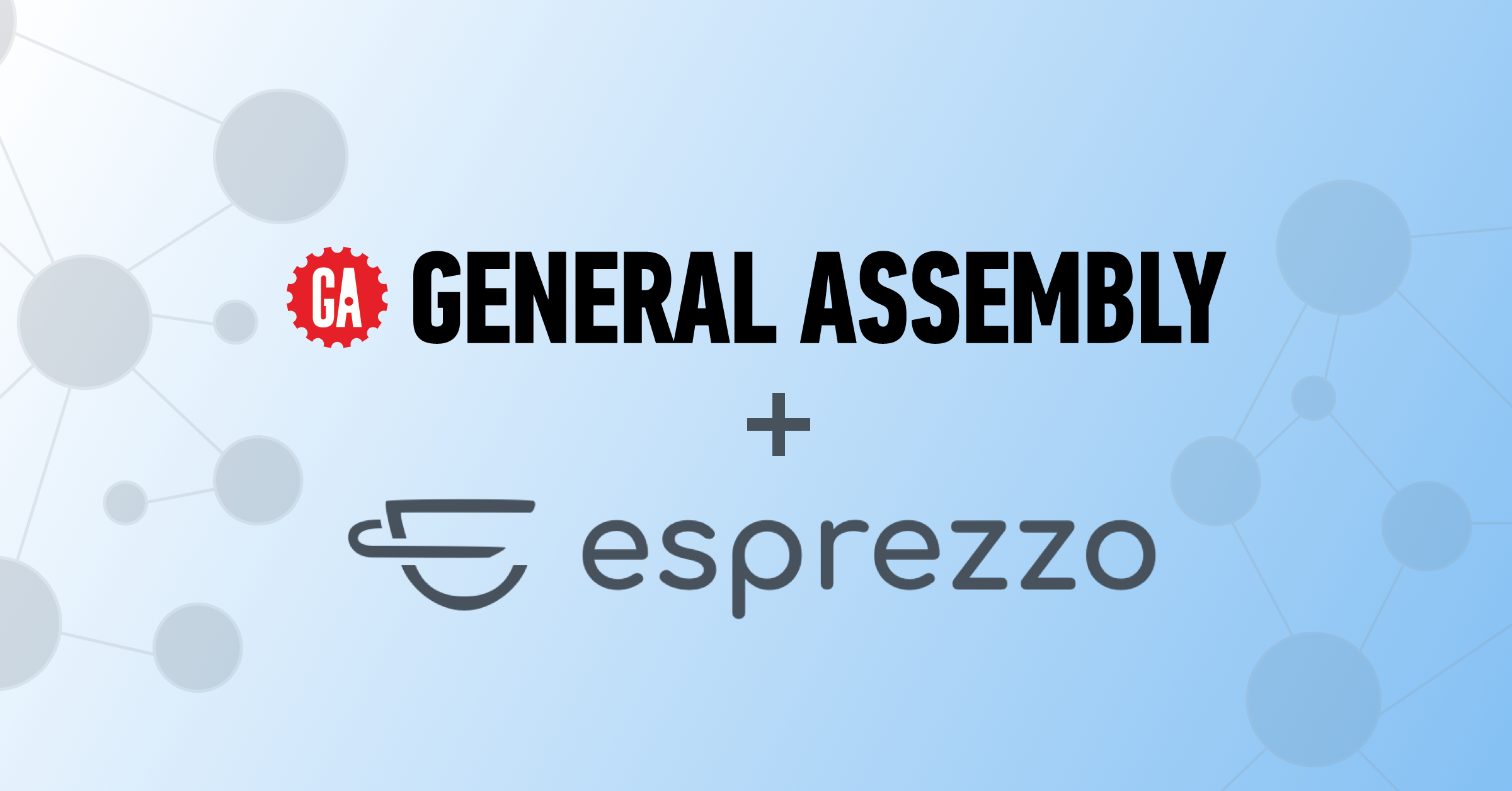 We're excited to announce today the partnership between Esprezzo and General Assembly (GA), a global leader in digital skills training, to provide blockchain technology education and training through a series of events. We're kicking off this partnership with a free Blockchain 101 panel at the Boston General Assembly campus on October 11.
As the developers' bridge to blockchain, a central pillar of Esprezzo's strategy is to provide educational resources, empowering organizations to make informed decisions in integrating blockchain technology with their products and businesses. And while there are more than 18 million developers worldwide, companies are finding it difficult to fill blockchain developer positions while investing millions in blockchain initiatives.
That's why we've partnered with General Assembly, a pioneer in education and career transformation. Through this partnership, we aim to activate developers and business leaders with the knowledge and skills necessary to build powerful, data-rich products that benefit from blockchain technology. We'll be working together to shape blockchain curriculums, panels and lectures, leveraging the experience of technology thought-leaders, business strategists and blockchain experts.
"At General Assembly, we see powerful applications for blockchain, and are seeing an increased demand for blockchain developers to work on this new technology," said Emre Surmeli, General Assembly instructor and Engineering Lead at Sportsrocket. "This increased demand is not just coming from the top technology companies or Silicon Valley venture capitalists, but also from businesses in other sectors such as finance, law, and healthcare."
"A recurring theme that's emerged is the need for education in this rapidly developing technology," said Remy Carpinito, CEO and Co-Founder of Esprezzo. "Esprezzo and General Assembly are both focused on helping people advance their careers and enter new fields, and we're excited to partner with this pioneering organization to accelerate blockchain development education and adoption."
"GA prides itself to being on the cutting edge of technology, which is why we're excited to be partnering with Remy & Esprezzo — a leader in blockchain technology — as we offer invaluable content to our audience and Greater Boston," said Jonathan Tablada, Local Marketing Manager of General Assembly Boston.
With 20 campuses in 6 countries as well as a variety of online programs, General Assembly has trained more than 15,000 employees of Fortune 500 companies and more than 35,000 alumni. Esprezzo's blockchain expertise and community, combined with General Assembly's award-winning programs, education expertise and hiring ecosystem, promises to create an engaging model to advance blockchain education, adoption and careers in the future.
About General Assembly
General Assembly (GA) is advancing the future of work by equipping individuals and organizations with the most in-demand 21st-century skills. Offering training and assessments in web development, data science, digital marketing, and more, GA is building transparent career pathways for people, and sustainable, diverse talent pipelines for employers. With 22 locations, immersive online offerings, onsite trainings for the Fortune 500, and a global community of professionals nearly 1 million strong, GA is the leading source for training, staffing, and career transitions. Learn more about General Assembly at generalassemb.ly
About Esprezzo
Esprezzo's mission is to democratize blockchain app development, making it seamless for businesses, organizations and modern product developers to build data-rich web and mobile products that integrate with leading blockchains. Esprezzo's mobile and web development platform and tools empower developers and organizations to quickly build smarter, faster blockchain apps and grow their next gen business businesses. Learn more about Esprezzo at esprezzo.io
Join Esprezzo's mailing list to stay up-to-date on upcoming events and product developments.