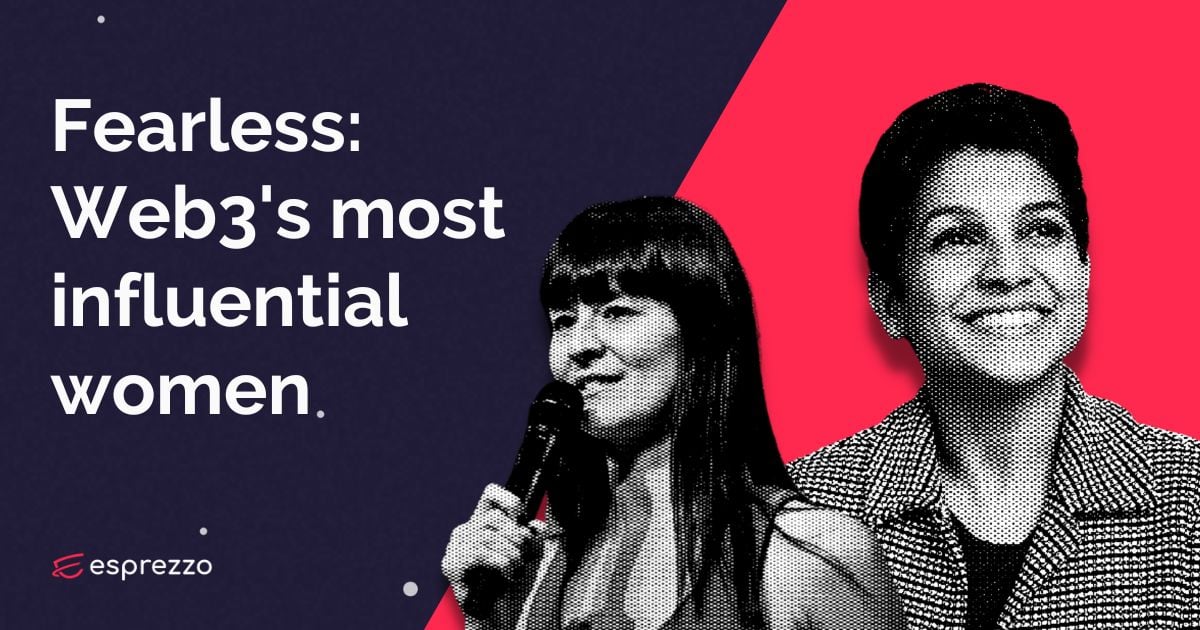 Happy International Women's Day! 🌷
As we kick off Women's History Month, we'd like to take a moment to celebrate and honor the remarkable achievements and contributions of some of the most influential women in Web3.
The NFT & crypto industry has been making significant strides in recent years with more women breaking into previously male-dominated positions, with influential figures like Meltem Demirors, Erika Wykes, and Linda Xie leading the charge. Encouraging more women to enter Web3 is vital as diversity brings a wider range of perspectives, ideas, and solutions that can drive growth and progress. By breaking down the barriers that have kept women out of this industry, we can create a welcoming and inclusive environment where everyone can thrive.
In this article, we'll introduce you to a diverse group of influential women in Web3, who are driving innovation, creating new opportunities, and advocating for greater diversity and inclusion in Web3. These women are breaking down barriers, inspiring others to pursue careers in Web3, and helping to build a brighter future for the space.
Maliha Abidi
Founder of Women Rise, Author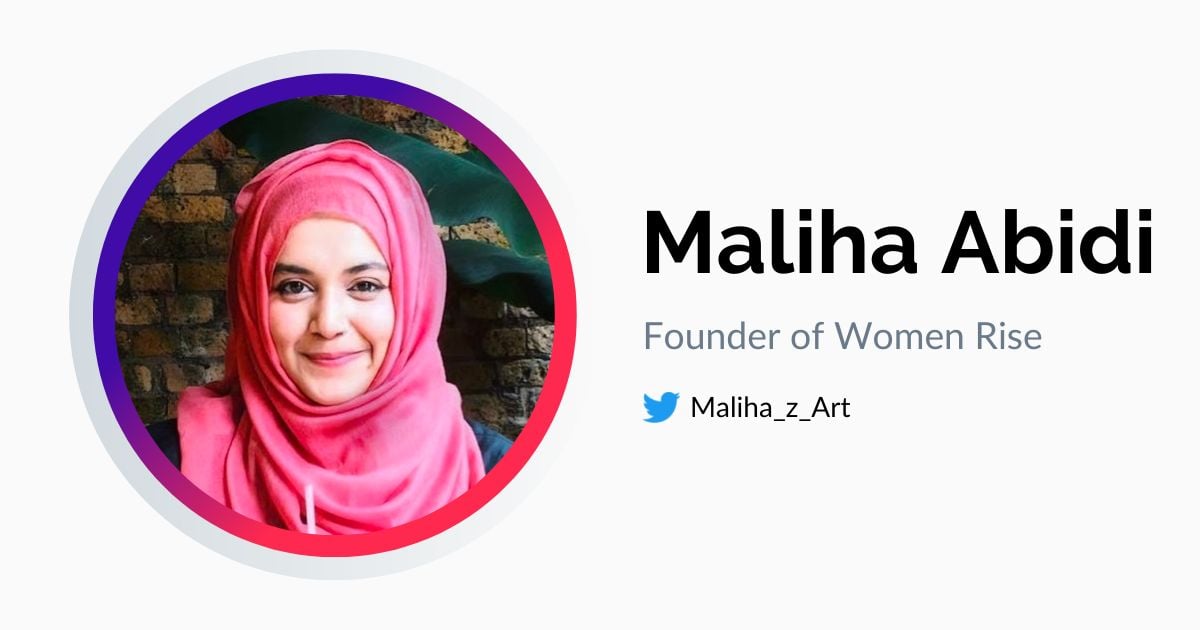 As the founder of Women Rise NFT, Maliha Abidi has created a Web3 initiative that focuses on women's rights and girls' education by using art as a tool for advocacy. With her Women Rise NFT project, she's making a real difference in the world by raising awareness for important causes.
But that's not all. Maliha is also a prolific author, having written several books including Pakistan for Women, Rise: Extraordinary Women of Colour who Changed the World and Journey to America. Her work is not only inspiring, but is also making a real difference in the world, and we can't wait to see what she does next.
Sara Baumann
Artist and Founder of Women and Weapons NFT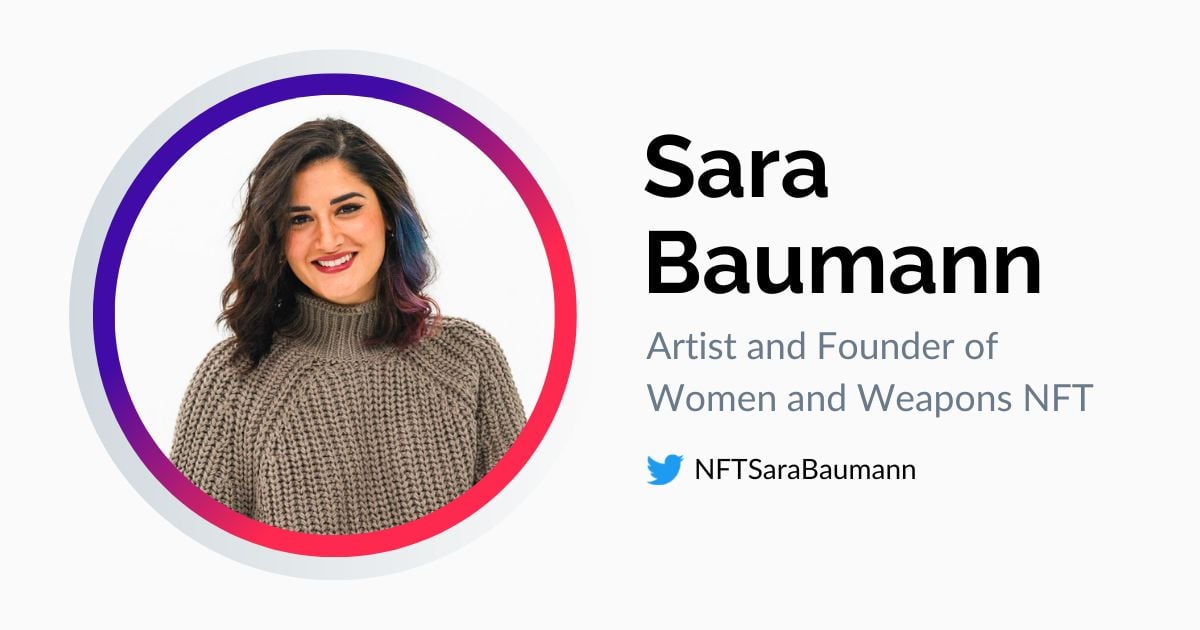 Before founding Women and Weapons, a 10,000-piece NFT PFP, Sara Baumann was an occupational therapist. The multi-media visual artist got her to start in Web3 with a genesis (aka first, in Web3 lingo) collection of 10 paintings of women carrying weapons including grenades and flamethrowers.
Being a follower of entrepreneur Gary "Vee" Vaynerchuck, Baumann knew the Web3 juggernaut would sometimes Tweet on Saturdays looking for one-of-one NFT artists to collect from. One Saturday in September 2021, Baumann responded to one such call from Gary Vee: "I would be honored to have you as my first collector", along with an image and link to one of her NFTs on OpenSea.
Once Gary Vee became her first collector, the rest of her genesis collection sold out in 45 seconds, Baumann said in an interview with CoinDesk. To make her dream of being a full-time artist come true, Baumann buckled down and created the 10,000 pieces that would become Women and Weapons, the profile picture project featuring weapons-toting women.
That collection launched in October of 2021 and sold out in under four hours, and Baumann quit her hospital job a few months later to be an artist and use her talents and voice to challenge double standards and inspire more women to get into Web3. Her work has garnered significant attention and praise from the Web3 community and beyond.
Women and Weapons pledges five percent of profits to the Malala Fund, an international non-profit focused on girls' education and had donated over $100K as of last year. Sara's clearly passionate about empowering women and she believes in the power of art to drive social change.
In an interview with Edition ML last year, Baumann had this to say about Women and Weapons' goals: "A large and primary focus is going to be to continue to do good for the world as much as we possibly can do good for women, empower women, encourage women to get out there, take risks, and be bold and brave."
Meltem Demirors
Chief Strategy Officer at CoinShares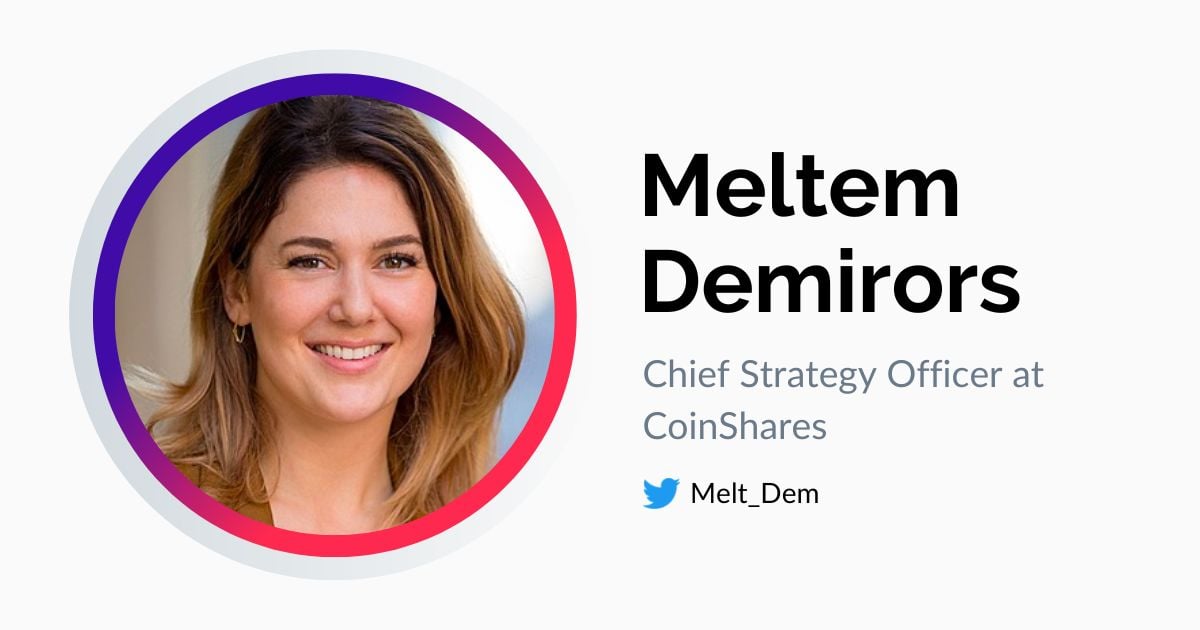 Meltem Demirors is the Chief Strategy Officer at CoinShares, a digital asset investment firm. She was previously the #2 at Digital Currency Group and has been involved in the crypto industry since 2015. Through her work at CoinShares, she has invested in over 150 companies in the digital asset ecosystem. Demirors has been recognized as one of the first women in crypto and has been a leading voice in the industry for many years.
She's been featured in various publications and has appeared on many podcasts and panels, sharing her insights and expertise on the crypto industry. Meltem is also the host of the Chain Reaction podcast, where she interviews leaders in the crypto space.
Cathy Hackl
Founder and Chief Metaverse Officer of Journey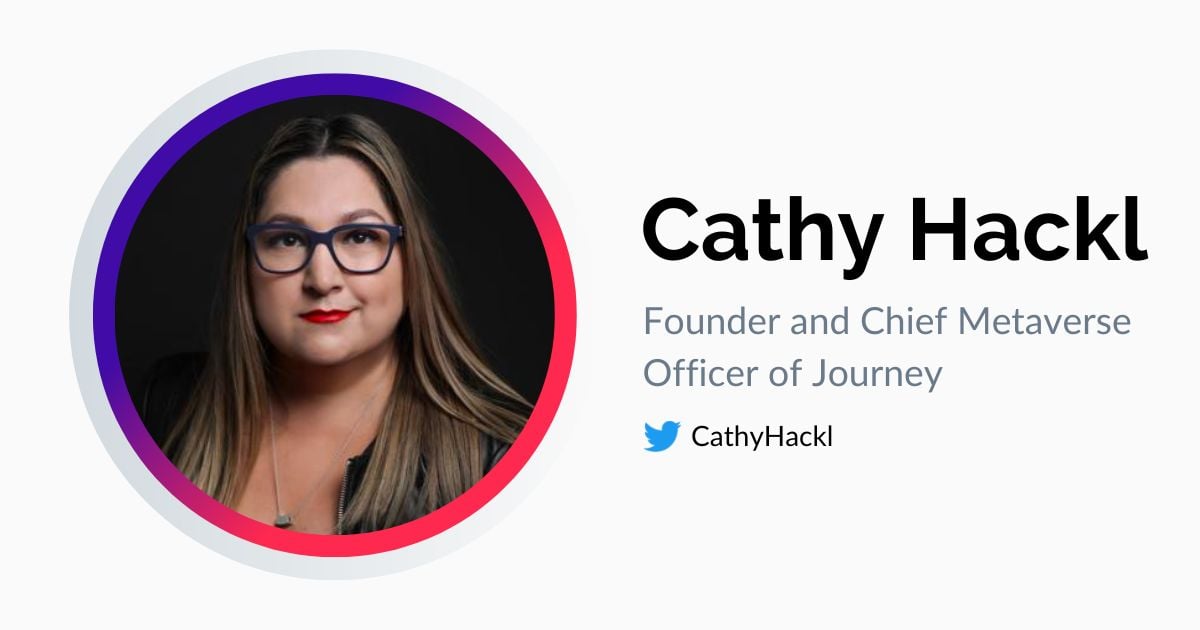 As the Founder and Chief Metaverse Officer of Journey, Cathy Hackl is a leading voice in education and advocacy for the metaverse and Web3, sharing her insights and expertise through appearances on major media outlets like The Wall Street Journal, Time and CoinDesk. Prior to her work in Web3, Cathy worked at Future Lighthouse and HTC Vive, specializing in VR.
She was also a collaborator on the Boss Beauties NFT project and helped to co-develop a strategy for Clinique's NFT drop. In her recent article, "What Does Generative AI Mean For Your Brand and What Does It Have To Do With The Future Of The Metaverse?", Cathy discusses the concept of generative AI and its potential impact on brands and the metaverse.
Yam Karkai
Creator and Artist of World of Women NFT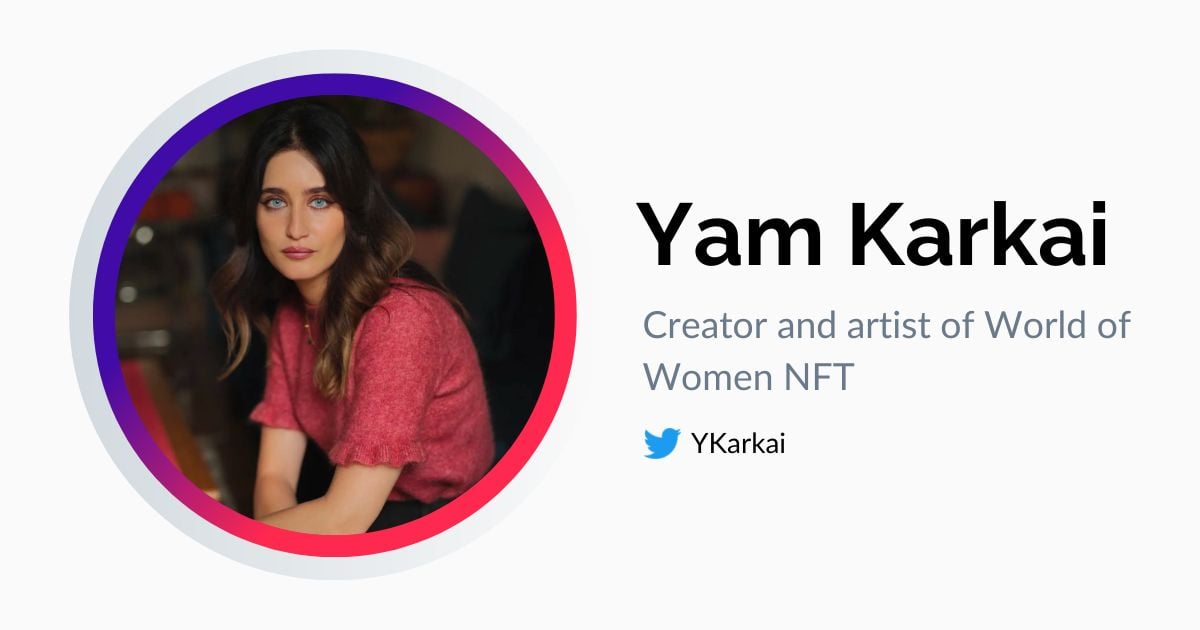 Yam Karkai is a talented creator and artist in Web3 who has made a significant impact through her work on the World of Women NFT (WoW) project. Despite having little to no experience in crypto, Yam illustrated and co-founded the WoW NFT project, which has received significant attention for its groundbreaking approach to representation and inclusivity in the world of Web3. Through her work on WoW, Yam sought to address the gender imbalance that she saw in many other NFT profile picture (PFPs) projects, which were often dominated by men.
Today, Karkai is World of Women's Chief Creative Officer. To celebrate Women's History Month, World of Women partnered with NFT marketplace SuperRare to launch "Mind the Gap: An Artistic Exploration of the Gender Gap Across Industries". The project features the work of five artists and included two IRL exhibits in London and Los Angeles.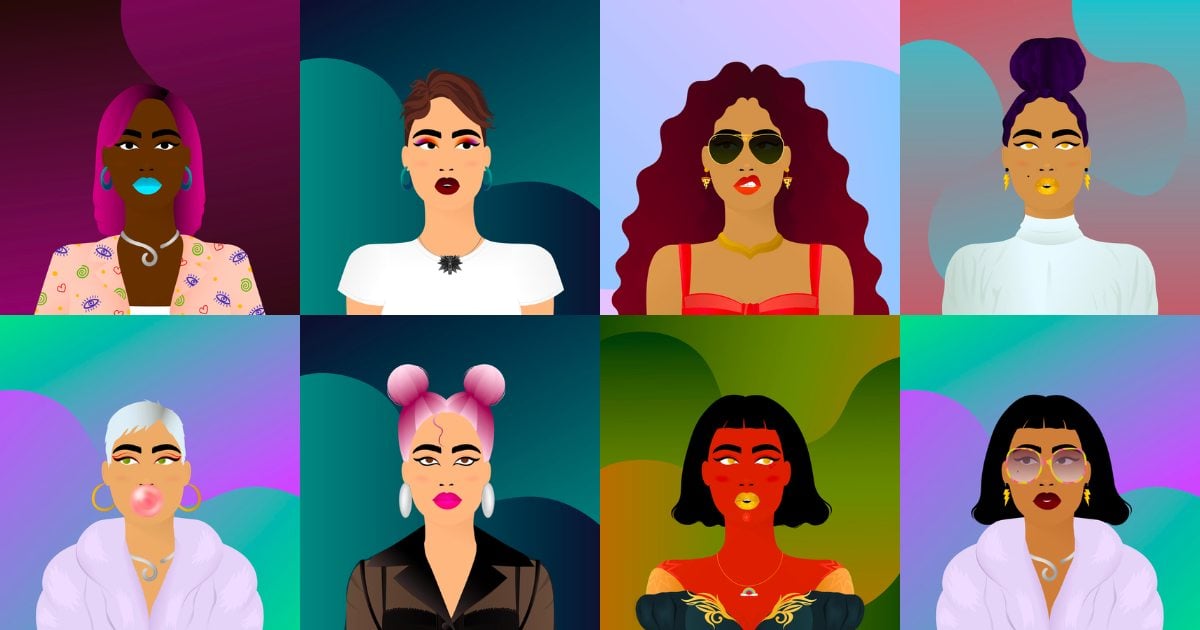 World of Women 10K PFP NFT collection
As Karkai explained in an interview, she launched WoW because she felt that "the collectible projects that were booming were clearly directed for the male public, and there was nothing there for women to feel related to". Through her passion and creativity for empowering women in Web3, Yam has become a powerful voice for change in the industry.
Krista Kim
Metaverse artist, philosopher, and Co-founder of 0.xyz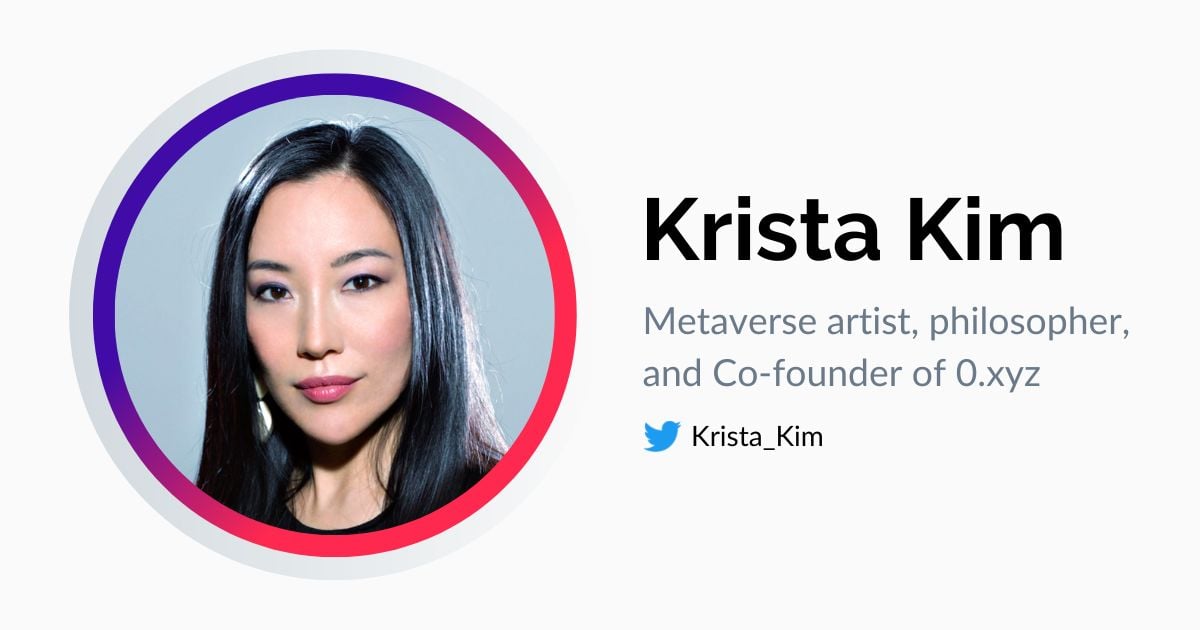 Krista Kim is a visionary artist in Web3 who has been at the forefront of the Metaverse industry, shaping the way we think about the intersection of art and tech. As a Metaverse artist, philosopher, and Co-founder of the creative Metaverse studio 0.xyz, her innovative work has been recognized by top publications like Louis200 by Louis Vuitton, and she has been named one of the Top 30 Most Influential People of the Metaverse by Read and Write Magazine.
Kim created and sold the first-ever digital home NFT, Mars House. The project has been praised for its groundbreaking approach to combining technology, art, and real estate. Through her work, Krista is inspiring others to explore the possibilities of the Metaverse and pushing the boundaries of what is possible in the world of Web3.
When asked in an interview with CoinDesk why there are only a few women founders in the space, Kim stated, "It's only because we're so early. Web3 is a space where females can naturally thrive because it is about collaboration, co-creation and community."
Brit Morin
Founder of BFF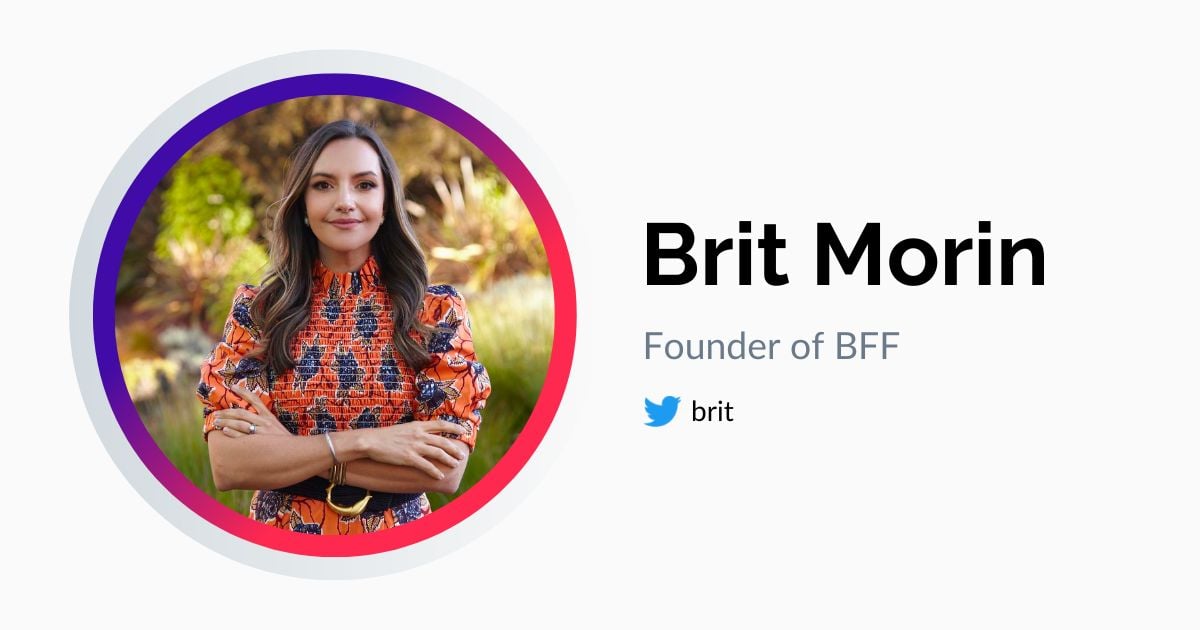 You might be more familiar with Brit Morin as the founder of Brit + Co., the uber-popular website and lifestyle brand. Morin founded Brit + Co. in 2011 at the age of 25 and entered Web3 in 2022 as the co-founder of BFF, an online community and brand dedicated to educating women and non-binary people on the world of Web3.
In April of 2022, BFF launched their "You" NFT project featuring 10,000 women avatars by artist Jade Purple Brown. Currently, this NFT collection has over 5,000 owners with 58% of them being unique owners.
Through her innovative approach to community-building and education, Brit plays a role in driving greater diversity and inclusion in Web3, helping to bring more women and underrepresented groups into the fold. Her efforts have not gone unnoticed, as she has been awarded various accolades, including AdAge's 40 Under 40, Forbes 30 Under 30, Fortune's Most Promising Entrepreneurs, and one of ELLE magazine's American Women at 30. Through her leadership and advocacy, Brit is inspiring others to pursue careers in Web3 and promoting the representation of women in the space.
A few podcast episodes she's appeared on:
Sandra Ro
CEO of Global Blockchain Business Council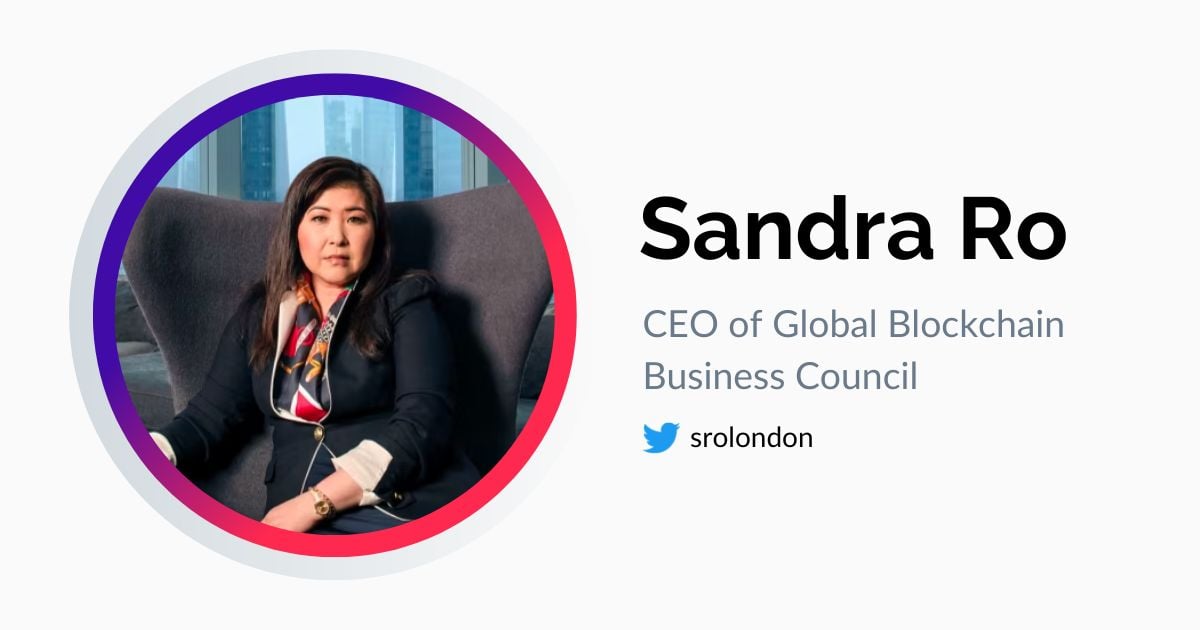 Sandra Ro is the CEO of the Global Blockchain Business Council (GBBC), a leading industry association advocating for the adoption of blockchain technology. GBBC's mission is to promote blockchain technology and its application in various industries such as finance, healthcare, supply chain management and more.
Ro has been vocal about the importance of blockchain technology and how it can transform the way we conduct business. She has been featured in several interviews, including an interview with Fintech TV, where she discussed how GBBC is helping society by promoting blockchain technology.
Under Ro's leadership, GBBC has become an influential voice in the blockchain industry, bringing together leading companies and thought leaders to promote the adoption of blockchain technology. With its focus on collaboration and education, GBBC is helping to drive the blockchain industry forward and unlock its full potential.
Ro has also collaborated with regulators in Nigeria, Kenya, and South Korea on cryptocurrency regulation, recognizing the importance of global coordination.
Kirthiga Reddy is a prominent figure in the tech industry, having served as the first employee and Managing Director of Facebook India and South Asia. In addition to her successful career at Facebook, she is also an investor at SoftBank Vision Fund, one of the world's largest tech-focused venture capital firms — and was the fund's first female investment partner. Kirthiga's latest venture is Virtualness, a mobile platform that provides resources and support for creators and brands who are looking to enter Web3.
As Co-founder and CEO of Virtualness, Kirthiga is making waves in the industry with her innovative approach to empowering individuals to create and interact in the digital world. Her extensive experience and impressive track record make her a standout leader in Web3 and a role model for aspiring entrepreneurs.
Here are just a few talks Reddy has given on Web3:
Maria Shen
Partner at Electric Capital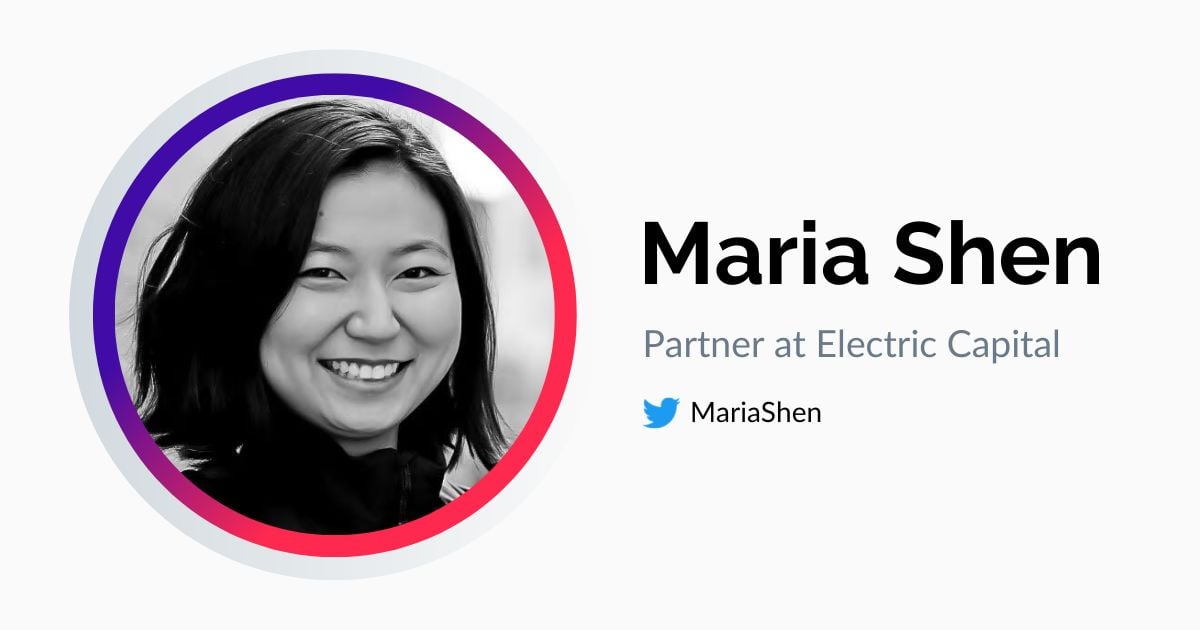 Maria Shen is a Partner at Electric Capital, a venture capital firm focused on cryptocurrencies, blockchain, and decentralization. With over 21K followers on Twitter, Shen has become a trusted source for insights and expertise in the crypto space.
With her technical background, Maria brings a unique perspective to her work in the crypto industry. In addition to her role at Electric Capital, Maria is also an advisor to several startups in the blockchain and crypto space. Her experience and knowledge in the field has been featured in numerous publications, including Forbes and the Wall Street Journal.
We particularly enjoy Electric Capital's annual Web3 Developer Reports, which Shen works on and shares insights from.
1/ Time for the 4th annual @ElectricCapital Developer Report!

This year we are also proud to launch https://t.co/7Z8o63my4T -- showcasing the data behind the report.

We analyzed 250m code commits and 300+ people contributed to this year's report.

Let's dig in👇

— maria ⚡️ (@MariaShen) January 17, 2023
Elizabeth Stark
CEO and Co-Founder of Lightning Labs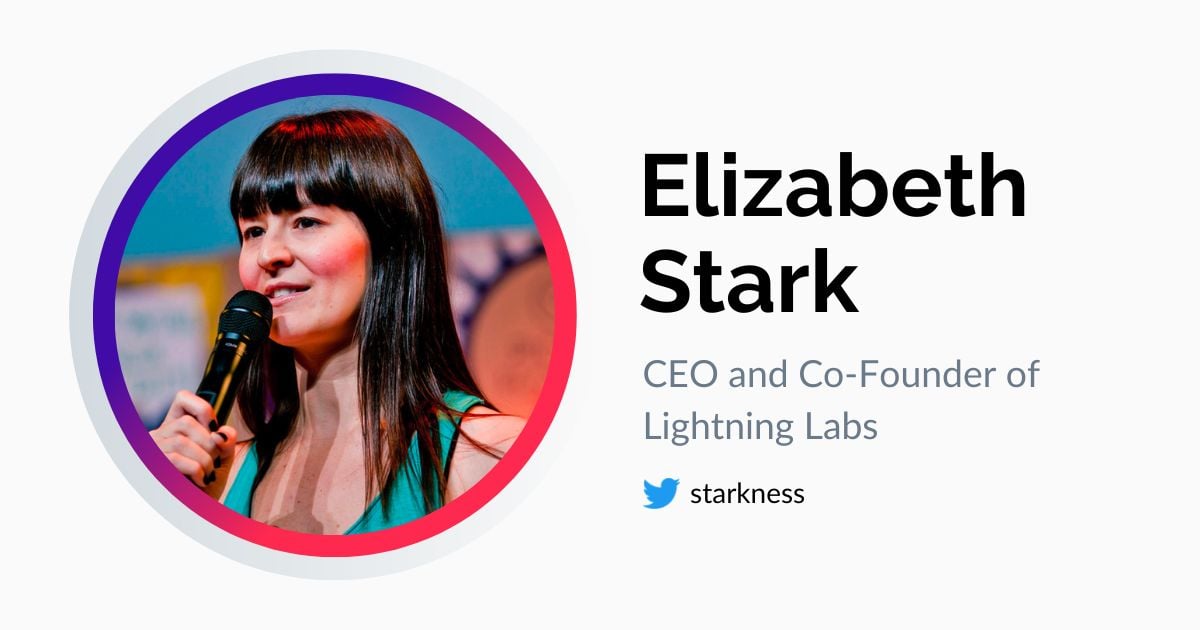 Elizabeth Stark is the CEO and Co-founder of Lightning Labs, a company that develops the Lightning Network, a Layer 2 solution for Bitcoin. She has been a vocal advocate for Bitcoin and blockchain technology and is considered one of the most influential women in the industry.
A Harvard Law School grad, Stark's work on the Lightning Network has been instrumental in improving the scalability and speed of Bitcoin transactions. She's also been an advocate for the use of blockchain technology for social good and has worked on initiatives to promote financial inclusion and economic empowerment, as well as teaching and lecturing at Stanford and Yale about computer science and the future of the internet.
Mir Liponi, the Co-founder of Blockchain Labs mentions to CoinDesk, "The fact that she was so young and respected as a CEO and as a woman was something almost new to me. One of the greatest contributions Elizabeth [made to] bitcoin is her constant work and ability to connect experts, projects, people."
Laura Shin
Crypto Journalist and Host of Unchained Podcast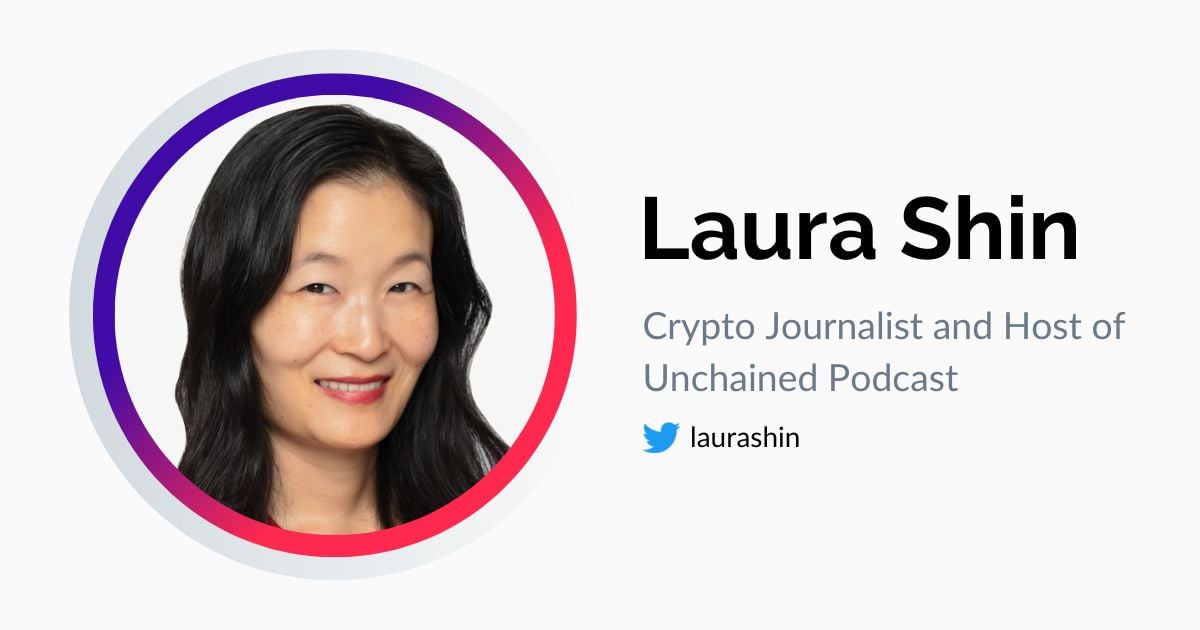 Laura Shin is a prominent name in the world of crypto journalism and is widely known for her expertise in the field, and probably most well known for her long-running Unchained podcast, where she interviews notable figures in Web3, and provides commentary and insights on the events shaping our industry.
Prior to starting Unchained, Shin worked as a senior editor at Forbes and was the first mainstream journalist to cover crypto full-time. Her contributions have been recognized by several organizations, and she has spoken at prestigious events such as TEDx San Francisco, the International Monetary Fund, Singularity University, and the Oslo Freedom Forum. Her expertise and contributions have made her one of the most influential women in the crypto industry.
A few of Laura Shin's talks:
She is also the author of a book on the history of crypto — The Cryptopians: Idealism, Greed, Lies, and the Making of the First Big Cryptocurrency Craze.
Linda Xie
Co-Founder & Managing Director of Scalar Capital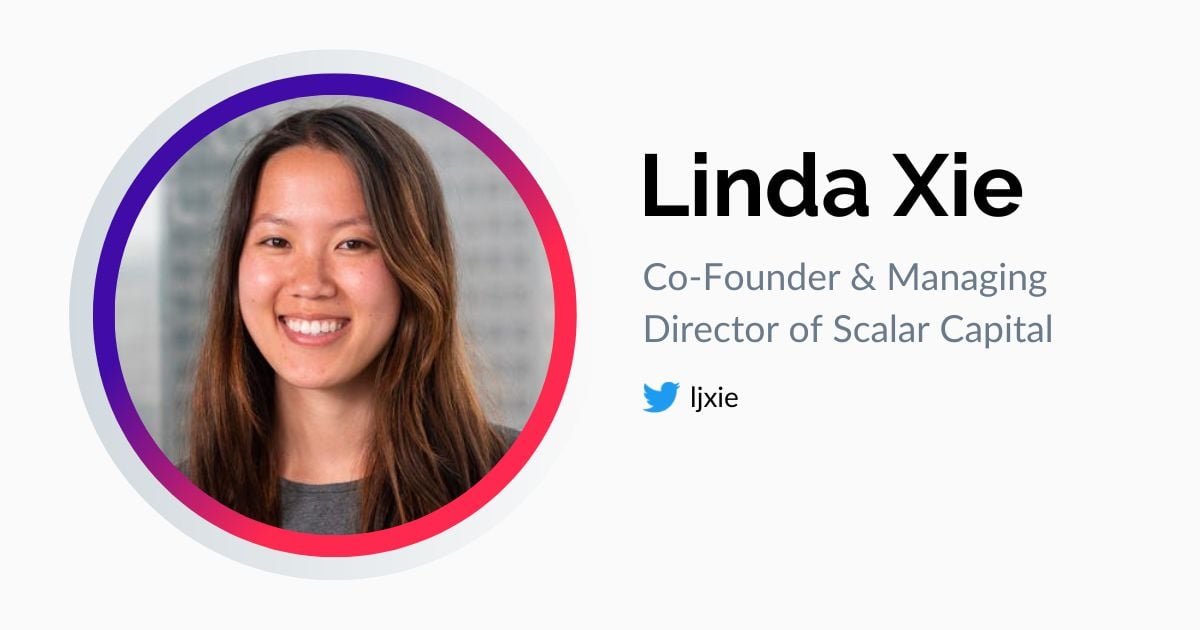 Linda Xie is a well-known figure in the cryptocurrency industry, serving as the Co-founder and Managing Director of Scalar Capital. Xie began her career in the crypto space as an early employee of Coinbase, where she served as a product manager and worked on internal tools related to compliance and finance systems.
Xie is also known for her work in educating newcomers to the crypto space, having published a number of beginners' guides on various aspects of cryptocurrency on her social media accounts. She is considered a connector in the industry, helping to bring together different players and communities.
As a Co-founder of Scalar Capital, Xie has been involved in investing in a number of early-stage crypto projects, helping to identify and fund promising new startups in the space. Her contributions to the industry have earned her a reputation as a thought leader and influencer, and she continues to be a vocal advocate for the benefits of Web3.
Sheila Warren
Crypto Council CEO, Co-host of CoinDesk's Money Reimagined

Sheila Warren is a prominent figure in the blockchain and cryptocurrency space. She's currently the CEO of the Crypto Council for Innovation, a trade association that advocates for the adoption of blockchain technology. She is also a co-host of the CoinDesk podcast "Money Reimagined."
Prior to her current roles, Warren was the Head of Blockchain and Distributed Ledger Technology at the World Economic Forum, where she was responsible for leading the organization's work on blockchain technology and its potential impact on society. She's credited with creating the blockchain and digital assets team at the World Economic Forum and played a key role in shaping the organization's agenda on blockchain and cryptocurrency.
Sheila is a sought-after speaker and has appeared at numerous conferences and events, including the United Nations, the International Monetary Fund, and the World Bank. In addition to her work in the blockchain and cryptocurrency space, she is also an advocate for diversity and inclusion in the tech industry.
In a recent interview with Politico's Digital Future Daily, Warren discussed her views on the future of crypto. She emphasized the need for collaboration between governments, industry, and civil society to create a regulatory framework that promotes innovation while also protecting consumers and investors.
Overall, Sheila Warren is a respected voice in the blockchain and cryptocurrency community, known for her expertise, leadership, and advocacy for the adoption of these technologies.
Erika Wykes
Global VP of Adidas /// (Three Stripes) Studio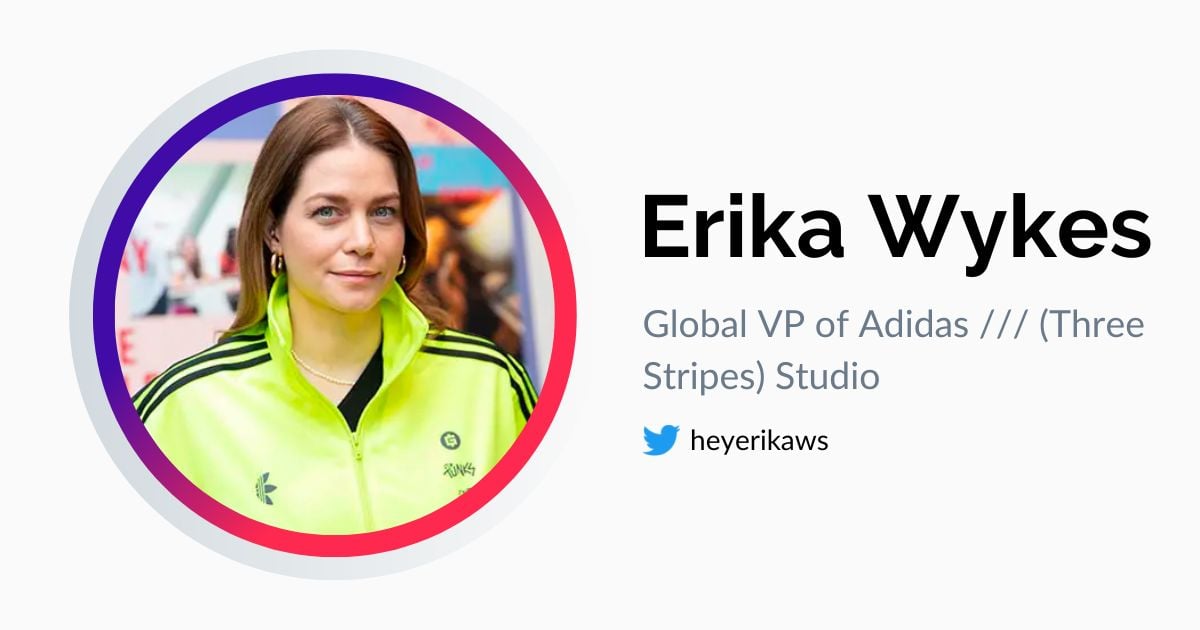 Erika Wykes is the Global Vice President of Adidas /// (Three Stripes) Studio — a startup within Adidas that launched just a few months ago in collaboration with popular Web3/NFT projects Bored Ape Yacht Club, G-Money, and DeadFellaz — where she leads Web3 initiatives for the 73-year-old sportswear giant.
Before moving into her new role at Adidas, she served as Global Chief Marketing Officer for Adidas Originals, and has led brand and marketing teams at PayPal, PlayStation, Uber, and Google.

Wykes' extensive experience in branding, marketing, and partnerships has made her a key player in the Web3 space, as she has helps Adidas come up with innovative new ways to engage consumers at the cutting edge of technology.
Her work with Three Stripes Studio is focused on developing new products, experiences, and services that incorporate blockchain and other Web3 technologies. In December 2022 Adidas unveiled their first virtual wearables collection meant to be work by virtual avatars, to accessorize and style "partner PFP NFT collections".
In an interview with Fashion Week Online, Wykes expressed excitement about creating Adidas-branded accessories that are interoperable and can be "worn" in multiple partners' worlds: "Underpinned by an upgradeable smart contract (hinted in the metadata), adidas can make adjustments or tweaks that allow us to breathe new life into the collection as new capabilities start to roll out on metaverse platforms."
Some of Wykes' writings and interviews:
Emily Yang (pplpleasr)
NFT artist, Shibuya Co-Founder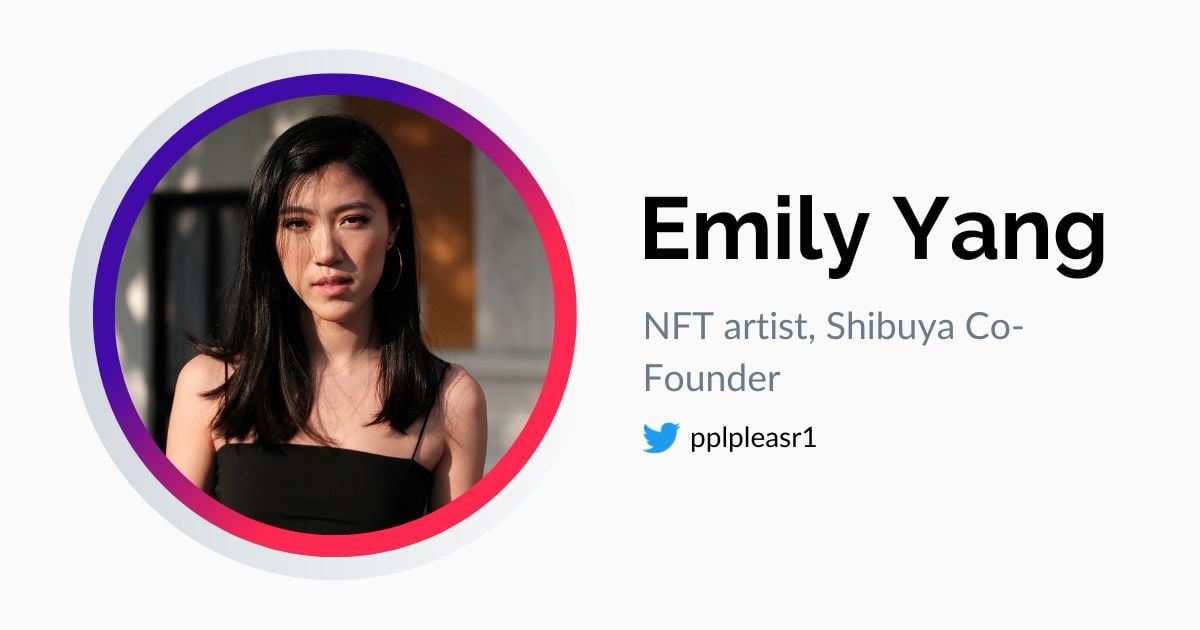 Emily Yang, also known as pplpleasr, is a renowned NFT artist whose work has been featured in major publications and sold for millions of dollars. Her Uniswap NFT ad sold for $525,000, and she has since become one of the most recognized and sought-after NFT artists in the space.
Emily's success in the Web3 space has been driven by her creativity, innovation, and her ability to tap into the potential of blockchain technology to create unique and compelling digital art.
In addition to her art, Emily has been a vocal advocate for diversity and inclusivity in the NFT space. She has spoken out against the lack of representation of women and people of color and has used her platform to amplify the voices of underrepresented groups.
Yang co-founded and self-funded Shibuya, a new type of video platform. In December 2022, Shibuya raised $6.9M led by Andreessen Horowitz and Variant Fund, to build and grow the Ethereum-based NFT-driven video platform. By purchasing NFTs on the platform, Shibuya participants fund and get to vote on story directions.
Steve Aoki and Seth Green are working on a stop-motion animated short film to launch on Shibuya. Over the course of six weeks, NFT holders will be able to vote on scene storylines for the project, titled "Dominion X: Level 2", from the duo's Stoopid Buddy Stoodios.
Emily's art has been featured in a number of exhibitions and galleries, including the Nifty Gateway, SuperRare, and KnownOrigin. Her work has also been featured in publications such as The New York Times, ArtNet, and Rolling Stone.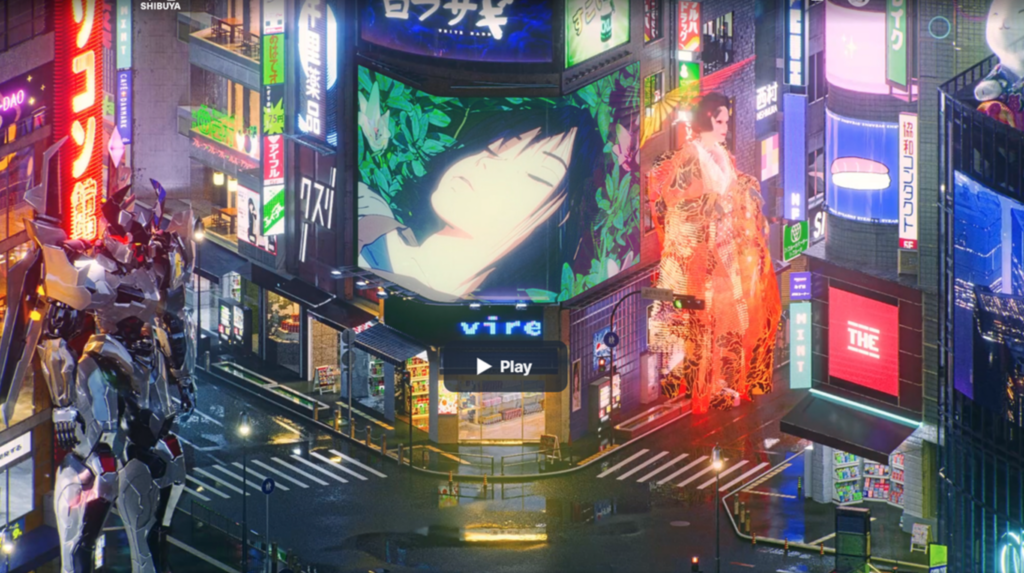 Pplpleasr's film distribution platform Shibuya
it's been a while since i've released anything new, but after working on this since september i'm proud to say we're releasing the beta of @shibuyaxyz today 😭

read my first medium article (ever lol) to learn about ithttps://t.co/udlGyPNL5R

— pplpleasr (@pplpleasr1) March 1, 2022
Yingzi Yuan
Founder of Metaverse Summit

Yingzi Yuan is the founder of the Metaverse Summit, an event that brings together leading Web3 and Metaverse experts and influencers. She has spoken at many events, including VR Days Europe, World XR Forum, Laval Virtual, Siggraph, Indie Game Factory, and ETHDenver. Yuan was recognized for her contributions to the Web3 community with the "Women in Web3" Europe Award from Women In Tech, which highlights her commitment to promoting diversity and inclusion in the industry.
Randi Zuckerberg
CEO and Founder of HUGxyz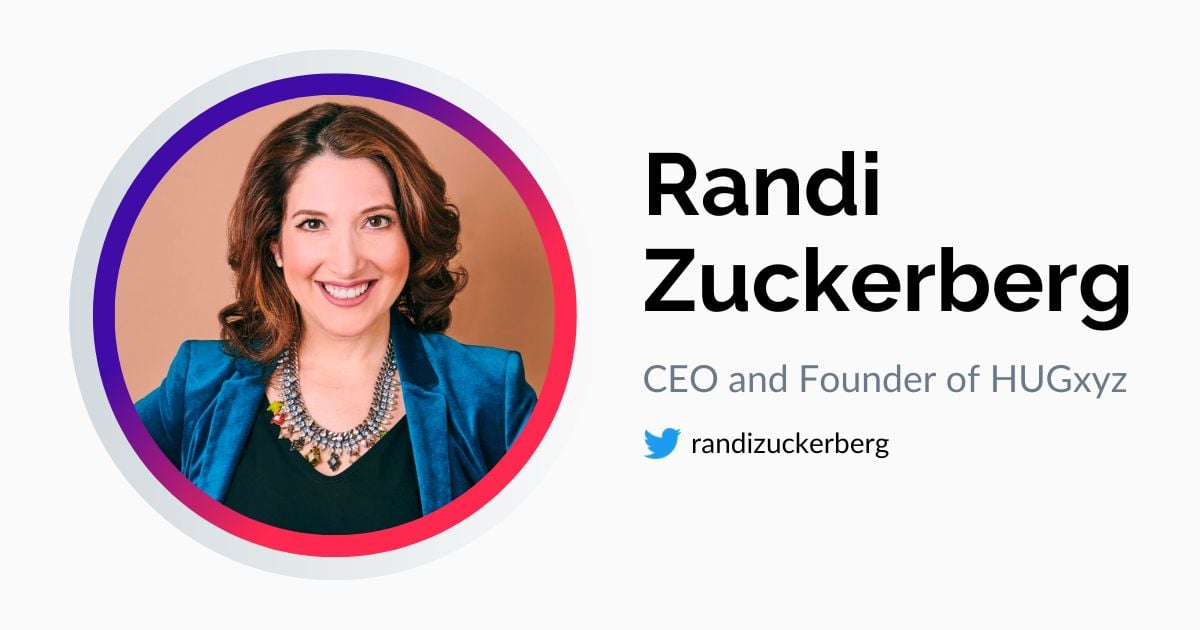 Randi Zuckerberg is an accomplished entrepreneur and innovative woman in Web3 who has made significant contributions to the industry through her work as the CEO and Founder of HUG.xyz, a Web3 artist community platform. HUG enables artists and collectors to connect while also promoting diverse creators through its platform.
Aside from providing a platform for "emerging NFT artists", Zuckerberg and her Co-founder Debbie Soon host free education programs teaching artists how to get into and succeed in Web3.
A sampling of recent sessions hosted by HUG:
Growing Your Brand to Secure Exciting Partnerships — with Leah Sam, Founder & Artist, Power of Women

Using Multiple Platforms to Find & Grow New Audiences — Fernanda Boccard, Artists & Founder of SeriousCoolNFT

Getting to Know and Connect with Your Collectors — with Rebekah Bastian, CEO Own Train

Transitioning Between IRL and NFTs — with Gossamer Rozen, Founder & Artist of Tigerbob
Zuckerberg's impressive track record of success includes an Emmy nomination, two Tony awards, a Drama Desk Award, a Kidscreen Award, and more. As Mark Zuckerberg's sister, she was an early employee at Facebook, where she is best known for creating Facebook Live. Through her leadership and online reach, Zuckerberg is helping shape the future and bring more people into Web3.
Trailblazers of Web3 and beyond
The women featured in this blog are just a few examples of trailblazers in Web3 and beyond. They have broken barriers and paved the way for future generations to enter this exciting and rapidly-evolving field. From NFT artists to Web3 project founders to investors and CEOs, these women have made significant contributions to the advancement of Web3 technology and the push toward a more equitable and bright future. As we continue to witness the growth and adoption of Web3, it is crucial that we recognize and celebrate the invaluable contributions of these courageous women.
We encourage you to continue learning and sharing stories about women in Web3 and to join us in celebrating their achievements! Let's use our voices and platforms to elevate these remarkable women and inspire the next generation of leaders.
If you want to stay updated on our latest updates and insights, don't forget to follow our Twitter and LinkedIn. We're always open to connecting with you and learning more about what you're building; feel free to say hello in our Discord 👋.