You might've heard of Bored Ape Yacht Club, CryptoPunks, Goblintown, or Clone X. What do they have in common? These are all high volume NFT projects that have grown in popularity through community engagement, massive brand collaborations, and perceived value. NFTs have become a gateway to blockchains, crypto and the Web3 ecosystem for many creatives, brands, investors and collectors.
New to NFTs? This is the first in a multi-part series that will teach you everything you need to know about NFTs.
We'll start with the fundamentals and work our way up to more advanced concepts. By the end of our NFT series, you should have a better grasp of what NFTs are and why they have had such rapid evolution and adoption across the technology, entertainment, fashion and gaming industries.
Here's what you'll learn in this guide:
So, what are NFTs?
Non-fungible tokens (NFTs) are unique digital assets on the blockchain that cannot be used interchangeably. Some skeptics claim that they can get the same effect by taking a screenshot of a NFT. This reasoning might make sense if you think NFTs are nothing but a digital image. And while there are certainly some collections that offer little on top of an image, there are more and more NFTs providing real-world value that can't be obtained from a screenshot.
What is fungibility?
Fungible tokens and goods are equivalent and replaceable with other tokens or goods that are identical. A US dollar, for example, is equal to and interchangeable with any other US dollar. Similarly, one ETH (ether, the cryptocurrency of the Ethereum blockchain) is equivalent to and exchangeable with any other ETH.

On the other hand, non-fungible items are not interchangeable and contain distinct features that make them fundamentally different from one another, even if they look identical.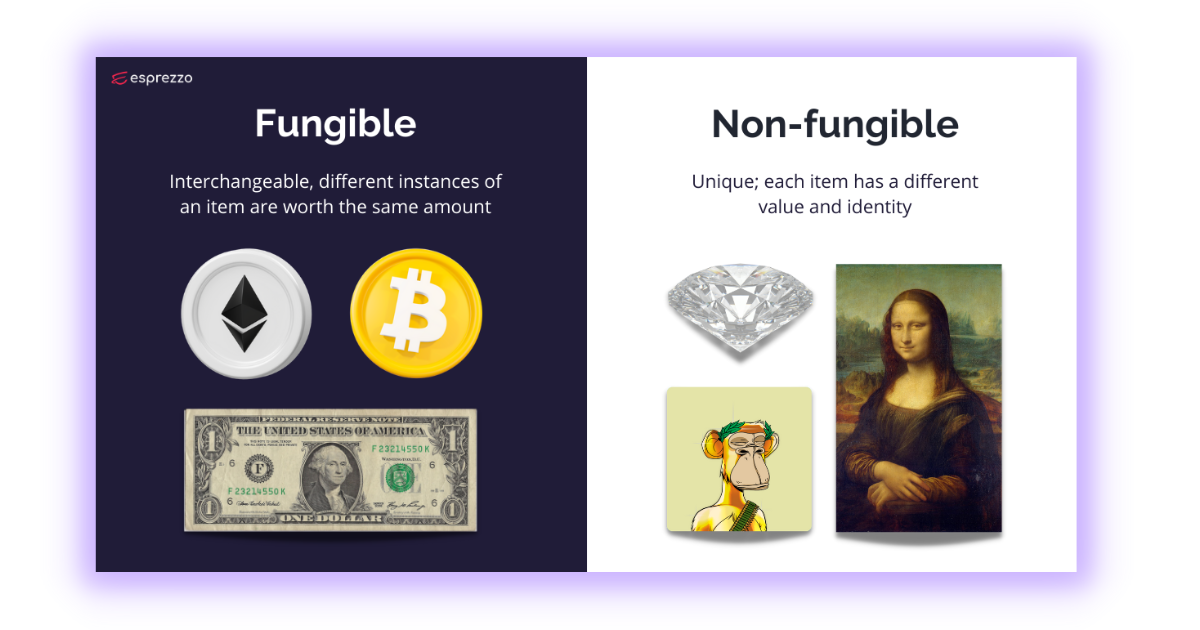 A NFT is a non-fungible token. This means that even if you save an image of the NFT, you won't have the original code or metadata that is attached to the non-fungible token itself.
Therefore, you can't prove that you own the NFT. Why is proof of ownership important? We'll get to that later.
Main characteristics of NFTs
Non-fungible tokens may be a significant tool for a variety of reasons, including the ability to represent real-world assets, memberships, and more.

Some of the main characteristics of NFTs are (but not limited to):
Uniqueness

: NFTs include metadata that distinguishes each token from others even if they look the same.

Rarity

: NFT collections often have limited supply to drive demand and FOMO (fear of missing out).

Traceability

: Since you can't manipulate data on the blockchain, NFT transaction history can be traced from creation — including every time a NFT is purchased or transferred from one wallet to another.
According to Ethereum.org, "When someone creates or mints an NFT, they execute code stored in smart contracts that conform to different standards, such as ERC-721. This information is added to the blockchain where the NFT is being managed."
All of these properties enable you to truly own, manage, and verify authenticity of NFTs.
What is NFT metadata?
When it comes to NFTs, metadata describes the essential properties of an NFT, which can include:
NFT name
Description
Links to images and audio files
Traits, properties or attributes assigned to the token. Some examples include background color, eye color, and land coordinates.
We'll cover metadata in more detail in a future installment of this series.
Where did NFTs come from?

2012: Birth of the NFT Concept
In 2012, Meni Rosenfeld, Vitalik Buterin, and Yoni Assia released an extensive summary of "Colored Coins". Originally, this was supposed to be the gateway to adapt new tokens and manage assets on the Bitcoin network. As the project progressed, the "Colored Coins" evolved into a digital asset encrypted with unique metadata to differentiate it from other assets and establish real-world value.
2014: First NFT?
Two years later, Quantum, considered by some to be the first NFT, was minted on the Namecoin blockchain by artist Kevin McCoy, who later sold it to Glitch CEO Anil Dash for four dollars.
"Quantum" by Kevin McCoy, considered by some to be the first NFT. Courtesy Jennifer and Kevin McCoy.
2015: First NFT Game on Display
In 2015, Devcon London was the setting for the first NFT display — of a project called Etheria. The tile-based game launched three months after the launch of Ethereum mainnet (the non-test version of the blockchain). This sparked the world's curiosity of NFTs and helped the new technology to gain traction.
2017: CryptoPunks, CryptoKitties and OpenSea
CryptoPunks, a collection of 10,000 pixelated characters, launched in June 2017. They are the inspiration for the ERC-721 token standard powering many NFTs you see today — including CryptoKitties, one of the first blockchain games featuring quirky and adorable cats as NFTs was released to the world in November 2017. Though CryptoPunks are one of the oldest NFT collections, they still command a pretty penny; #5822 was purchased earlier this year for 8,000 ETH, worth roughly $23.7 million USD at the time.

The NFT marketplace OpenSea launched in December of 2017. OpenSea is still so far the most-used NFT marketplace, consistently dominating the space with the most trading activity (highest volume).
2018: Axie Infinity
In March 2018, Axie Infinity, an Ethereum-based play-to-earn game reminiscent of Pokemon, took the world by storm. In the blockchain-based game, players collect, breed, and battle NFT-based creatures called Axies, and are rewarded with crypto and NFTs. Axie Infinity helped pave the way for other NFT-based Web3 games like card games Gods Unchained and Splinterlands.
2020: NBA Top Shot
Dapper Labs, creators of CryptoKitties, partnered with the NBA to launch NBA Top Shot, a marketplace and collection of video clips featuring NBA stars' "moments" (important plays) from games. This introduced many sports fans and collectors to NFTs for the first time. Investors include Michael Jordan, Durrant and Klay Thompson.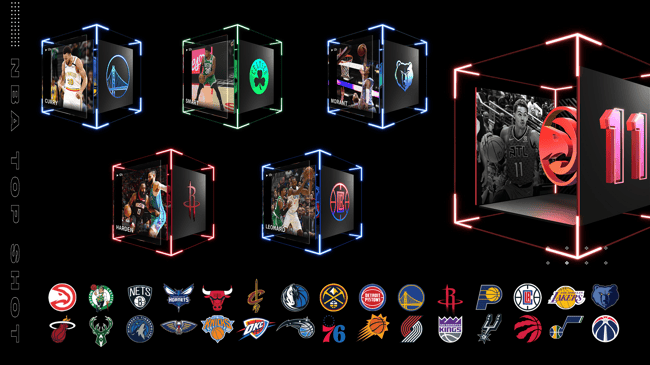 Image courtesy NBA Top Shot
2021: NFTs take off
Christie's, the premium arts and auction house, was the first to sell a first digital NFT artwork for $69 million in March 2021. The NFT was called Everydays: The First 5,000 Days– a digital collage by Beeple. This auction drew more visitors and possible buyers than many other physical works by well-known artists.
In April 2021, Bored Ape Yacht Club launched — a collection of 10,000 NFTs initially priced at 0.08 Ether that sold out in 12 hours. Apes were purchased and displayed by celebrities including Justin Bieber, Jimmy Fallon, Snoop Dogg, Eminem, Madonna, Paris Hilton, and Steve Aoki. This helped fuel a 21,000% spike in NFT trading leading to more than $17.6 billion in sales that year.

Nike purchased RTFKT Studios, the brand behind the launch of artist Takashi Murakami's Clone X NFT avatars, in December of 2021. December also saw Adidas launch their first NFT collection co-created with Bored Ape Yacht Club.
Magic Eden, the Solana-based marketplace, launched in September 2021 as creators and projects started seriously exploring alternatives to Ethereum.
The music world also started dabbling in NFTs: Kings of Leon released an album as an NFT in March 2021, and DJ 3LAU earned $11.7M from sales of 33 tokenized version of his album Ultraviolet.
2022: Social media platforms explore NFTs
In January 2022, Twitter announced a feature for subscribers of Twitter Blue allowing NFT owners to use owned NFTs as their profile pictures. These verified profile images are displayed as hexagons instead of the standard circle and when clicked display more info about the NFT.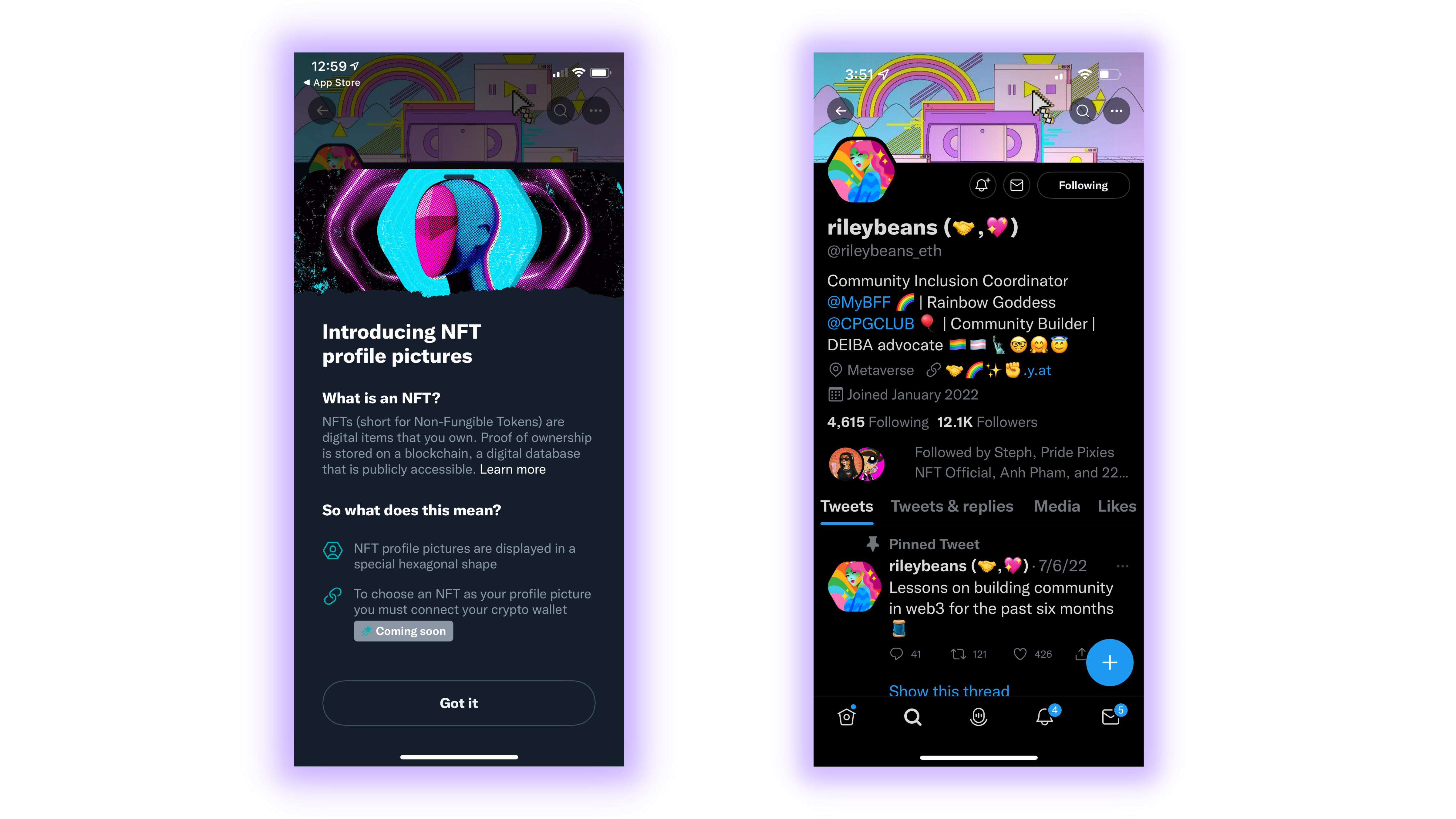 NFT profile picture on Twitter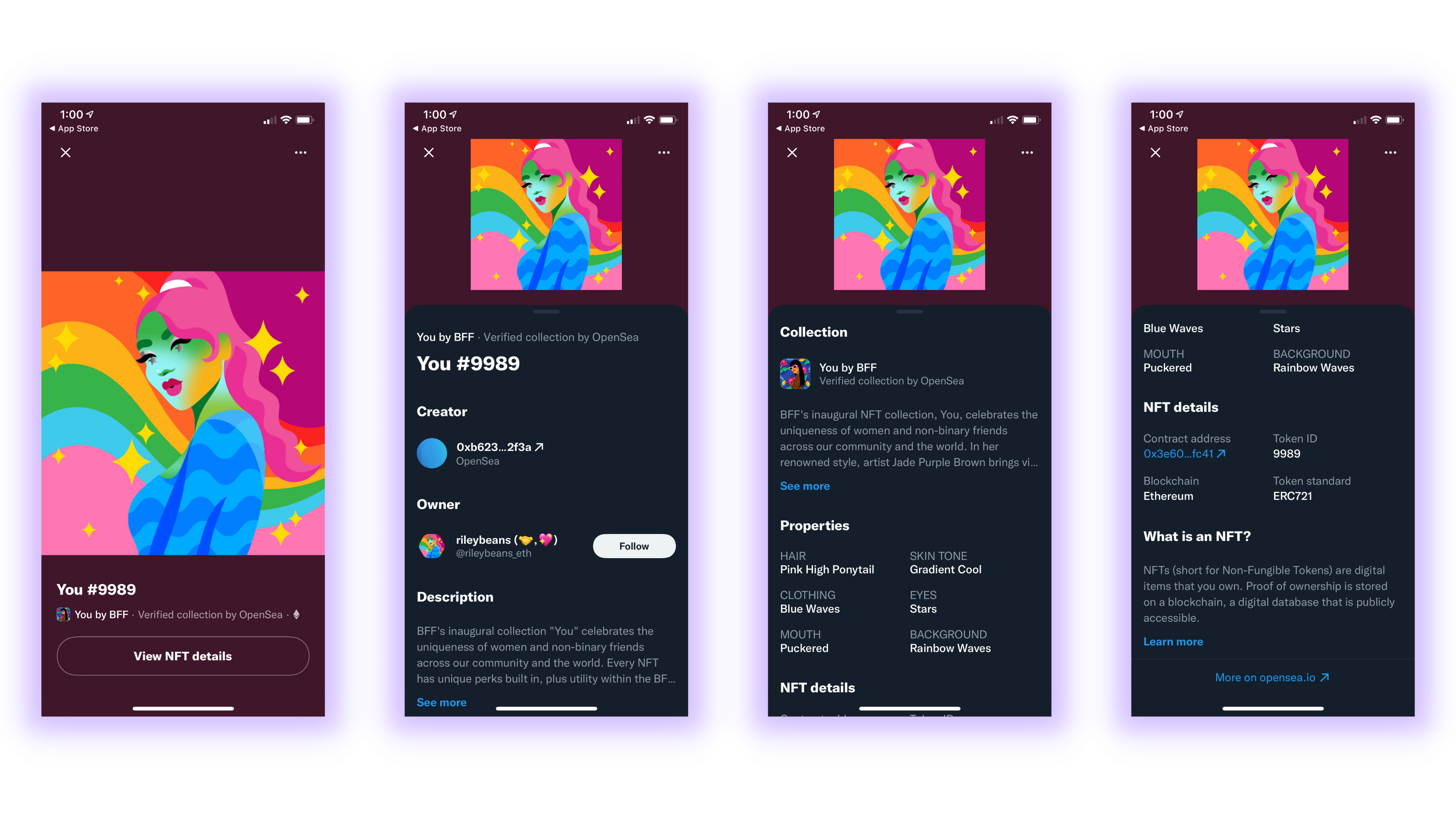 NFT data displayed by Twitter
Meta, the parent company of Facebook and Instagram, announced the expansion of support for NFTs on Instagram in August 2022 — giving Instagram users from over 100 countries the ability to share NFTs on their Instagram with automatic tagging of NFT creators and owners powered by wallets Coinbase Wallet and Dapper Wallet.
What are the different types of NFTs?
NFTs come in many forms and functions — and increasingly, with "real world" perks. Here we break down some of the different types of NFT and their associated jargon.

NFT categories include:
Digital collectibles
PFPs
Music NFTs
Video game assets
Event tickets and membership NFTs

Digital collectible NFTs

Digital collectibles can be a collection of digital cards, artwork, and more. One of the most popular examples of digital collectible NFTs is NBA Top Shot, a collection of "moments" from NBA games that introduced many basketball fans to crypto and NFTs for the first time.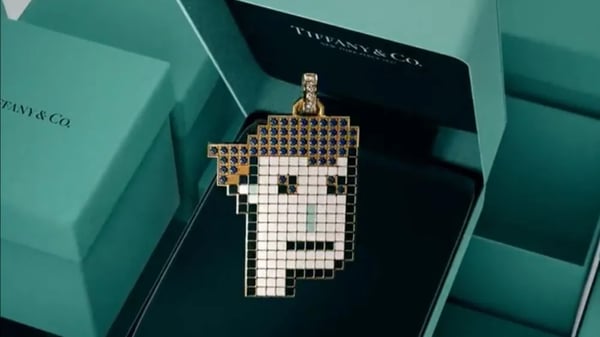 A promotional image of a NFTiff pendant, from Tiffany & Co
Other examples include jewelry company Tiffany's digital NFTiff pendants (that come with a physical hand-crafted physical pendant), MoonCatz, Dribblie, and Cristobal Balenciaga's To the Moon NFT collection, featuring drawings by the couture designer. Though just about any NFT with an image or audio might be considered a "digital collectible".
PFP NFTs (Profile pictures)

PFP (short for "profile picture" or "picture for proof") NFTs have become popular and more NFT enthusiasts are using these NFTs as their profile pictures on social media and texting platforms. In January 2022, Twitter introduced the ability for Twitter Blue subscribers to use NFTs they own as verified profile pictures.
PFP NFTs have taken over the social media landscape – chances are, you've probably seen Twitter profile pics of Bored Apes (BAYC), CryptoPunks, Doodles or World of Women, though not everyone using NFTs as their profile pics is paying to use Twitter's feature.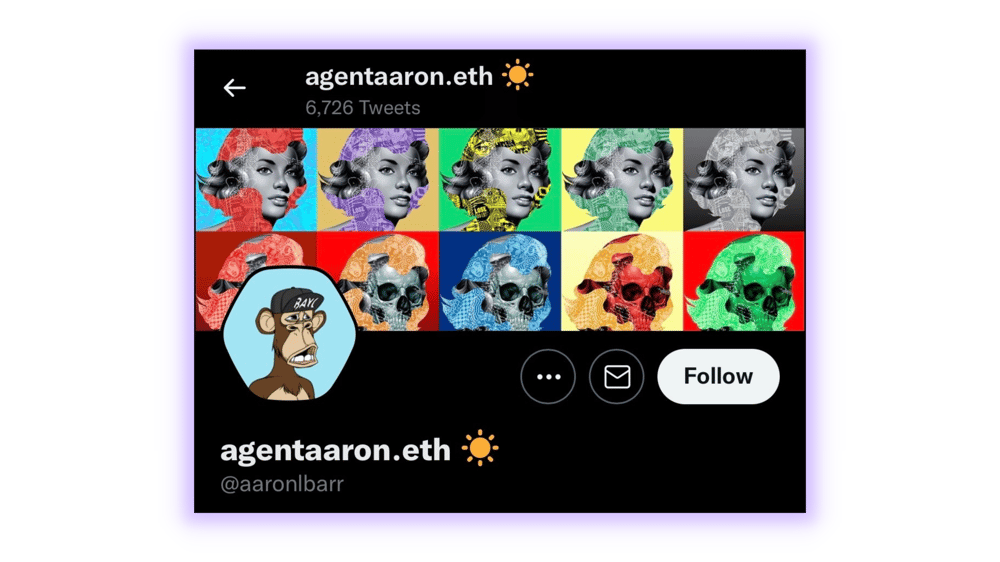 Example of an "official" Bored Ape Yacht Club NFT profile picture on Twitter
Whether used on Twitter or not, PFP NFTs can provide significant advantages to their users, like special access to online clubs, products, and communities. To some, PFPs have also become a coveted badge of coolness and crypto savviness.
Music NFTs
The NFT craze has driven a lot of artists to monetize their work or art in a new way. Since NFTs provide full ownership of your own work, we're beginning to see more musicians exploring NFTs as new ways to grow their brand.
For example, Snoop Dogg replaced his former record label with an NFT label, previously mentioned Kings of Leon and 3LAU released albums as NFTs, and Doja Cat released her first NFT collection back in 2021. The Weeknd also released his first NFT collection in April 2021.
The Weeknd's audio-visual NFT featuring an unreleased song. Source: Nifty Gateway
We're also increasingly seeing NFTs offering VIP access to musicians as well as other celebrities; Steve Aoki's A0K1VERSE passport collection includes access to future Aoki NFT drop presales, metaverse performances and free tickets to Aoki's shows. Similarly, YellowHeart and Ticketmaster aim to increase fan engagement with NFTs.
Gaming NFTs
Gaming NFTs are becoming increasingly popular as they continue to give value as digital-in-game assets for various blockchain games.
Axie Infinity, as mentioned above, includes "Axies" as playable pets, Illuvium will feature "Illuvitars" as individualized avatars for the game, and Gods Unchained has NFT card packs that you can buy to play and trade in the game.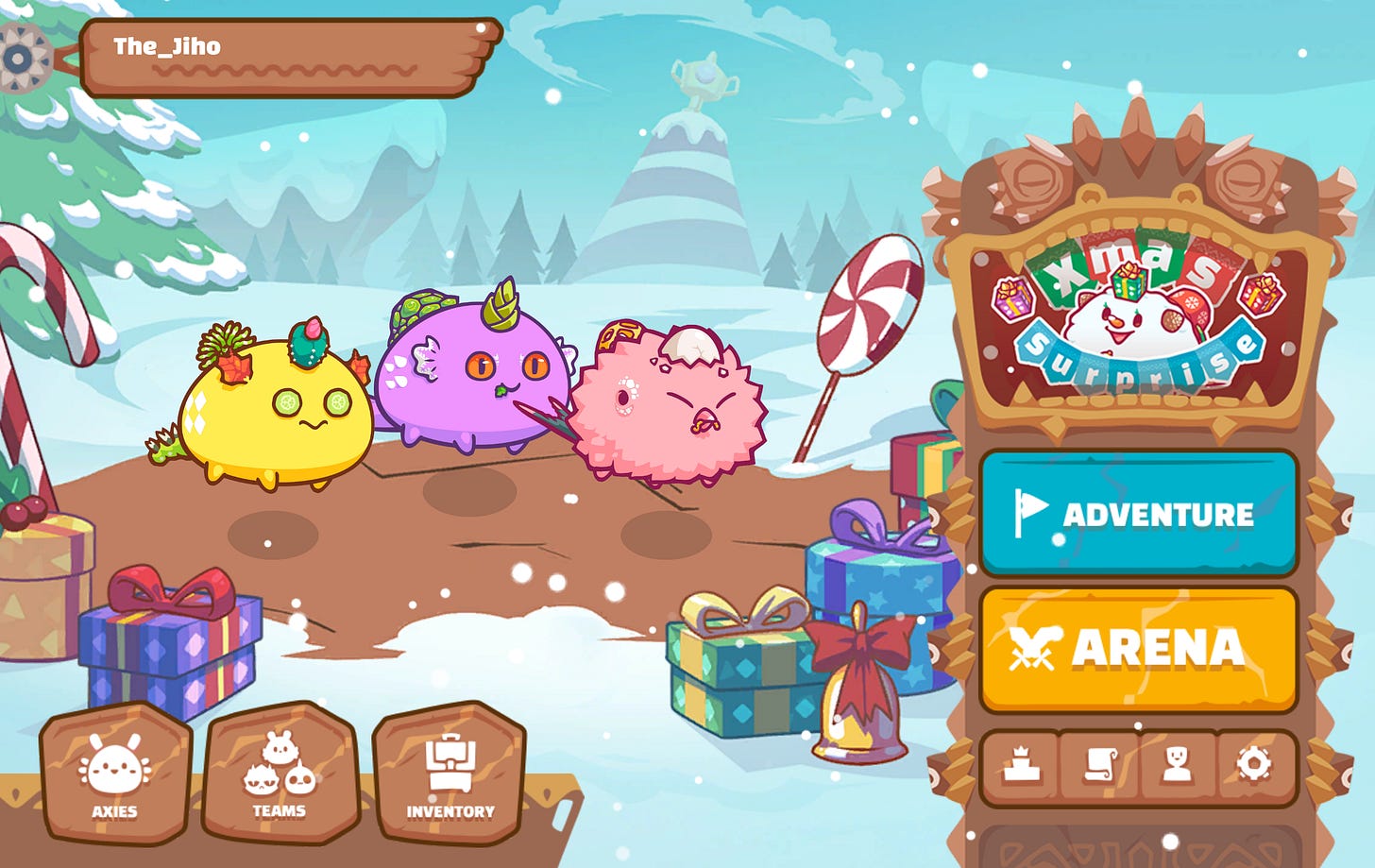 A screenshot from NFT online video game Axie Infinity
Kind of like Roblox but on the Ethereum blockchain, The Sandbox is a game in the Metaverse where players can create their own games and assets they can earn money from. The Sandbox offers tools for creating and animating voxel art for the game, as well as "Game Maker", a tool for building games.
Avatars, land, equipment, and in-game assets are all NFTs that can be bought and sold in The Sandbox. Snoop Dogg's The Doggies NFT collection of 10,000 avatars are playable in The Sandbox, and pro skater Tony Hawk also recently jumped in.
Event ticket and membership NFTs
Ticket NFTs can provide you entry to events, special access to celebrities, and entry into members-only clubs — if you can prove you own the necessary NFT.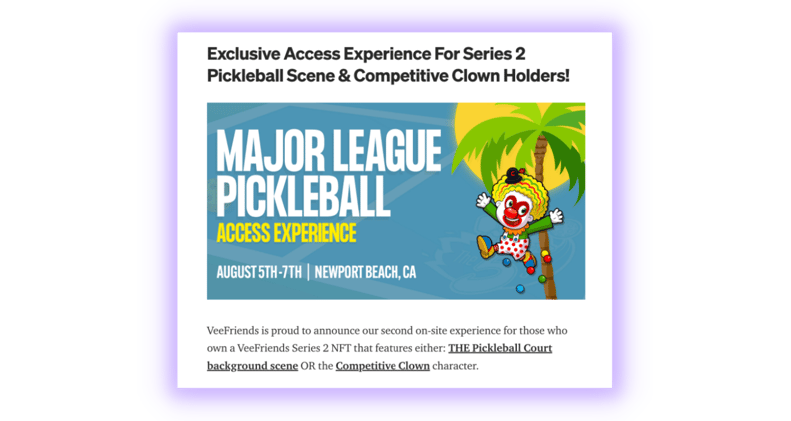 Major League Pickleball Access Experience for VeeFriends Series 2 holders, courtesy VeeFriends blog
In May 2022, Gary Vaynerchuk welcomed VeeFriends NFT holders to his exclusive Web3 conference. VeeFriends Series 2 NFT holders also get access to events hosted by Gary around the country, open to owners of NFTs featuring specific backgrounds and characters from the collection.
Actor Bill Murray dropped his first NFT collection on Coinbase's NFT marketplace in July, granting owners digital artwork, stories from Murray's life, access to in-person events with Murray, and members-only access to a Discord community filled with other Bill Murray 1000 NFT collection owners.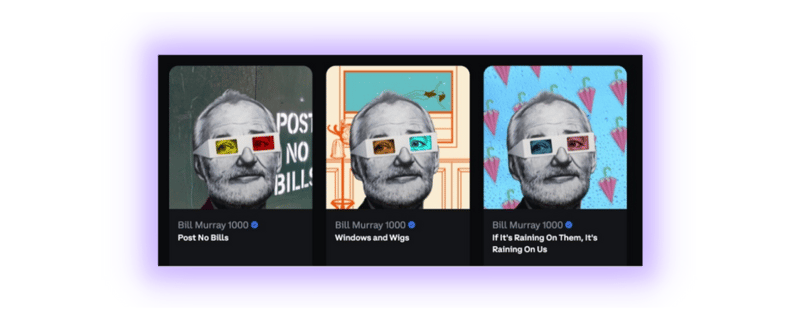 A few NFTs from Bill Murray's first NFT drop
NFTs are revolutionizing the ticketing experience for everyone involved in attending or putting on events. Since each transaction is recorded on the blockchain, anyone can confirm the ownership and legitimacy of their ticket.
There's an array of benefits that can come with NFT ticketing; here are some resources if you want to learn more:
You'll commonly see crossover between and combination of NFT categories as brands and artists seek to create new experiences and utilize their owned NFTs in new ways. In addition to the examples above, owning a Bored Ape grants access to members (owners)-only events and exclusive merchandise.
NFT token standards: ERC-721 vs. ERC-1155
As the popularity of dApps and NFTs has grown, new token standards have been developed and adopted, and as you might expect, there are new standards being developed. Currently the two token standards you are most likely to see in NFTs are ERC-721 and ERC-1155.
What are "token standards"? They serve as a framework for new tokens to be created and used on blockchains. New token standards are often proposed to improve efficiency or enable new use cases.

At present, the NFT landscape is full of projects that utilize ERC-721, which is a standard that enables non-fungible tokens on Ethereum — so different tokens from the same smart contract can have different values depending on rarity, aesthetics, etc.
Before the ERC-271 token standard became popular, ERC-20 was the main token standard to represent fungible assets. Some examples of ERC-20 tokens are Tether, USDC, and BNB.

Increased usage of ERC-721 and the Ethereum network revealed some limitations, such as high gas fees and inability to revert incorrect transactions. To address these, in 2019 Enjin launched the ERC-1155 token standard in 2019.
ERC-1155 is an upgraded version of ERC-721; among other benefits, it allows the transfer of both fungible and non-fungible tokens in a single transaction, which can help reduce costs like gas fees, which must be paid for every transaction.

Take a look at some of the differences between ERC-721 and ERC-1155:
Some examples of ERC-721 NFTs:
Bored Ape Yacht Club
CryptoPunks
Axie Infinity
Examples of ERC-1155 NFTs:
While these are the most popular token standards being used for NFTs today, we're likely to see more introduced, as people come up with more ways to use and optimize NFTs.
How do NFTs work?
At a high level, NFTs can be created, sold, bought, and resold. These actions apply to the many different types of NFTs we mentioned earlier.

The following diagram shows how NFTs work on the very basic level:

Who pays the listing fee and gas fees for sales varies by marketplace, sale prices, and whether the sale is an auction or fixed price.
Regarding the graphic above, it's important to note that even if Bob ends up purchasing and owning the NFT, he doesn't by default have the rights to reproduce and distribute it to everyone. Because each NFT has its own unique metadata, they can't be copied nor replaced. This is appealing to artists and creators who want to retain control and authority over their work. Knowing this, we can see how it applies appropriately to digital collectibles, tickets, music, gaming assets, and more.
Ownership and creative re-use of NFTs
Some projects, like BAYC, include IP ownership with the NFT, granting owners permission to use and distribute the image in their own projects. Meebits, a collection of 20,000 generative 3D voxel characters launched by the creators of CryptoPunks, gives Meebit owners access to the 3D model of their character that can be animated and used as avatars or in other creative projects.

Yuga Labs, who own BAYC and all its offshoots (Mutant Ape Yacht Club, Bored Ape Kennel Club, Otherside) and acquired Larva Labs' CryptoPunks and Meebits in March, grant owners of NFTs from all Yuga's collections commercial rights.
This means people or organizations who own Apes, CryptoPunks and Meebits can use the art from their NFTs in their own commercial creative projects — unlocking new profit-generating possibilities for NFT owners without fear of being sued for copyright infringement.
Example of what Meebit owners can do with their NFTs. Source: Meebits.app
Secondary sales & marketplaces
Many NFT marketplaces and projects provide royalties to creators anytime NFTs they created are resold (secondary sales) — this earning potential is another reason creators and collectors alike love NFTs.
Often in generative NFT projects, purchasers don't know what their NFT will look like before they pay for it; the artwork is generated after purchase. In some cases, these NFTs must be purchased directly on the artist or project's website (i.e. primary marketplaces).
The prospect of being able to trade and sell those NFTs on secondary marketplaces like OpenSea, Rarible can increase attractiveness to purchasers who don't want to be stuck with something they don't like.
NFTs on Different Blockchains
In the same way that fungible tokens sit on top of blockchains, so do NFTs. For the longest time, Ethereum has been the leading blockchain for NFTs. However, given Ethereum's high transaction costs, NFT creators and fans are constantly looking for new chains and marketplaces.

Here are some blockchains that support NFTs:
Where can I buy NFTs?
To be a part of the NFT phenomenon, you might want to start looking at some marketplaces to buy your NFTs from.
Here are a few of the top NFT marketplaces by volume:
New NFT projects often do their first sale from the artist or project's website; thus these are sometimes called "primary marketplaces". The original CryptoPunks and Meebits marketplaces are some examples.
After they're sold, owners can resell their NFTs on "secondary marketplaces" such as LooksRare, Collective, etc. Since some NFT marketplaces like OpenSea are making it easier for creators to list and sell directly from the marketplace, you'll also see NFTs go on sale for the first time there.
How to buy NFTs
As mentioned above, you can buy NFTs directly from a project or creator's website and a growing number of NFT marketplaces. Some marketplaces require you to pay using a crypto wallet, while some include the option of paying with credit and debit cards.
Before we get into payment methods, it's helpful to understand how NFTs are sold on marketplaces.
Types of NFT Sales
As you can imagine, with a vast choice of NFT marketplaces, come varied types of NFT sales.
Fixed Price
A fixed price sale is when the seller sets a specific price at which the NFT is to be sold.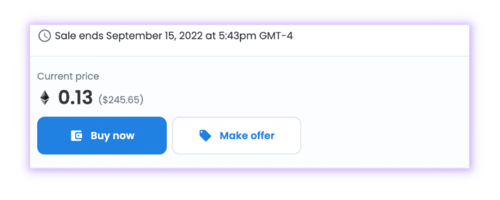 Example of what a fixed price sale item looks like on OpenSea
Auction
An auction-type sale involves bidding, where prospective buyers enter "bids" at the price they're willing to pay for the NFT.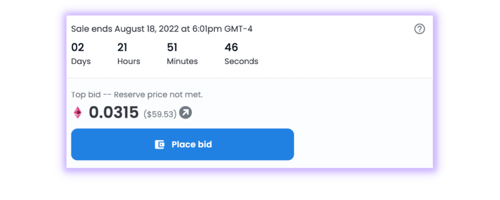 Example of what an auction sale item looks like on OpenSea
OpenSea offers sellers two types of auctions: English auctions and Dutch Auctions.
English auction: sell to the highest bidder
In this type of sale, prospective buyers can bid on an item, and the highest bidder wins. The seller can choose to set a "reserve price", which means a minimum price they're willing to sell. The seller can also accept any bid at any time (i.e. even if the reserve price was not met). Some marketplaces require paying fees for bidding and/or canceling bids, so be careful.
Dutch auction: price drops until purchased.
With a Dutch auction, the seller may set the starting price high, and can choose a lowest price and timeframe. For example, they might set the starting price for their at 1 ETH, with the auction ending 5 days later at .5 ETH.
While offering sellers choice in auction types can be beneficial to the seller, you won't be able to detect from the listing what type of auction it is. Though OpenSea handily allows you to filter NFT listings by auction type and payment method: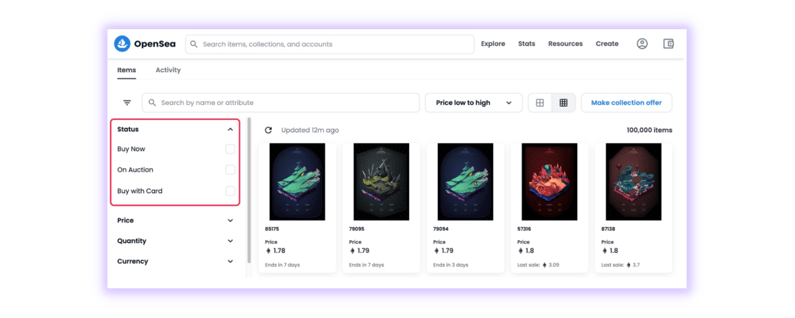 Buying NFTs with a credit card
OpenSea, Rarible, Draft Kings, NBA Top Shot and KnownOrigin are all marketplaces that offer options for buying NFTs with your credit or debit card. Keep in mind that there may be additional card processing fees. Some marketplaces like Rarible only allow you to buy with credit cards for fixed price listings (not for auctions).

If you're interested in buying NFTs with a credit card, here are a few links to help you get started:
Buying NFTs with crypto
While you can only use your credit or debit card to buy NFTs on some marketplaces, you can almost always pay with crypto. To do so, you will need to have two things:
A crypto wallet
Crypto funds to pay with
Don't have a crypto wallet yet? Here's an introduction:
Here are some tutorials for some of the most popular crypto wallets:
If you'd like to keep your digital assets safer, you'll want to consider a cold wallet, which is a wallet that can hold all of your digital assets safely offline. You don't have to worry about being hacked, having your credentials to third-party wallet extensions stolen, or dealing with an exchange or marketplace that won't release your assets, because these wallets aren't linked to the internet, and you have sole control over your assets. We recommend using something like Ledger.
OTC Trading
"Over the counter" (OTC) trading occurs when two parties decide to trade directly with each other instead of using a marketplace or exchange. The benefit of this approach is that you won't have to pay any of the fees that would normally be taken by the marketplace or exchange.
Risks of OTC Trading
A major risk of OTC trading is that you may be the victim of a scam and lose the NFT you're trying to sell without getting anything in return. Social engineering — tactics used to steal sensitive data, accounts, or resources — is something to be especially careful about; if you do decide to try trading directly with another party, only trust known parties and double check that the user is not mimicking another user account on Telegram or Discord.
What's next?
Understanding NFTs can be difficult, but not impossible. Now that you know what NFTs are, where they came from, how they work, and how you can get involved, you're already halfway up the hill.
The adventure is not over yet! This is only the first part of our NFT series. There are still a few more things you need to know about NFTs to truly take advantage of the new technology. In the next part of our NFT series you will learn how to evaluate NFTs, discovering the ins and outs of determining the potential value of various NFT collections.

What did you think about this piece? What else do you want to learn about NFTs or crypto? Let us know by joining us on Discord.

Other ways to follow what we're working on: subscribe to our blog and follow us on Twitter.

Legal Disclaimer
This content is for informational purposes only; you should not construe any such information or other material as legal, tax, investment, financial, or other advice. Nothing contained on our site constitutes a solicitation, recommendation, endorsement, or offer by Esprezzo or any third party service provider to buy or sell any securities or other financial instruments in this or in any other jurisdiction in which such solicitation or offer would be unlawful under the securities laws of such jurisdiction