A line of demarcation has been forming in the world of cryptocurrency. On one side, speculators and gamblers play the markets only for profit. The tone of their social media posts fluctuates, jubilant when prices soar and fearful when they fall. On the other side is a group of technologists, entrepreneurs, and pragmatic believers. They recognize that while a financial renaissance may be within reach, it won't be achieved without a sustained and collective effort for years to come. The second group is the one that showed up in droves this weekend.
17,000 people from 105 countries registered for Consensus 2022, the blockchain technology conference that buzzed throughout the 900,000 square foot Austin Convention Center in the capital of Texas.
Hundreds of companies displayed their fresh Web3 products and protocols on the floor of the massive expo center. In the far wing of the building, a series of stages — one of them gaudily dressed up as "The Metaverse Zone" — hosted more than 500 speakers across three days.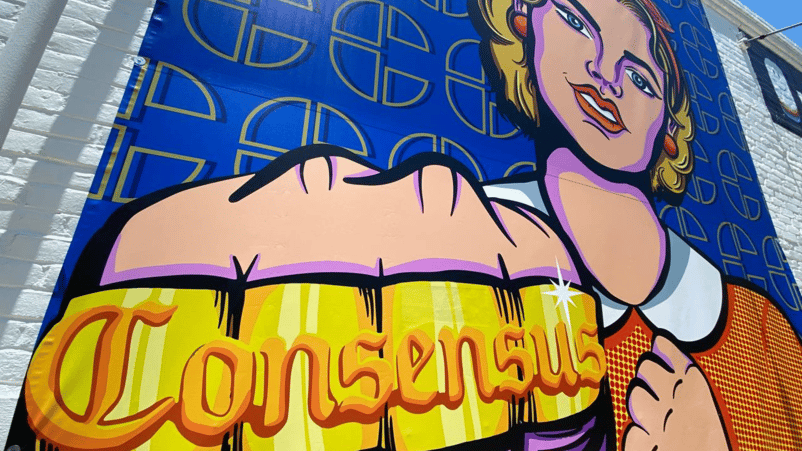 Sara Baumann's street art on East 4th attracted photos and social media posts throughout the week
Joseph Lubin, among the original Ethereum contributors and the founder of Consensys, spoke on Friday afternoon in his measured cadence that's long been a constant in the industry: "The power of Ethereum has always been the community. [The network] is flipping the trust vector from authorities on down to the base foundation on up."
Joseph Lubin (right), along with Christine Kim, Dani Osorio, and Preston Van Loon at the Ethereum Merge panel on Friday afternoon at Consensus
Ether, along with the rest of the crypto asset market, has suffered price depreciation this spring, a trend that continued through the weekend, as its market value dropped below $1500 on Saturday night for the first time in more than 15 months. But those who began investing in crypto prior to 2017, many of whom roamed the convention center corridors in Austin, have grown accustomed to these storms.
Sam Bankman-Fried, the founder and CEO of FTX, spoke to close out the Friday session: "While I do think market movement has slowed down the industry, I don't think it represents cryptocurrency and blockchain as much as it does Fed interest rate movements."
Historically, some of the most effective product-development has occurred during crypto bear markets. As investment gains wash away and causal investors lose interest (not to mention personal wealth), serious computer programmers and shrewd entrepreneurs refocus on building the tooling and mechanics that fortify blockchain infrastructure and expand its applications.
Increasingly, such efforts are stretching across borders. Dozens of blockchain companies arrived in Austin from across Latin America. Bitso, a leading Latin American crypto exchange based in Mexico City, was among the weekend exhibitors. The quantity of Spanish language conversations inside the convention center invited the question: might Latin America help build Web3 the way India has bolstered Web2?
What Does Snowden Think About All This?
Perhaps even farther east than India, via a live feed from "somewhere in Russia," Ed Snowden opened up Saturday's session: "The Long Road to Internet Privacy", on the main stage. Nearly nine years to the day after he leaked classified information about the NSA's surveillance practices and then fled the United States, Snowden spoke about Bitcoin and "crypto more broadly." While he does not advise investing in coins, Snowden remains a cautious advocate for Bitcoin as a technology. He explained how during his 2013 whistleblowing strategy he regularly used the network to communicate with journalists who lacked internet security skills.
Snowden also acknowledged that he anonymously participated in forming the blockchain-based payment network Zcash as far back as 2016, which tried to create a payment system with privacy capabilities superior to Bitcoin's.
Ed Snowden spoke to hundreds of Consensus-goers via live feed on Saturday morning
Let's Get Technical
While Snowden spoke mostly in layman's terms, more technical conversations occurred on the 4th floor, where both NEAR protocol and Filecoin hosted a bevy of talks aimed at engineers looking to shore up their Web3 skills.
NEAR, a growing network written in Rust (the same programming language of Solana and Polkadot), demoed several NFT and DeFi tools, while Filecoin focused on Web3 storage. Stefaan Vervaet, the lead storage provider at Protocol Labs, compared the way corporations adopted cloud storage 10-15 years ago to the way they have and will continue adopting decentralized storage via networks like Filecoin throughout the 2020s.
What Kinda Numbers Are We Talkin' About?
On the main stage Saturday afternoon, Matthew Roszak of Bloq contextualized the current market downturn.
"There are about 100-150 billion dollars in DeFi today, and these protocols are being put through these stress tests and pressure tests…out in the wild. We need these stress tests if we [eventually] want trillions of dollars to pass through these rails. This is not a one or two year thing. It's a decades-long crypto ascent."

-Matthew Roszak, Cofounder & Chairman of Bloq
Matthew Roszak (center) spoke on the main stage about Crypto's gradual ascension in the world of finance
While the data revealed more market downside over the weekend, the blockchain community did not. Companies showed off their tech, academics flexed their fresh ideas, and engineers of all skill levels shared strategies. Bearish markets may send anonymous investors scurrying for greener pastures, but on this side of the line, progress forges on.
"We have been through these cycles before. As the FUD continues to spread across mainstream media it is the best time for strong technical teams to go heads down on product. The next wave of crypto infrastructures is in development and will help catalyze the next bull cycle."

- Remy Carpinito, CEO of Esprezzo
Can I Get a Shot of…
Esprezzo is proud to be one of the projects building for the Web3 world. Our no-code automation and alerting tools are designed for easy tracking of crypto and Web3 activity. We have some exciting developments in the pipeline, so stay tuned. We'll also be at NFT NYC next month!