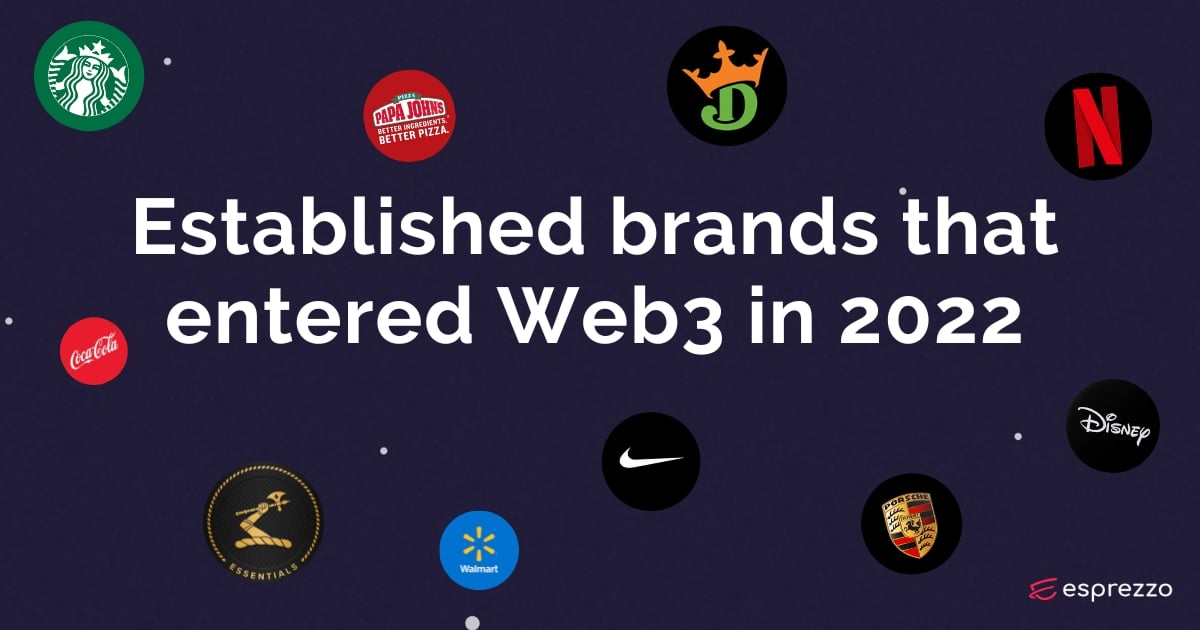 2022 was a tumultuous year for Web3, as it was for many other industries. Despite that, we saw many established brands enter the Web3 space. Nike is consistently exploring the edge of new digital technologies, and they continue to be a leader in the Web3 space. Last year they were joined by a plethora of other brands and projects across multiple industries — Lamborghini, Disney, Starbucks and Rimowa, just to name a few. Here's a look at some of the brands and companies that ventured into Web3 in 2022.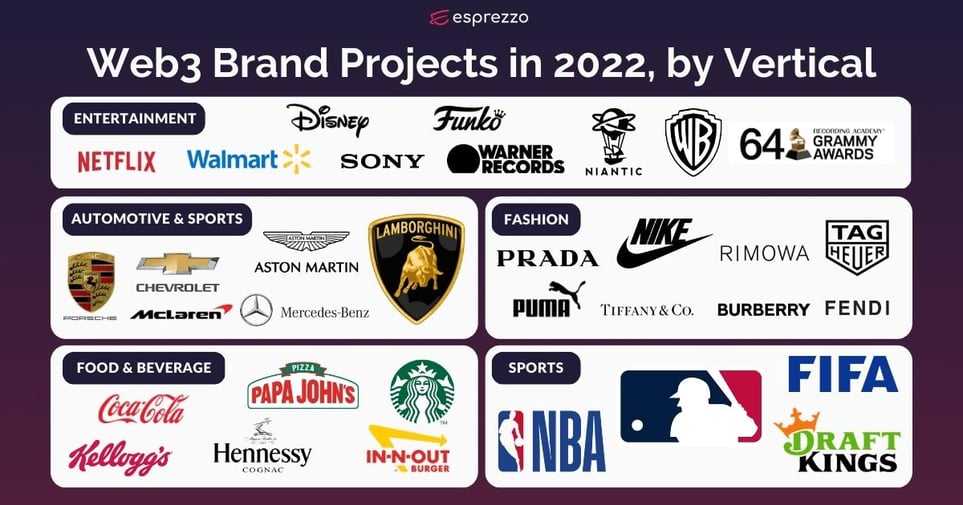 Fashion
Nike: Web3 Pioneers?
Nike was one of the first companies to venture into Web3, and they continue to lead established brands in their Web3 initiatives. In December 2021, Nike acquired RTFKT, the creative studio behind CLONE X.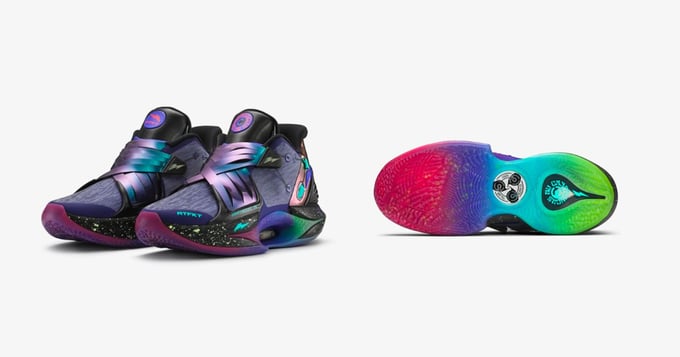 Cryptokicks iRL "Space Matter'' colorway, 1 of 4 colorways in the collection. Images from RTFKT
Nike is definitely one to watch. Meanwhile, here are some other fashion brands that entered Web3 in 2022.
Tiffany & Co
Luxury jewelry brand Tiffany & Co. dropped NFTiffs, a collection of 250 custom (physical) jeweled pendant NFTs with matching art pieces for CryptoPunks holders. The NFTiffs sold out quickly even with their 30 ETH price tags.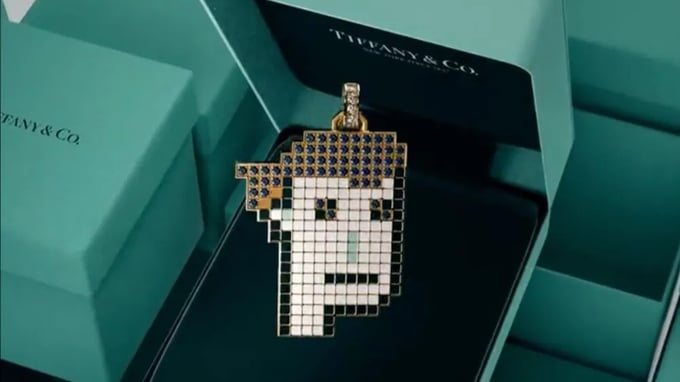 NFTiff Tiffany and Co pendant. Photo courtesy Tiffany & Co
TAG Heuer
Gucci
Gucci launched several Web3 initiatives in 2022. They partnered with NFT platform SuperRare to launch "The Next 100 Years of Gucci", virtual art exhibit featuring patterned the fashion house's recognizable prints, cyborgs with GG-monogrammed bionic body parts and more on their metaverse platform Vault.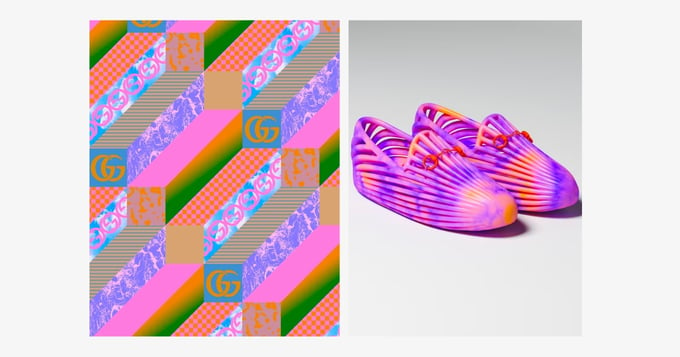 NFTs from "The Next 100 Years of Gucci", featuring artwork by Tyler Spangler and Pet Liger; images from gucci.com
Gucci also teamed up with SUPERPLASTIC to release two installments of SUPERGUCCI NFTs, combining Gucci's patterns with SUPERPLASTIC characters in the form of a digital image of the SuperPlastic figure adorned in an exclusive Gucci print and an IRL physical collectible.
Prada
Prada launched 100 NFTs on Ethereum to go with physical purchases from their Timecapsule physical apparel releases. The most recent drop was a collaboration with Cassius Hirst. If the Hirst name sounds familiar, you might have heard of the artist's father, artist Damien Hirst, who released "The Currency", a collection of 10,000 NFTs corresponding with physical paintings he later burned to symbolize their "transformation" from "physical artworks into NFTs''.
Earlier in the year Prada partnered with Adidas to release the Adidas for Prada re-source collection on Polygon — a collaborative, interactive art project where the individual NFTs were assembled into one canvas by artist Zach Lieberman.
Prada has even launched a Discord server for their Web3 community — "a place to exchange ideas and inspire one another while connecting the universe of fashion with the worlds of art, architecture, cinema, music, Web3 and more."
Fendi
Ledger makes some of the most popular "cold" (physical) crypto wallets, and in 2022 Fendi designed accessories that turn Ledger Nanos into luxurious articles of beauty with Ledger Fendi cases.

Burberry
Burberry continued its partnership with Mythical Games, launching a new NFT collection in their Blankos Block Party game. NFTs in the game/collection included the brand's first NFT character, Minny B, and Burberry-branded in-game accessories including boomboxes, shoes, and bucket hats.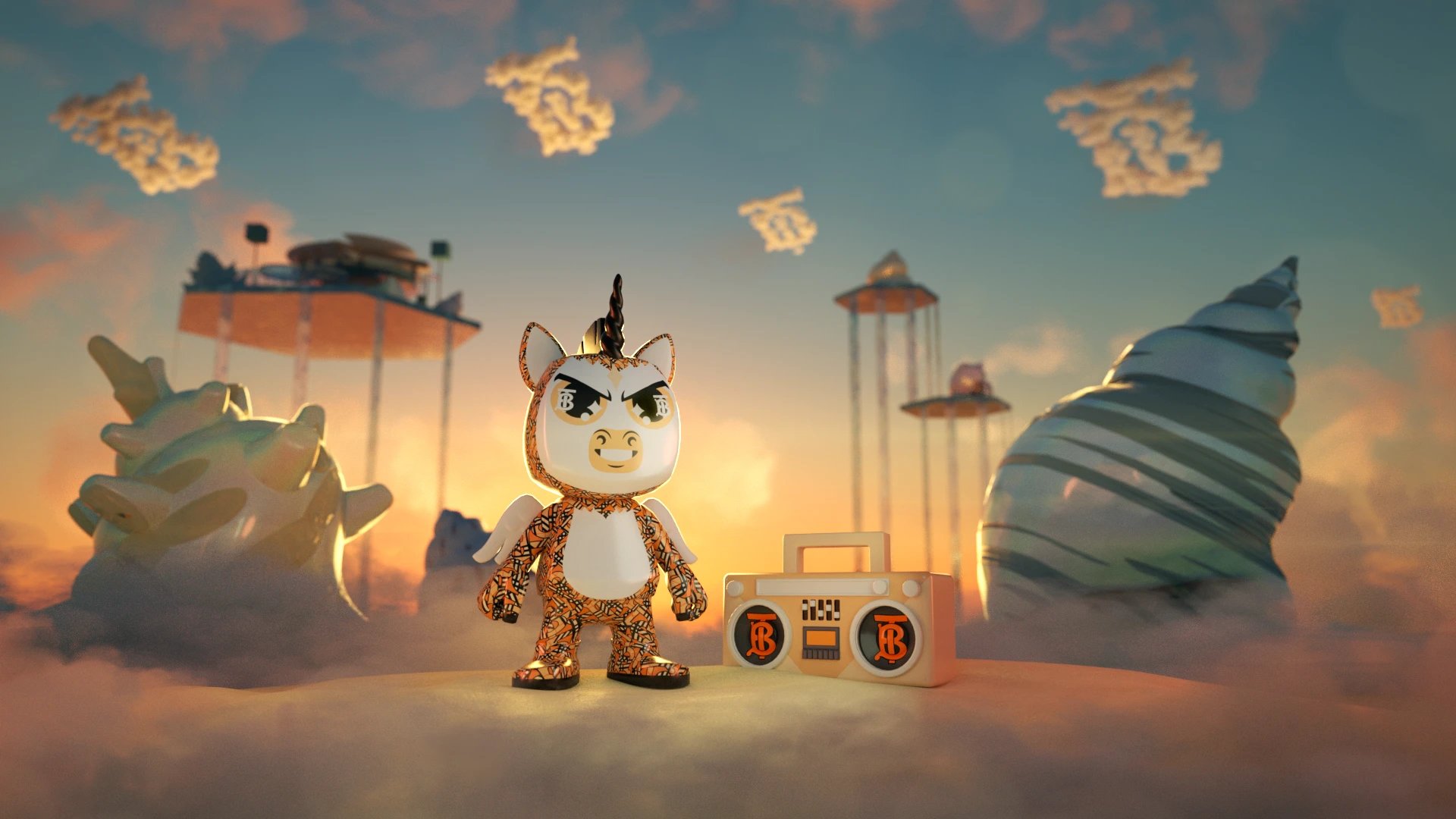 Burberry NFTs from Mythical Games' Blankos Block Party game
Blankos Block Party is a multi-player online NFT game where players acquire customizable characters that look like digital vinyl toys. Loot and clothing are sellable in a "Mythical Market", and NFTs are stored on the EOSIO blockchain.
Rimowa
The German luxury luggage maker collaborated with Nike-owned RTFKT to release their first NFT: a collection of 888 NFTs that can be used to redeem a physical version of the limited edition Original Cabin suitcase.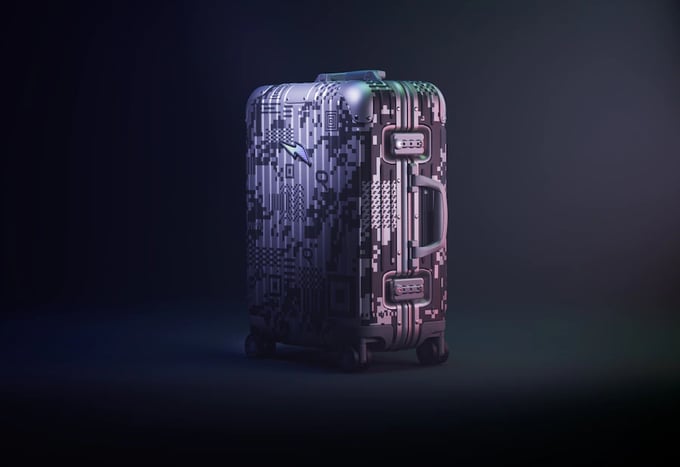 Rimowa x RTFKT Original Cabin Suitcase NFT. Source: Rimowa
Puma
PUMA utilized NFTs at New York Fashion Week 2022 , granting PUMA Nitropass NFT holders the option of burning their tokens in exchange for IRL physical PUMA sneakers. Beyond physical sneakers, the German sportswear brand also announced The Black Station, their first metaverse website experience.
PUMA NFT NitroPass holders get access to the Black Station metaverse, where they get to see exclusive sneakers and custom design their own.
Automotive & Motorsport Brands in Web3
Aston Martin
Luxury British sports car maker Aston Martin released their first NFT collection: the NFT Vantage Series, a collection of 3,000 cars based on the current Vantage V8, Vantage GT3 race car, and the 1980 Vantage V8 popularized by a James Bond film.
Cars from Aston Martin's first NFT collection, the Vantage series. Source: Infinite Drive
These NFTs will be playable in indie game developer The Tiny Digital Factory's racing game Infinite Drive Racing, a Polygon-based racing game that includes "digital diecast" Aston Martin NFTs. The mobile-first game will purportedly allow players to customize, trade, and rent their cars.
Chevrolet
The Detroit-based automaker entered Web3 with "Own the Color", a one-of-one 2023 Corvette Z06-inspired NFT which includes digital artwork by artist xsullo as well as a custom-painted real-world car of the same model. Chevrolet partnered with SuperRare to run the auction on Ethereum, with proceeds going to DonorsChoose, a public school education-focused nonprofit. Own the Color was on view at The Crypt Gallery during NFT NYC.
Lamborghini
Lambo launched 2 NFT collections, adding utility to "Epic Road Trip", its second collection. Their tour-themed NFTs come with digital wallpapers, sketches, and rewards for multiple purchases. Those rewards include a VIP Tour of Lamborghini's headquarters in Bologna, Italy.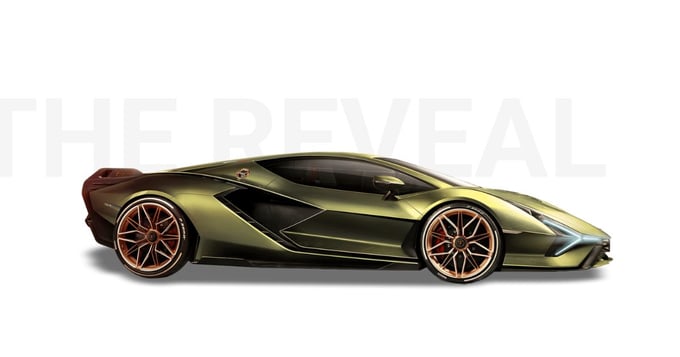 A promo image for Lamborghini's "The Epic Road Trip" NFT collection. Source: Lamborghini
McLaren
McLaren Racing launched a 7-page comic as NFTs on Tezos to coincide with the Japanese and Singapore Grand Prix, and also a MCL36 collectible that some lucky owners will get to race in a forthcoming F1 game.
Mercedes-Benz
Mercedes-Benz began 2022 with NF-G: its first NFT project, teaming up with artists from the crypto art collective ART2PEOPLE to design the NFTs, which featured tributes to the G-Class. The drop occurred on Nifty Gateway and sold out within the hour-long sale.
In May, they became the first car maker to join the Aura Blockchain Consortium as a founding member. Aura was founded in April 2021 by LVMH, Prada Group and Cartier with the aim of developing blockchain applications for the luxury industry.
Mercedes then closed out the year by filing Web3 trademark applications hinting at plans for virtual clothing, vehicle parts, and various crypto-related financial services.
Porsche
We got to chat with a few members of Porsche's Web3 team at Art Basel in Miami, where they unveiled their first NFT collection. The collection features "digital portraits" of the Porsche 911 by 3D artist Patrick Vogel, with buyers able to choose from three themes that influence the artwork: Performance, Heritage, and Lifestyle "routes". Porsche 911 NFTs are created using Unreal Engine 5.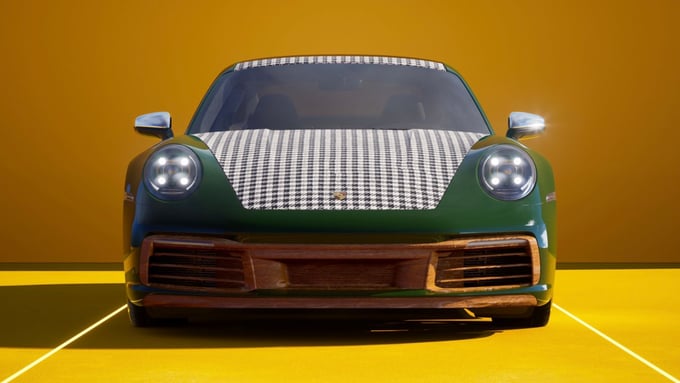 Porsche AG NFT on the Heritage route. Source: Porsche
"Digital art is just one aspect of Porsche's Web3 strategy," according to their press site. "The sports car manufacturer is working to integrate the potential of blockchain technology into existing and future processes and solutions."
Rolls-Royce
The British luxury car maker launched an NFT collection as part of its Phantom "The Six Elements" collection to raise money for charity. The initiative included six one-of-one physical Rolls-Royce cars hand painted by Dubai-based artist Sacha Jafri, each coming with their own one-of-one NFTs. Royalties from secondary sales of the NFTs are intended to go to "a digital wallet dedicated to charity".
Entertainment
Epic Games
Blankos Block Party became the first Web3 game to launch on "Fortnite" creator Epic Games' PC game marketplace, the Epic Games Store, in September 2022.
Blankos Block Party is a free-to-play open-world multiplayer game focused on custom character creation and world building, with users being able to collect and personalize their own Blankos characters (playable NFTs) inspired by vinyl toys. Characters can level up, be merged to create new characters, and sold on a marketplace powered by Mythic Games' Mythical Platform.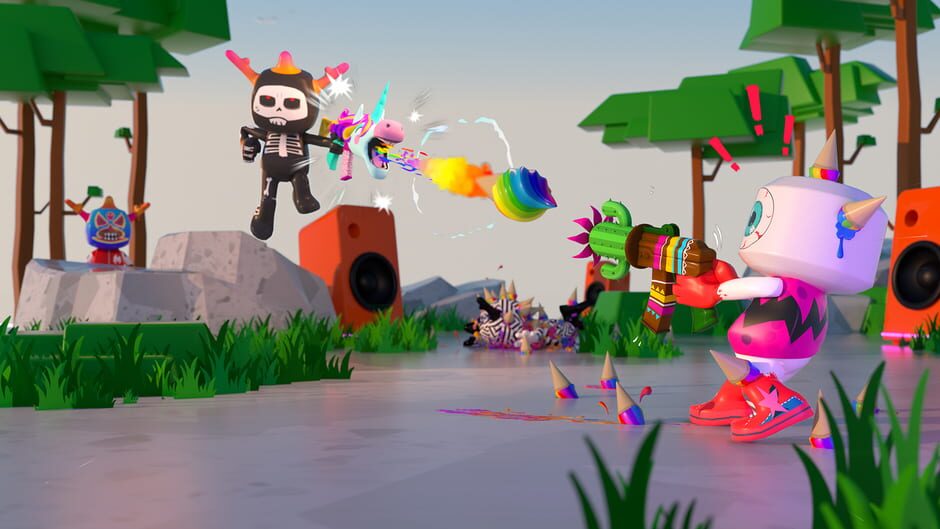 Blankos Block Party, from Mythic Games
Disney
Every year, The Walt Disney Company accepts a handful of companies into a business development program. Two thirds of the companies accepted into the 2022 Disney Accelerator class were Web3 companies.
Obsess, one of the Accelerator participants, launched the Disney Music Emporium — a Web3 virtual storefront giving fans a new way to experience popular Disney soundtracks to celebrate 100 years of Disney music.
Funko x Warner Bros. x DC x Walmart
Toy company Funko teamed up with Warner Bros and DC comics to release DC's The Brave and the Bold #28 (1959) Comic Book Cover as a pair of physical and digital NFT collectibles, exclusively on Walmart.com.
The Brave and the Bold was a comic book series that started in the 1950s and introduced the Justice League and iconic characters from across the DC universe.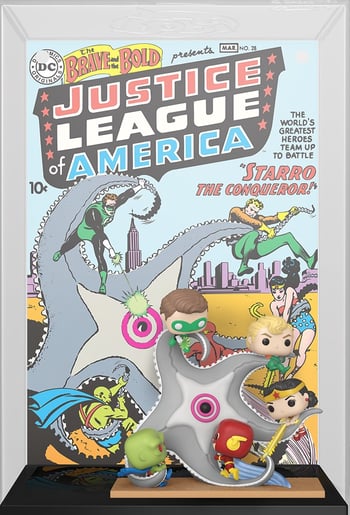 Funko's Brave and the Bold physical collectible, which comes with a digital collectible as part of Funko's Digital Pop! NFT
The NFTs were minted on the WAX blockchain.
KillRoy Was Here, by Kevin Smith
The visionary behind Clerks, Mallrats, and the Jay and Silent Bob films, released KillRoy, the "first-ever NFT full-length feature film minted as a truly decentralized NFT on Secret Network."
Having been in the film-making game for years, Smith's experience and outlook should be of interest to creators of the present and future. Check out his thoughts in his discussion on Delphi Digital's podcast.
Netflix
Netflix explored Web3 with a few projects in 2022, including their original show Love, Death & Robots, and The Gray Man movie starring Ryan Gosling and Chris Evans.
The third season of their animated anthology show Love, Death & Robots featured an NFT scavenger hunt that included nine pieces of QR-coded digital pieces of art spread across the episodes.
Netflix also partnered with The Electric Factory to launch a month-long "experiment" in Decentraland to promote its action movie The Gray Man. The experiment included a 45-parcel "Metaverse Mission" — a recreation of a landscape from the film that players can navigate and advance through using knowledge gleaned from watching the movie.
Niantic
The Pokémon Go developer acquired SpotX Games, a "Web3 innovation studio" specializing in creating crypto-based scavenger hunts.
Niantic also invested in Pixelynx, a music metaverse startup founded by musicians deadmau5 and Plastikman. Pixelynx selected nine musical artists featured in their genesis NFT collection The Droplet, and holders of The Droplet NFTs were guaranteed early access to Pixelynx's first mobile metaverse game, ELYNXIR, on Polygon.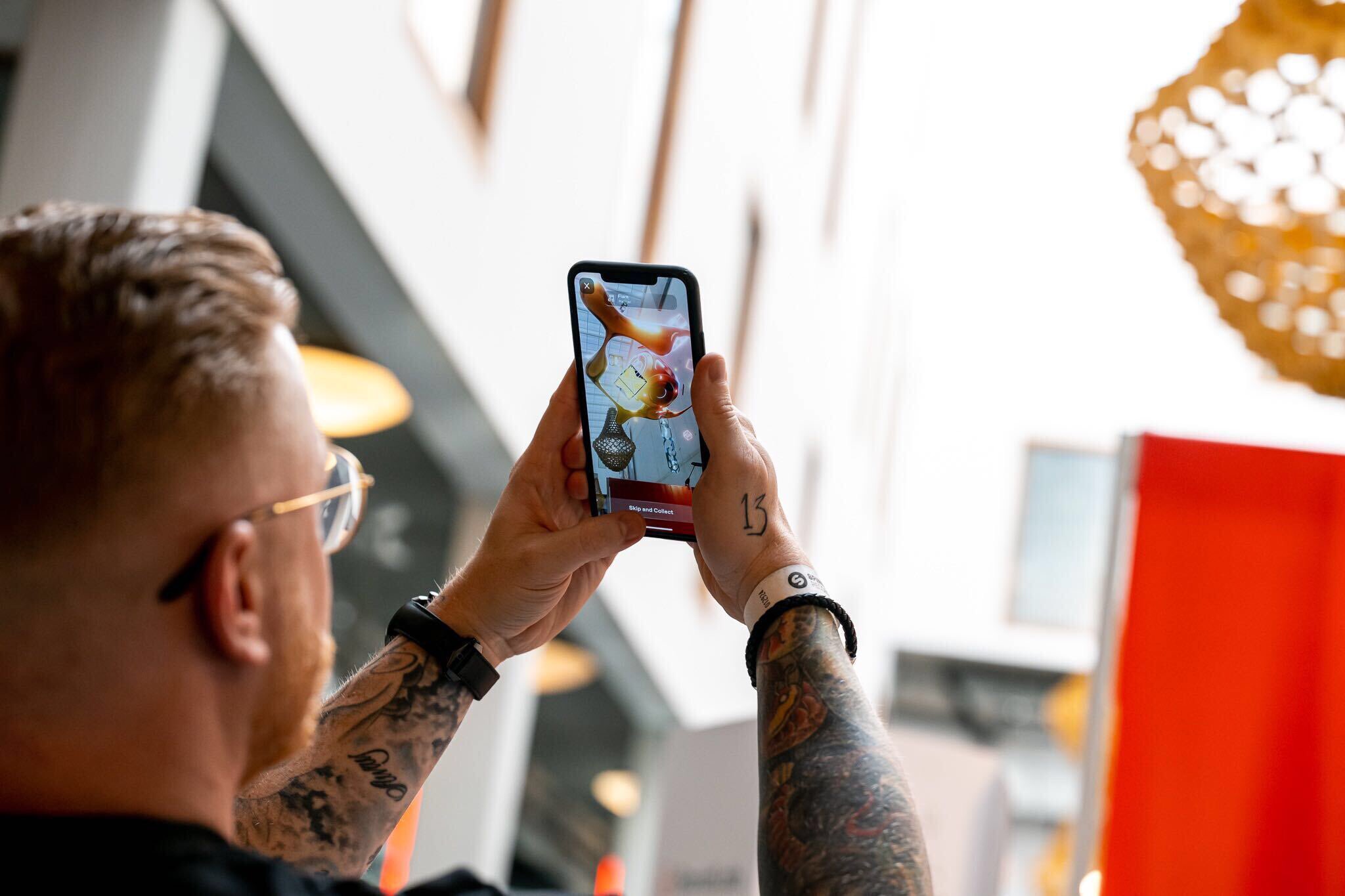 A player trying out ELYNXIR, Pixelynx's AR scavenger hunt mobile game. Source: ELYNXIR
Pixelynx launched the game at Art Basel via an AR scavenger hunt throughout Miami Beach, touted by co-founder and CEO Inder Phull as a "Rock Band meets Pokemon Go experience". ELYNXIR is intended to create more opportunities for fans to connect with artists and is available to download from Apple's App Store and the Google Play store.
Warner Bros
Warner Bros became the first major studio to release a movie as an NFT with their launch of "The Lord of the Rings: The Fellowship of the Ring" Web3 Movie Experience. The studio partnered with blockchain company Eluvio to launch the NFTs, accepting purchases via credit cards in addition to crypto.
The "Fellowship of the Ring" NFTs are just the first to be made available on WB Movieverse, "Home of Warner Bros. Web3 Movie Experience". Basically, Warner Bros.' marketplace for buying, selling, and trading movie NFTs.
Warner Records x Bose
The UK music division of Warner Bros partnered with Bose on Stickmen Toys, a collection of 5,000 NFTs. Utilizing music technology from Kapsule, Stickmen Toys purports to transform audio into unique characters; each Bose-themed character NFT includes a 30-second audio track produced by musical duo The Stickment Project and one-of-a-kind Bose x Stickmen headphones or speakers.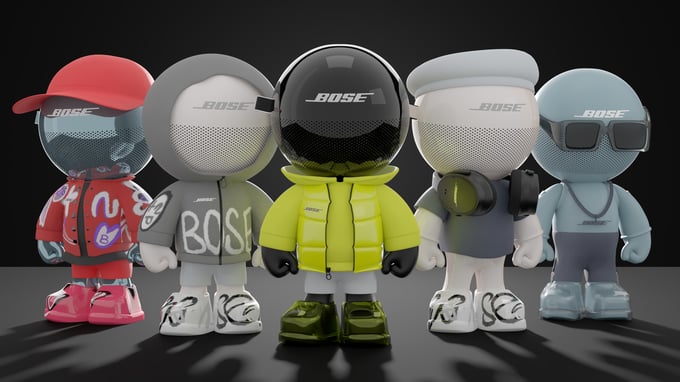 Bose-themed Stickmen Toys characters. Source: stickmentoys.com
Along with the phygital collectibles, holders of Stickmen NFTs were also promised "utilities" in the form of access to live events, streetwear, toys, and priority access to future Warner Records NFT drops.
With this release Warner Records claims to be the first major label to give IP ownership to purchasers.
Nas
In January 2022, hip hop icon Nas released his first NFT collection — the first drop on Royal, DJ 3LAU's NFT platform. The 1,870 NFTs sold out in record time and collectively grossed over$560,000. Nas's NFTs come in three tiers, each tier coming with different percentages of streaming royalties from "Ultra Black" on Nas' 2021 Grammy Award-winning album King's Disease, and "Rare" from King's Disease II. Each tier also comes with different benefits such as VIP Nas concert tickets and signed vinyl.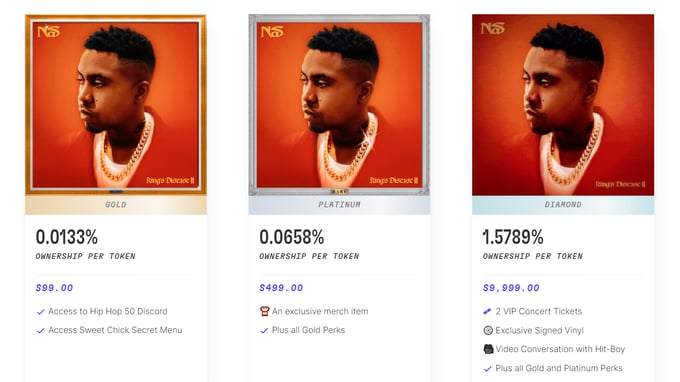 Benefits that come with each tier of Nas NFTs. Source: Royal.io
That's a wrap! Congrats to everyone who scored a 'Rare' token. We're grateful for the support on this journey to bring music ownership to the world.💎 pic.twitter.com/dUnVlyEBTj

— royal (@join_royal) January 21, 2022
The Grammys
The Recording Academy, the 63-year-old organization behind the GRAMMY Awards (Grammys), announced a partnership with Web3 company OneOf to release NFTs for three years of GRAMMY Awards starting with the 64th GRAMMY Awards in 2022. The collaboration started with free NFTs that included a single "golden ticket" NFT granting one lucky party an all-inclusive trip for two to the 2022 GRAMMY Awards.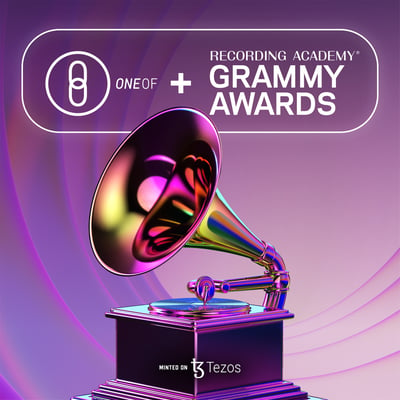 A promotional image for NFTs celebrating the 64th Grammy Awards. Source: The Recording Academy
The initial collection of Tezos-based NFTs featured digital works inspired by the Grammy award, and a portion of proceeds were to go to the Recording Academy's scholarship fund.
OneOf was also selected as the Web3 partner by The Latin Recording Academy's to produce NFTs for the Latin GRAMMY's.
Sony
Sony filed a patent for NFT and blockchain technology to take their video gaming experience to the next level. Sony is looking to explore blockchain and NFT technology for tracking in-game assets. With this new initiative, players would be able to monitor changes made within gameplay such as visual appearance, changes in ownership, or metadata of digital assets– essentially giving players more control over their in-game assets.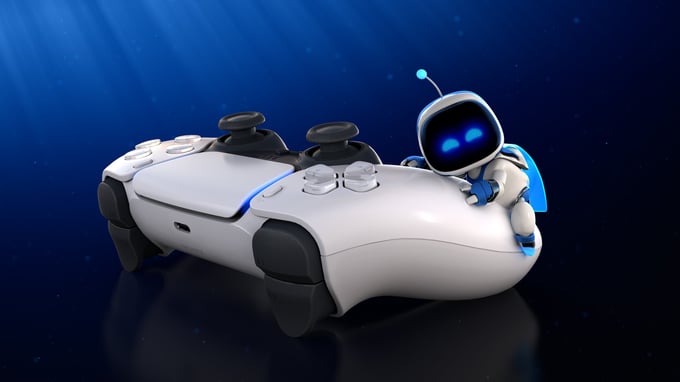 Photo courtesy of IGN
Food & Beverage
Starbucks
The multinational coffee franchise launched Starbucks Odyssey, a Web3 loyalty program built on the Polygon Network. The program grants members access to NFTs, unique rewards and immersive digital coffee experiences and games.
In-N-Out Burger
In-N-Out Burger joined the Web3 train and filed trademark applications for NFTs, virtual foods and drinks and retail stores for virtual goods. The chain's Web3 plans include offering their fans the ability to access NFTs and exchange virtual goods that represent their food and beverages.
Papa Johns
In March of 2022, Papa Johns went beyond the conventional with their giveaway campaign and launched an NFT collection of 19,840 Hot Bags. Designed by artists Tom Hoff and Ash Sketch, each Hot Bag NFT was a limited edition digital item in nine distinct versions of insulated pizza delivery bags. Everyone who claimed a free Papa Johns Hot Bag NFT was entered into a drawing to win a collectible 'Papa 1984' yellow bag.
Papa Johns Hot Bags NFTs. Source: Papa Johns
Hennessy
The LVMH-owned cognac brand Hennessy dove into the world of Web3 and partnered with BlockBar to introduce its first NFT collection: Hennessy Paradis Golden Edition. Each NFT grants its holder physical and digital ownership of limited-edition Hennessy bottles.
Kellogg's
Kellogg's has taken an exciting first step into the Web3 gaming world in a partnership with Mythical Games to introduce Pop-Tarts-themed NFT avatars for the Blankos Block Party game. The free-to-play multiplayer online game not only allows players to collect digital toys through various events and activities, but also gives them an exclusive chance to purchase items from Kellogg's and their brand partners.
Coca Cola
The world-renowned beverage giant Coca Cola teamed up with visionary digital artists GMUNK and Crypto.com launched a 10,000 unique NFT collection named "Piece of Magic" serving homage to the 2022 FIFA World Cup Qatar. Each NFT captured moments from football matches all over the world and are accessible on Crypto.com's NFT marketplace and Coca Cola's Fanzone digital platform.
Sports
MLB
Baseball fans have always been passionate about collecting memorabilia of their favorite players and teams. In April 2022, the MLB and Candy Digital launched the first NFT collection featuring 720 players, and later released an NFT-based MLB game with SoRare. The free-to-play game gives fans the opportunity to connect in new ways and build their dream team of Major League players.
NBA
The National Basketball Association (NBA) launched several Web3 initiatives in 2022. Recognizing they have a tech-savvy, Web3-curious community, they launched NBAxNFT — "the official Web3 home for the NBA" — starting with a dedicated Twitter account and Discord channel.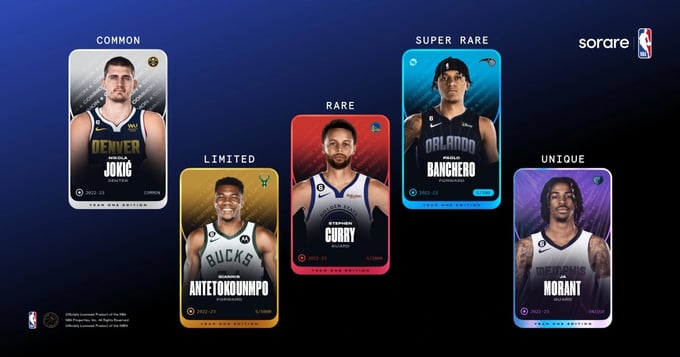 NBA fantasy sports game. Source: SoRare.
FIFA
FIFA delved deeper into the world of digital gaming and Web3 by introducing a variety of Web3 games ahead of the 2022 World Cup Qatar, including: Uplandme, Phygtl, and Matchday.
In Upland, players could join a blockchain-based metaverse mapped to the real world, bringing fans who couldn't physically be in Qatar a way to experience the excitement. In both Matchday and Phygtl, football fans were able to compete, have immersive experiences and gain digital rewards.
DraftKings