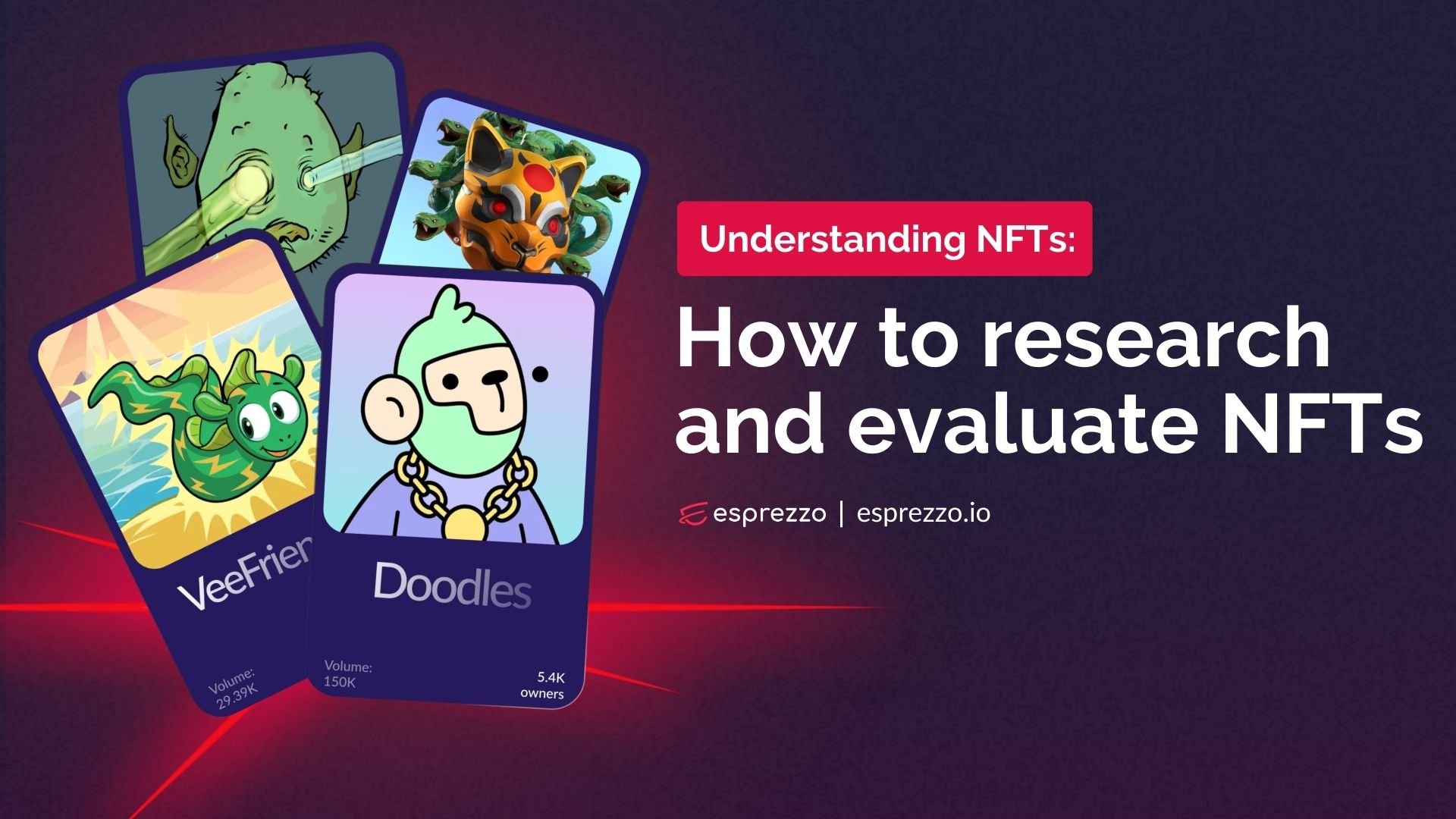 NFTs have taken the world by storm — from shareable digital collectibles on Meta and Instagram, loyalty memberships at Starbucks, to an explosion of NFT-based fantasy sports games and platforms. Despite the ups and downs of the crypto and traditional markets, NFTs continue to evolve with new projects and collaborations being announced daily. With the enormous and ever-growing number of NFTs in this space, it can be difficult to decide which NFTs are worth investing in. In the first part of our Understanding NFTs series, we walked you through the basics. In this second part of Understanding NFTs, we're going to show you how to research and evaluate NFTs.
"How to Research and Evaluate NFTs" is Part 2 of our series on Understanding NFTs. Find Part 1, The Basics, here.
Table of Contents
In this guide, you will learn how to evaluate NFTs by looking at:
What even are NFTs?
NFT, also known as non-fungible token ("non-fungible" means the token is unique and not interchangeable with others), has been a concept that has existed and evolved with the crypto movement since 2012. It wasn't until 2021 that NFTs really moved into the mainstream.
Interested in learning more about the history of NFTs? Check out a timeline of the historical NFT milestones in Part 1: The Basics.
With that out of the way, let's get to what you're here for: understanding some of the variables that can make NFTs valuable.
Is there a real-world use case?
Is it more than a pretty picture? One of the most important indicators to consider when evaluating a specific NFT or an NFT collection, is whether it has some kind of function, or utility, in the real world.
Some NFTs are simply digital art collectibles — images or videos that don't come with any other functions. While these can hold value and be nice to look at, just as collecting fine art can, having real life applications and benefits can increase the value of a NFT.
Utility NFTs (NFTs that offer some function or benefit beyond artwork) give their owners access to things or services they would otherwise not be able to get; they can grant entry to exclusive in-person events and access to limited edition merch and other physical goods. But the benefits don't stop here – they can also extend virtually. NFT holders may be granted access to download locked online art files and music, virtual events, digital certificates, and even access to online games and software.
What the heck is "phygital"?
We kind of hate the word, but it's one you might be starting to see more. "Phygital" is the combination of the words "physical" and "digital", and implies something that spans both physical (IRL) and digital or virtual worlds. We're starting to see "phygital" being used to describe NFT benefits, but this word has also been used to describe things like Amazon Go stores and kiosks that allow customers to complete transactions quickly by using software (digitally) in a physical location.
Following are some examples of NFT projects offering benefits in the physical world. These may not have high "value", but demonstrate examples of NFTs that come with benefits beyond digital images.
McLaren Racing
Coinciding with the Singapore Grand Prix and ending with the Japanese Grand Prix, McLaren Racing launched their first manga-inspired digital comic book, Kiwi's Caper, as NFTs on the Tezos blockchain. They launched 1 page of the comic (NFT) per day, and collectors of all 7 pages received a physical version of the comic. Those who purchased a page of Kiwi's Caper also got to have a virtual briefing with Zak Brown, CEO of McLaren Racing.
LinksDAO
LinksDAO is a decentralized project aiming to bring the golfing lifestyle into Web3 by offering NFTs with benefits for golf lovers: LinksDAO holders get discounts at partners including TopGolf, Callaway, Bridgestone Golf, IMG Prestige Golf Clubs & Resorts, Five Iron Golf, Ship Sticks, and more.
Crypto Baristas
Launched by the brothers behind Coffee Bros roastery, sales from this NFT collection are funding their first "cafe space" in NYC; Crypto Baristas NFT owners get discounts on coffee from Coffee Bros' online and physical spaces for as long as they hold the NFT.


Characters from Season 2 of Crypto Baristas
Dirtybird Flight Club
Popular underground record label Dirtybird's Dirtybird Flight Club NFTs offer token holders exclusive access to music, tickets to real world Dirtybird Campouts, BBQs, events and meet-ups.
LMG Racing Club
Aiming to be the first NFT-funded racing team, LGM GT No.1 was spearheaded by female racecar driver Laura-Marie Geissler to promote gender equality in motorsports. The original auction winner purportedly gets their name engraved on her real-life race car. Token holders get physical perks in the form of helmets and cards signed by Geissler, and exclusive access to race footage from a GoPro mounted to her car.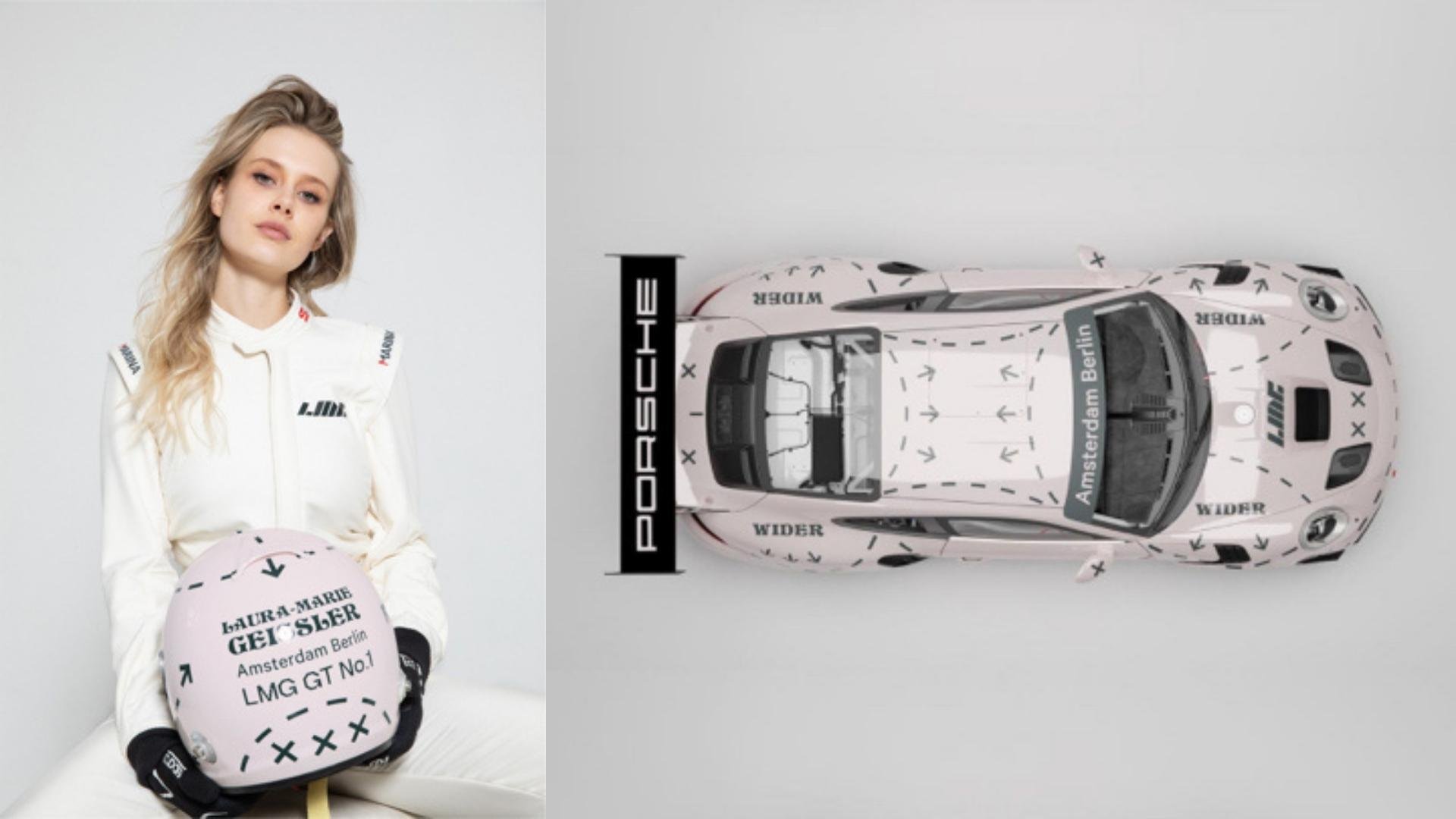 Images promoting racecar driver Laura-Marie Geissler's NFT collection.
Sources: Bella Lieberberg, Amsterdam Berlin Gmbh
NFTs in the metaverse
The idea of the metaverse is not new; first coined by writer Neal Stephenson in his science fiction novel Snow Crash in 1992, we've already seen some experiments and versions of virtual worlds. However unlike their centralized predecessors including Roblox and Second Life (which was introduced nearly 20 years ago!) — which limit your experiences and purchases to those platforms — Ethereum-based metaverse games The Sandbox and Decentraland are part of a new vision for the metaverse in which your virtual identities (avatars), properties and NFTs flow seamlessly between worlds.
The Sandbox and Decentraland encourage players and brands to develop their virtually owned land as well as earn by building unique experiences and games within the games. Here are just a few examples of brands and celebrities hopping onboard the NFT metaverse train:
Metakey
Metakey is a Web3 project that offers its owners, or "keyholders", access to and discounts on services, physical and virtual assets from the Web3 projects it partners with. Each "key", or NFT, can unlock various digital goods such as avatars, skins, and more across multiple Web3 games. From their website it can be a little difficult to tell what is actually available to owners today vs what will be available in the future — a common issue among crypto projects in general — so you definitely need to evaluate projects across multiple factors before jumping in.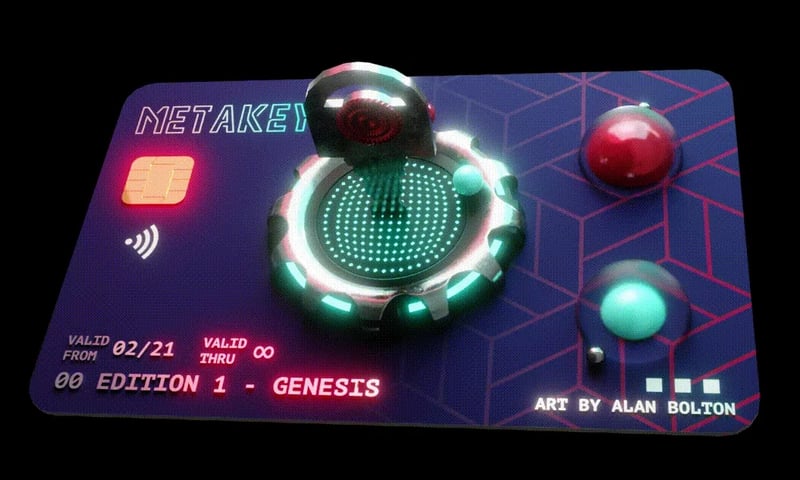 Metakey Edition One — Genesis from nftculture.com
CloneX
Another example of a NFT collection that aims to provide owners with than a pretty picture, CloneX, started with a collection of 20,000 generative 3D characters by RTFKT and Takashi Murakami; these avatars will be available for use in the metaverse for gaming, social networking, and more, and RTFKT continues to release new CloneX NFTs in the form of clothing and environments that the avatars can interact with.
deadmau5 in The Sandbox and Decentraland
Electronic music artist deadmau5's multiplayer game Tower of Light debuted in The Sandbox Alpha Season 3. Spanning multiple "lands", the game includes quests and objectives in a world crafted by deadmau5, as well as 15 NFT assets including a DJ console and LED monument. EPs from the game quests are also available for sale from The Sandbox marketplace. deadmau5 also hosted the virtual Metaverse Festival in Decentraland last year.
HSBC rugby quests in The Sandbox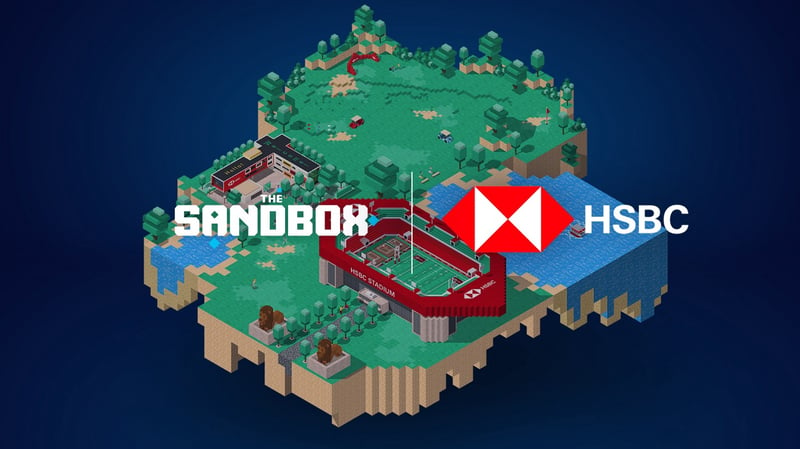 Sandbox and HSBC by The Sandbox
In March of this year HSBC became the first global bank to acquire virtual land in The Sandbox, and from October 24 to November 14 HSBC is hosting a series of six rugby quests in a virtual stadium in The Sandbox. This series celebrates the return of the real-world Hong Kong Sevens, an annual international rugby tournament returning for the first time since the pandemic started.
Hugo Boss x Imaginary Ones
Fashion label Hugo Boss recently announced their partnership with Web3 Imaginary Ones to bring their youth-focused Hugo brand to the metaverse. The initial HUGO x Imaginary Ones NFT collection is scheduled to launch in early November with 1,001 3D animated characters and the opportunity to snag one of 500 limited-edition t-shirts.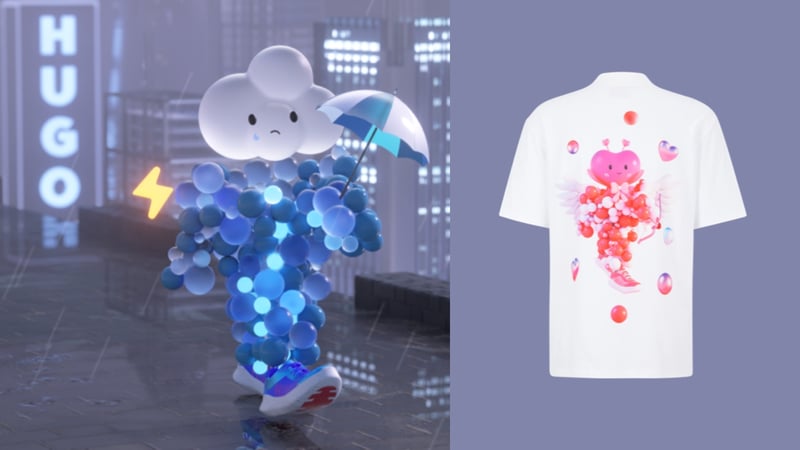 Art and t-shirt from HUGO x Imaginary Ones NFT collection. Source: Imaginary Ones
There are many NFT projects with plans to cross into the metaverse. For example, CloneX avatars will eventually be imported into a virtual environment. Other projects with similar metaverse or virtual world aspirations include Bored Ape Yacht Club (BAYC), Meebits, and The Sandbox. NFT collections and projects that offer virtual benefits in the metaverse may be more valuable to people who are bullish on the future of the metaverse.
NFTs can be more than digital art that is simply meant to be admired visually; and it's possible those NFTs offering more real-world or virtual world benefits might be more valuable depending on the niches and markets they exist in.

How big or active is the community?
Having a passionate and active community is one of the most vital factors for evaluating NFTs. A dedicated community often promotes the NFT project or collection organically, i.e. without being paid, which can increase demand and FOMO, which can in turn lead to increased value. Active communities also often engage with and contribute ideas to the NFT project creators, which can lead to innovative new ideas that also increase the value of the project by making it more interesting, attractive, and useful.
Even if you don't know much about NFTs, chances are you've already heard about or seen Bored Ape Yacht Club (BAYC), also called "Bored Apes". The project offers its NFT owners club memberships and special access to owners-only benefits including events and exclusive branded merchandise. As of the time of writing, the Bored Ape Yacht Club twitter account has 1 million followers and ~172K Discord members.
Does the project's community include celebrities? That can also increase awareness and demand for the project as media start paying attention and report on the collection, and people outside the crypto world learn about and start buying it. Celebrities who own or have owned BAYC include Stephen Curry, Serena Williams, Steve Aoki, Justin Bieber, Jimmy Fallon, Gunna, Madonna, Post Malone, Meek Mill, Alexis Ohanian, Logan Paul, Timabland, and the list goes on. Eminem, Snoop Dogg and Future have used their NFTs in live performances, increasing visibility of the project.
Communities do not have to be as big as 1M to increase the value of a project; a small but active and connected community can increase the value of a collection as well. NFTs put out by artists, personalities or brands that already have loyal and passionate followings can also have more value, as they're leveraging an existing audience rather than starting from scratch and having to prove they're legit.
Aside from the number of community members, you should also look into the number of holders a project has. The higher the number of holders, the more popular and reputable the NFT collection is. Of course you'll have to take the number of collection items into consideration when doing this. For example, a collection with 10,000 items and 9,000 holders might have more interest than a collection of 100,000 items with 10,000 holders. So you're really concerned with the ratio of holders to items rather than the absolute number of holders.
Who is behind the project?
Just as with anything else, the people, brands, and organizations behind an NFT collection can have a big influence over its value. We've already seen that it takes a lot more than a picture for an NFT to have value.
Some projects are considered more valuable because they were created or endorsed by well-known personalities or brands that already have a supportive following or customer base. If the pre-existing base of supporters buys into the NFT, that equals demand, which can equal higher prices and thus higher perceived value.
In addition to NFTs from brands and celebrities with built-in followings, NFTs backed by media-savvy organizations and venture capital (VC) firms can also see their value increase. Projects with media-savvy teams might get more media coverage or become viral on social media, which can drive up demand and value. Projects with VC funding have more resources to publicize their NFTs and get their NFTs in front of new people, which can also increase demand and value.
While celebrity endorsements and well-loved brand names can help, it may also be worth looking at other project members: do they have experience in Web3? Do they have long-term vision and alignment with the Web3 world? If there is a physical element or merchandise involved in the project, are there team members who have experience with those elements? Just merely having celebrities associated with a project is not enough alone to add lasting value to a project.
Here are a few examples of projects that have well-known founders, team members or supporters.
BFF
BFF is a community of women and non-binary friends who are working together to help others learn about crypto, NFTs, and Web3. The project's "founding BFFs" include Mila Kunis, Tyra Banks, and Gwyneth Paltrow, to name a few. With the mission of empowering minority voices in Web3, BFF has no lack of star power and connections which they plan to leverage to provide holders with perks. These perks reportedly will include access to community-only parties and networking events, and discounts on consumer goods and software. Artwork for the inaugural You by BFF collection is done by artist Jade Purple Brown.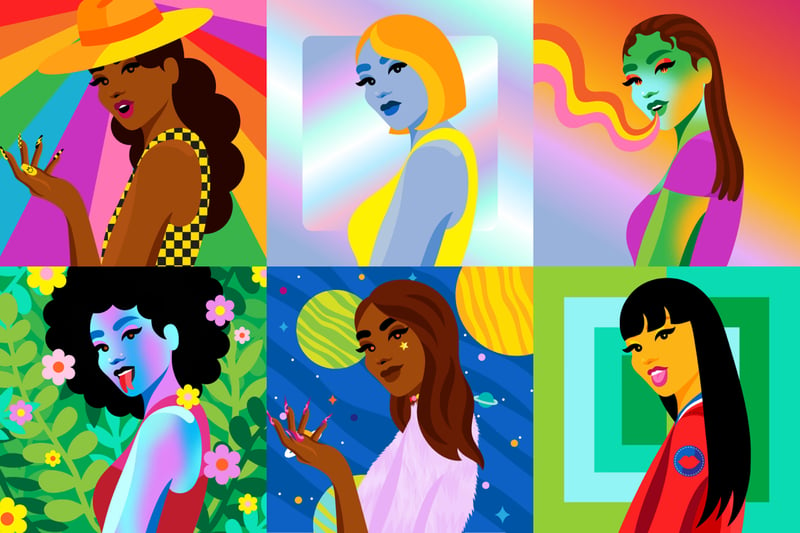 NFTS from You by BFF, artwork by Jade Purple Brown
VeeFriends by Gary Vee
VeeFriends by Gary Vee is a perfect example of a NFT project leveraging a brand that has an audience and community cultivated and grown years before NFTs entered the picture. In May 2022, prolific entrepreneur and media personality Gary Vaynerchuk, popularly known as "Gary Vee", hosted aWeb3 conference called Veecon. Attendance to this event was limited to VeeFriends NFT token holders. Thousands attended Veecon, including celebrities Snoop Dogg, Logan Paul, Beeple, and Steve Aoki.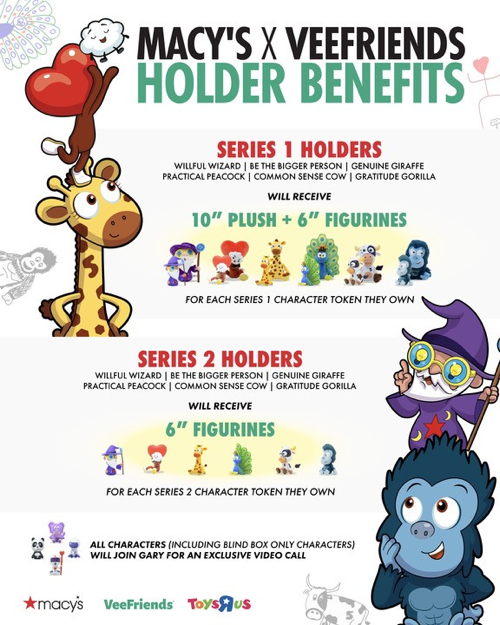 Promo for VeeFriends NFT holders at Macy's
Gary Vee continues to keep his community engaged with special events and merchandise available only to holders of the VeeFriends NFTs. Most recently VeeFriends announced a partnership with Macy's to launch a series of physical collectible toys — available for sale, with NFT holders able to claim free toys.DoodlesIn September, cute NFT project Doodles announced they received $54M in funding led by Reddit co-founder Alexis Ohanian's venture capital firm. Announcement of the funding reportedly led to a 1,224% increase in sales in a 24-hour period. In June musician and producer Pharell Williams joined the project as its Chief Brand Officer as well as the executive producer on a Doodles-themed music album: Doodles Record, Volume 1, which will be released by Columbia records.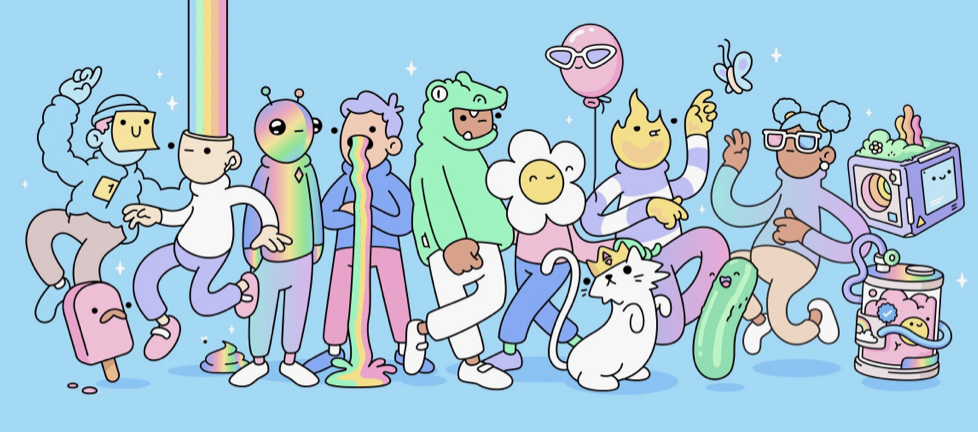 Characters from the Doodles universe. Source: @doodles on Twitter
Yuga Labs' NFT Projects
Yuga Labs is the company behind BAYC, Mutant Ape Yacht Club, and Otherdeed for Otherside. In March 2022 Yuga Labs acquired CryptoPunks and Meebits, NFT collections that were already hugely popular before the acquisition.
Yuga Labs allows their NFT holders to use artwork from NFTs they own in their own creative projects, which broadens the reach of the NFTs, which again can increase demand and value. Granting token holders commercial rights also gives holders the ability to make money off projects using their NFTs, which definitely increases their value.
Dapper Labs: NBA Top Shot, NFL All Day, UFC Strike

Left to right: NBA Top Shot, NFL All Day, UFC Strike, and CryptoKitties NFTs, from Dapper Labs
Dapper Labs is the Web3 studio company responsible for launching NBA TopShot, NFL All Day, UFC Strike, and CryptoKitties. In 2018, Dapper Labs launched CryptoKitties, one of the first NFT-based games that introduced blockchain technology to the world. Two years later, Dapper Labs had yet another successful launch with NBA Top Shot, an online marketplace where traders can buy and sell NBA's top moments. Since then they've partnered with the NFL and UFC to launch NFTs geared towards football and wrestling fans.
Decrypt published an article last month pointing out that sales of NFL All Day NFTs surge on game days (Sundays), and that these sales are "standing out" in the current bear market.
Caution
As with anything you're considering getting into, just because trusted brands or personalities are involved doesn't mean the project will pan out. An example: CNN recently announced the shutdown of their NFT marketplace after collecting more than $30,000 in NFT sales and refunding buyers only "roughly 20% of the original mint price". This is what some might call a "rug pull" in crypto — when the project team suddenly disappears or stops supporting a project after collecting money from buyers.
Interested in learning more about rug pulls and how to protect yourself from them? Check out Coindesk's explainer on how to protect yourself from getting rugged.
Supply and demand
As with anything, scarcity can increase demand and FOMO for a project, which can drive prices up. How many items are in the collection? You may see the number of items in a collection listed as "token supply" or "max token supply". Some projects start with a fixed supply, meaning there are a set number of items. Others may continue adding (or minting) to the collection, which will increase the supply or number of items in the collection over time.
If you've narrowed down the list of NFT collections you're interested in, you may be trying to decide on specific collection items you want to buy. Examining both the traits and rarity of specific items, and the relationship between the supply and demand of the collection can help you evaluate and compare the potential value of the NFTs. Of course, rarity and scarcity is only one of many factors that can affect the value or perceived value of an NFT.
Want to delve more into supply, demand, and rarity in NFTs compared to traditional art? NFT Now did a great writeup on the difference between rare NFTs and rare traditional art.
What's on the roadmap?
The artwork might be compelling enough, but it's even better when you know that you can do something or get something more with an NFT. And you can't always easily tell from a project website or Twitter what benefits you can actually get today, versus what they're promising will be available in the future. Another way to gauge potential value of an NFT is to take a look at the project roadmap. Get an idea of what the team's plans and intentions are, and most importantly, what value it can bring for you in the future.
Does the project roadmap have specific, believable milestones? Or are they vague or sound too good to be true?
Qualities to look for in a roadmap:
Specific definitions of milestones — is each milestone a vague phrase, or is it well-defined?
Status for each milestone — can you tell if milestones that passed have been completed? Are they in progress?
Updates — is the roadmap maintained and updated to reflect completed milestones and are past deadlines addressed?
Let's take a look at an example of a project with a great roadmap: Azuki, a trending anime art collection.
Azuki combines their vision and roadmap into a "mindmap" that includes , upcoming virtual and physical initiatives, and new features organized into clear categories.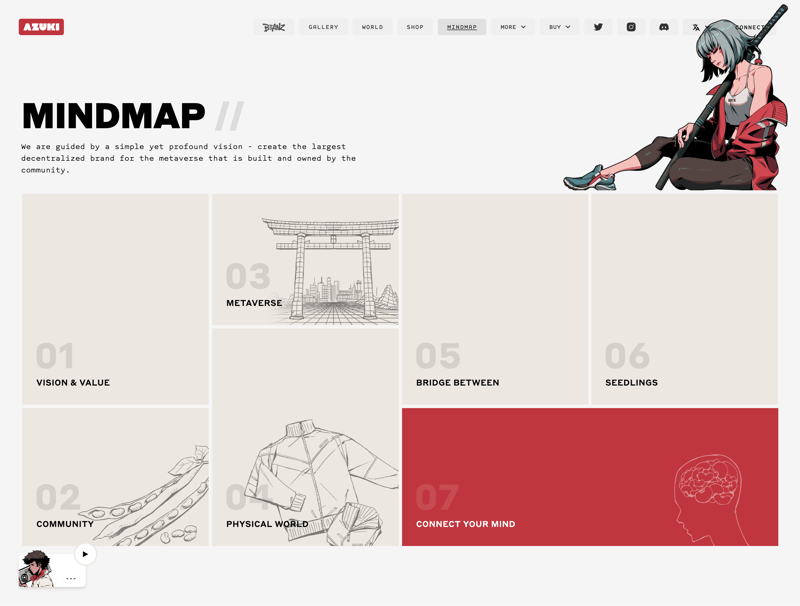 Azuki NFT project mindmap, courtesy Azuki
Azuki's mindmap is a roadmap of sorts with a page dedicated to categories that include the metaverse, the physical world, and the bridge.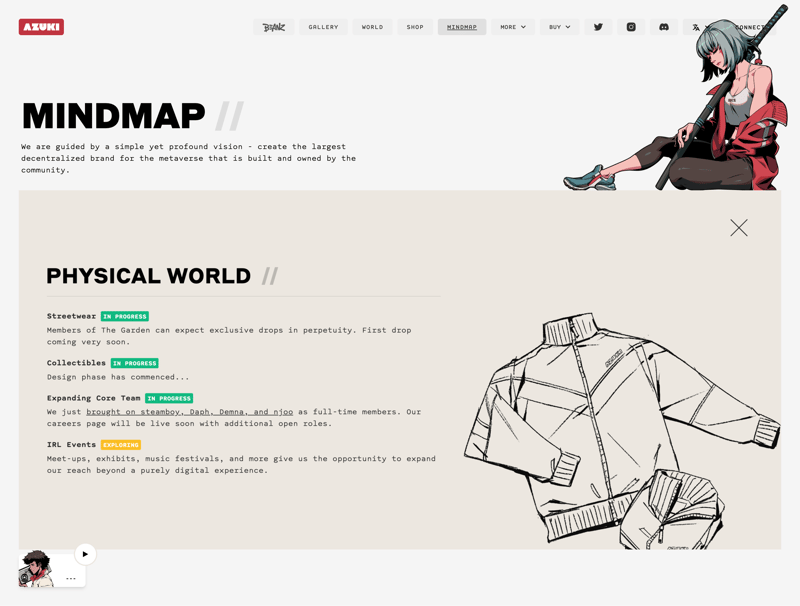 Azuki NFT project "Physical world" roadmap, courtesy Azuki
Each category of Azuki's Mindmap outlines specific initiatives with their current status. Examples in the "Physical world" category (shown in the image above) include:
Azuki streetwear — in progress

Azuki collectibles — in progress

IRL events (meetups, music festivals, etc.) — in progress
What
are the whales doing?
Most high value NFT projects have "whales" — wallets or people that hold huge percentages of the tokens in a project. If these whales start dumping all their tokens for a specific project, it's a good indicator that the project is losing traction and the value may go down. On the flip side, some people look at this as an opportunity to buy, betting that the value will go back up, so the decision is up to you.
Some NFT collectors mimic whale or influencer movements; if whales from one project, for example, BAYC, start buying into a new collection, collectors try to get in on that new collection too.
Tracking whale movements can be slow and time-consuming, but tools like NFT Floor Alerts, and NFT Go can help you track NFT whale activity.
Conclusion
NFTs can bring a lot of benefits to token holders, creators, and brands. Artists are more empowered to create and profit more, celebrities and companies can leverage their brand, and token holders can enjoy new experiences and unique tangible perks.
Any time there's money to be made, it's possible to encounter grifters and projects that just don't pan out. That's why it's important to always do your own research (DYOR) before investing. Above we provided some key factors to consider when evaluating NFTs.
It's still early days for NFTs. The early use cases outlined in this article are barely scratching the surface in terms of what's possible. At Esprezzo we envision a world where NFTs are a staple in memberships, gaming, art, ticketing and more.
Stay tuned for future additions to our Understanding NFTs series! What else are you interested in learning about? Drop us a line on Twitter or Discord.
Legal Disclaimer
This content is for informational purposes only; you should not construe any such information or other material as legal, tax, investment, financial, or other advice. Nothing contained on our site constitutes a solicitation, recommendation, endorsement, or offer by Esprezzo or any third party service provider to buy or sell any securities or other financial instruments in this or in any other jurisdiction in which such solicitation or offer would be unlawful under the securities laws of such jurisdiction.