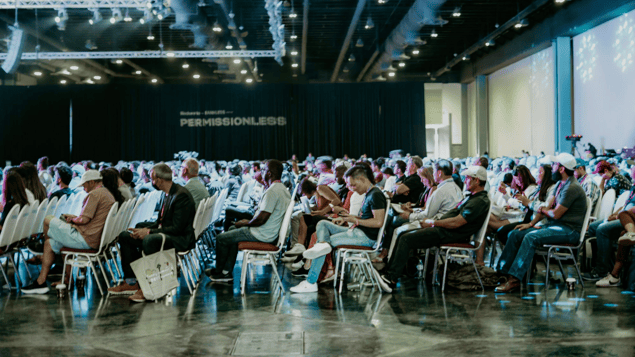 A little over a week ago, we joined over 5,000 attendees at Permissionless in Palm Beach. Despite the state of the markets, the conference was filled with interesting talks, demos, enthusiasm, and excitement about what's to come with Web3. Here are just a few highlights from this excellent event.
Web3: The Future of the Internet
We hear this term all the time, but at Permissionless, we heard it more than usual. So what is Web3? Gilad Edelman, a senior writer for WIRED, defines Web3 as "a decentralized online ecosystem based on the blockchain."
We asked a couple of Permissionless attendees what Web3 is to them, and this is what they had to say:
"It's important to keep building in Web3 so people have freedom and ownership of the networks and dApps they choose to participate in."

– Tom Matzner, Co-Founder of Cryptex
"Web3 is an expansion of interconnectivity. It takes us past the infinite scroll into communities and creation. It's a place where creatives can flourish, and where non-Ivy-League / Big Tech/ Big Resume people can contribute and find others who value their contributions. Creativity, ideation, and community are highly valued in web3. I love that."

– Tim Cox, Wassie and PoolTogether Contributor
"Web3 is hands down the most exciting sector of our generation. You hear people who constantly dismiss the space because it's not nearly as user-friendly as their Web2 applications, and they're right. Many of these people fail to see the big picture: the composable nature of what we do in this space. It's essential to keep building because Web3 takes collaboration to a whole new level, and we all reap the benefits of recent developments. We fill in the missing puzzle pieces by building together with other projects until we have Web2-level functionality with Web3 principles.

– Austin Navarro, CyberConnect Business Development Manager
The Builders of Web3
Permissionless brought together many crypto, DeFi, NFT, and GameFi projects from around the world, including notable sponsors like 1inch, Bancor, and Metamask. We're proud to have introduced Esprezzo to many individuals and teams during this event, and here are our favorite highlights from each day.
Robinhood's New Web3 Non-Custodial Wallet
Photo Courtesy of Ben Solomon and Blockworks
Robinhood owned the first day of Permissionless by announcing the development of their new Web3 non-custodial wallet that will launch as a mobile app, enabling users to have control over their own keys, access NFT marketplaces, store NFTs and earn yield from their assets across multiple chains.
"By offering the same low cost and great design that people have come to expect from Robinhood, our web3 wallet will make it easier for everyone to hold their own keys and experience all the opportunities that the open financial system has to offer."

– Vlad Tenev, Co-Founder and CEO of Robinhood
Per the Robinhood team, the wallet will be available by the end of the year. This marks a significant milestone as the new wallet will enable users to purchase and store NFTs, bringing more access to the Web3 ecosystem.
This announcement from Robinhood adds to the growing selection of wallets for crypto and NFT holders who wish to have more control and security over their holdings; Coinbase recently announced their new co-custodial DeFi hot wallet and browser. Ledger also introduced Ledger Connect, a multi-chain wallet browser extension that replaces the need for third party browser wallets like MetaMask with connection via their Ledger Nano X cold wallet.
Blockwork's Research Platform
Photo Courtesy of Ben Solomon and Blockworks
On the second day, Blockworks, the Permissionless host, launched a crypto research platform for investors and builders providing research, data, and market updates all in one web application. According to Matt Hougan, Chief Investment Officer at Bitwise, "Blockworks is the only crypto-native information source that also speaks to traditional investors".
"As this asset class grows, investors will demand better research and data than what currently exists. Our goal is to make Blockworks Research the most powerful research and data platform in crypto."

Jason Yanowitz, Co-Founder of Blockworks
Crypto Chicks to support Women in Web3
The third day was filled with riveting events and announcements including Axie Infinity's upgrades to their play-to-earn NFT game, and Aave's new social media app, Lens Protocol. However, the panel discussion that stood out the most to us was the one led by Women Labs and their decision to create a space for more women to thrive in this industry.
Madeline Lieber, COO of Women Labs, mentioned that Crypto Chicks, the 10K NFT collection, was all about empowering women in Web3.
"There are virtually no support ecosystems, programs, platforms, or resources to help [women] learn the skills that are necessary for web3, the metaverse, to create the digital shopping experiences and wearables that we've talked about a lot up here today. So we're building out a program that supports them in developing all the different skill sets that are necessary."

– Madeline Lieber, COO of Women Labs
Overall, we had a great time connecting with everyone in the Web3 ecosystem and look forward to continuing building with them. These are just a few of our favorite moments at Permissionless. We would love for you to share some of your experiences in the comments under our Permissionless highlight video.
We'll see you at the next event.