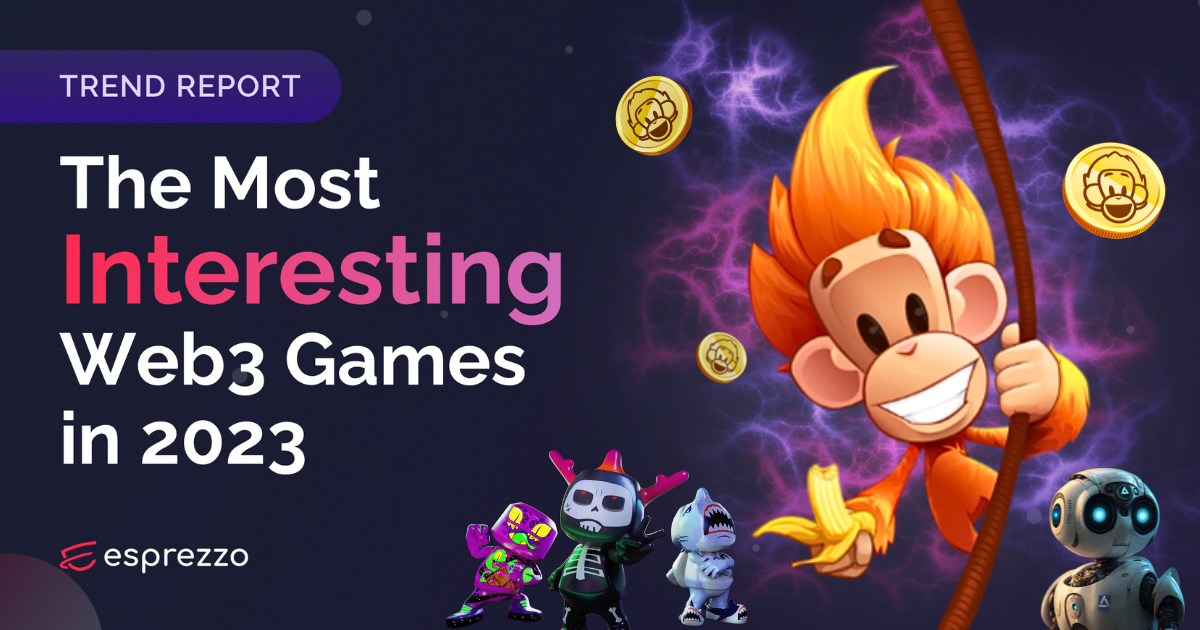 Remember the simpler video game times when your hardest decision was between Mario and Sonic? Well, a change has hit the gaming universe, and it's all about the rise and hype of Web3 games. If you're scratching your head thinking, "Web-what?" – don't worry, we've got you covered.
What are Web3 games?
Web3 games are games that use blockchain technology. How Web3 games utilize blockchain technology can vary widely from game to game, as can the degree they adopt Web3 principles of ownership, transparency, interoperability, and the ability to earn. Some games require you to own NFTs in order to play, while other games' only blockchain component is giving you a chance to earn crypto and other rewards from your in-game adventures. Some allow you to own, rent, or sell skins and other in-game assets.
Let's explore some of the most interesting Web3 games you can play today!
Please remember that the content in this blog is for informational purposes only and should not be interpreted as investment advice or financial recommendations. Do your own research.
Blankos Block Party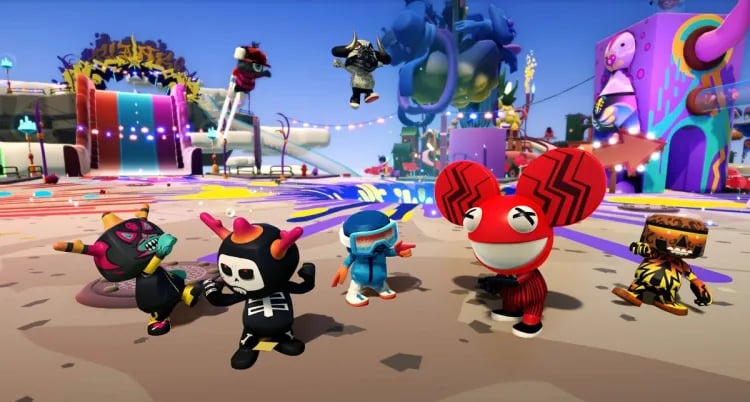 Mythical Games' Blankos Block Party is a standout free-to-play MMO game set in a virtual world designed to feel like a giant block party, emphasizing custom art, exploration, and collecting unique Blankos characters. The game is played using Blankos, characters inspired by vinyl toys; each Blanko is an NFT you are encouraged to customize. As well as being the first blockchain game on Fortnite publisher Epic Game's store, you'll see accessories and in-game items from well-known brands including Burberry, cereal company Kellogg's, Atari, and musician Deadmau5.
Claiming to have crossed the 1 million player mark in 2022, Blankos Block Party is available for macOS and PC. The game integrates blockchain technology to provide verified ownership and transaction history for items, enhancing security and authenticity. Additionally, players have the freedom to create unique parties, offering them a variety of game modes that suit their playing styles.
Developer: Mythical Games & Third Kind Games
Launched: September 2022
Network: Ethereum, EOS
Splinterlands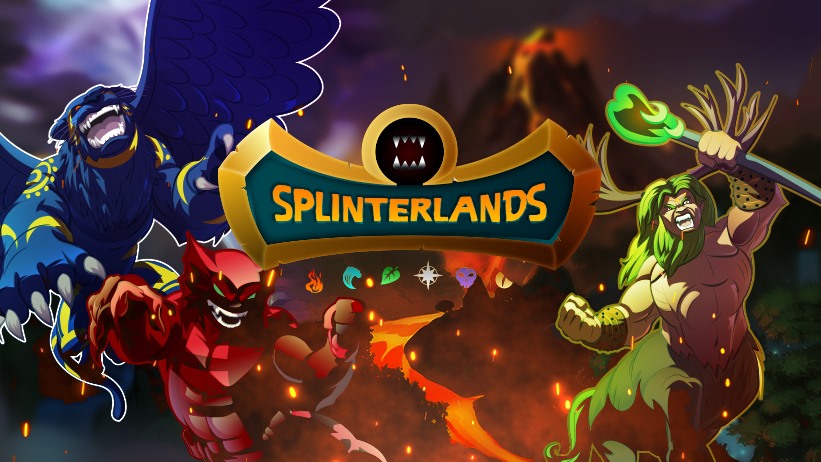 Image: Splinterlands - Source: Esports
Splinterlands is a Web3 Hearthstone-style trading card game. In this game, each card you collect is an NFT, or a special digital item that you actually own, just like a trading card you'd have in real life. Cards are available for purchase and sale through OpenSea. The platform caters to card enthusiasts, offering 283+ cards to strategically combine and fortify characters. Seven stats, including speed, armor, and attack types, define player competence. Factions like Fire and Water, plus unique abilities, add strategic depth. While you're playing the game, you can tackle quests, jump into ranked matches, and join tournaments, all while scoring daily rewards. Cards can be upgraded, rented, or converted to crypto.
Developer: Steem Monsters
Launched: January 2020
Network: Ethereum
Platforms: Browser, iOS, Android
Ultimate Champions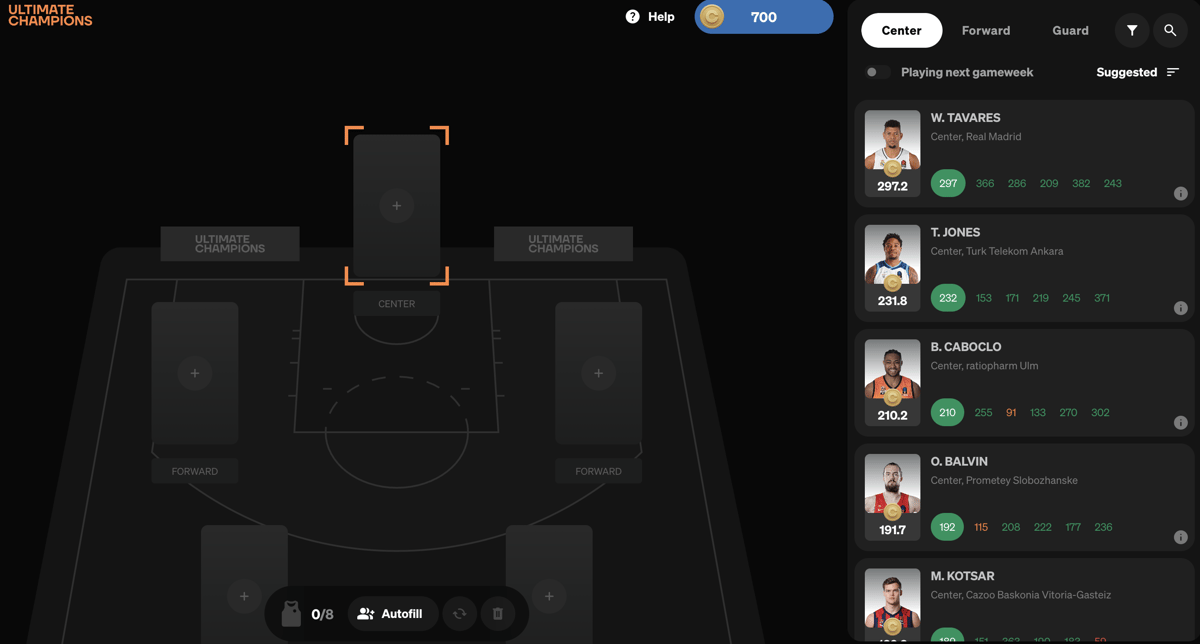 Developed by Ubisoft alums, Ultimate Champions is a free-to-play fantasy football and basketball game played using officially licensed digital player cards (NFTs). These cards provide a unique ownership experience, enabling players to fully own, collect, and trade them within the game. The game is geared towards football and basketball fans; players put their knowledge to use by building and switching up their fantasy teams every week, to earn rewards.
Developer: Unagi
Launched: May 2022
Networks: Ethereum, Polygon
Platforms: Browser
Genopets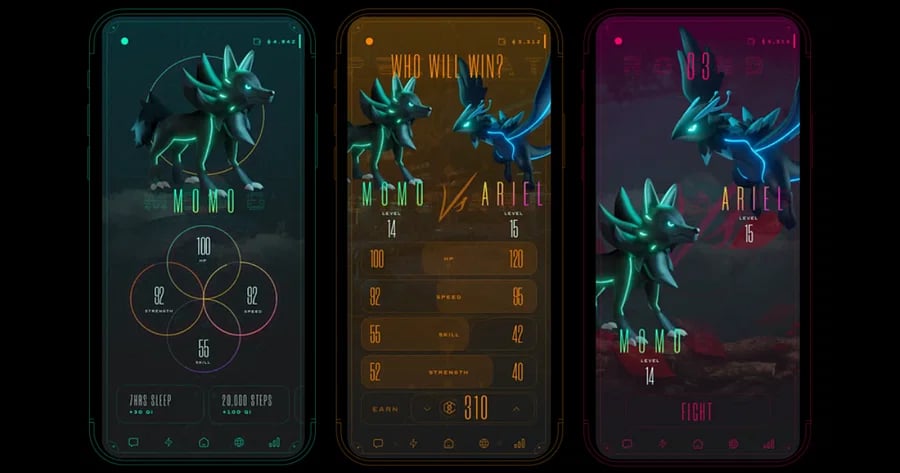 Genopets is a play-to-earn (P2E) game on the Solana blockchain. The game rewards players for taking care of the physical and mental well-being of their digital creatures called Genopets. These creatures can be nurtured, battled, and players earn token rewards for participating in physical activities and exercises.
Using a 'Move to Earn' concept, Genopets incentivizes players to stay active, by integrating biometric data from apps and devices like Apple Health and Fitbit to track steps. The more steps you take, the more points you can bank to take care of your Genopet and level up.
Developer: Monarch Gaming
Launched: January 2022
Network: Solana
Planet IX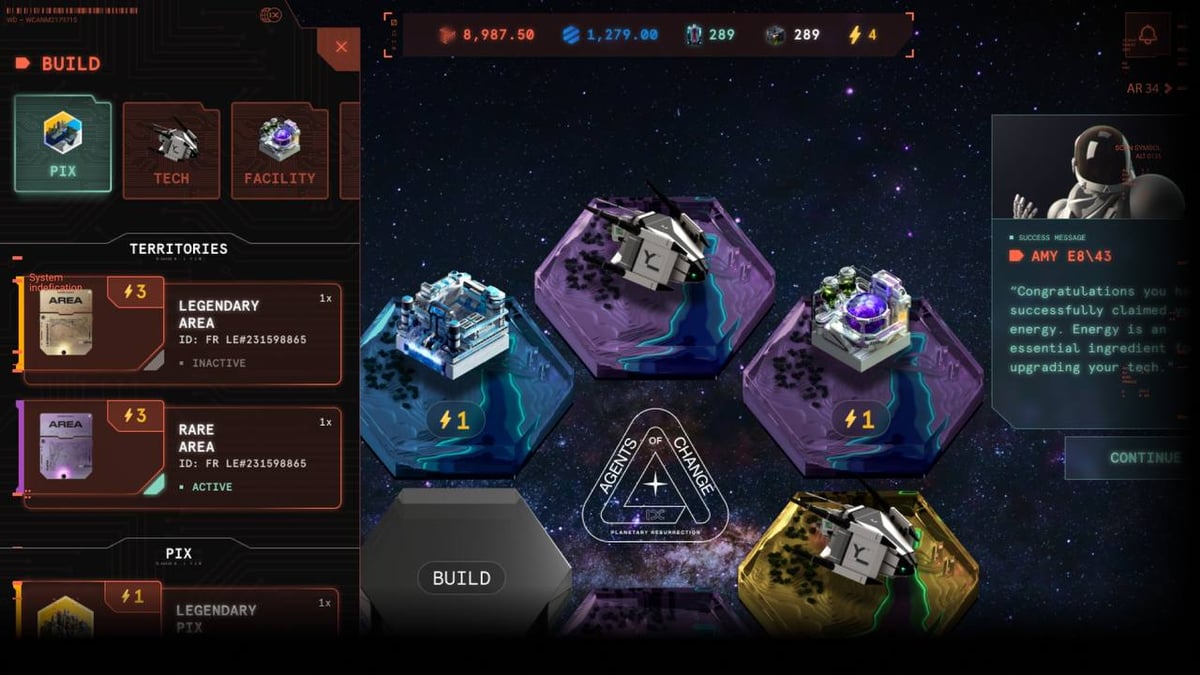 Planet IX is a free-to-play and play-to-earn Web3 game where you're on a mission to restore a planet and reveal its secrets with other players. By playing the game, you can gather assets, develop territories, and become a driving force for change. Planet IX's expansive features, including a marketplace, diverse in-game corporations, and a wide array of assets and utilities, cater to a wide range of gaming preferences. As the game unfolds, it becomes a vast sci-fi world where you can explore.
Developer: Nibiru Software
Launched: July 2021
Network: Polygon
Platform: Browser
💡 Curious about Planet IX's on-chain activity?
Planet IX's game avatars and in-game assets are NFTs on Polygon, which means you can see when new avatars and in-game items or power-ups are minted (created).
We made it super easy for you to get alerts for on-chain in-game activities like new avatar mints; see for yourself:
Cryptoblades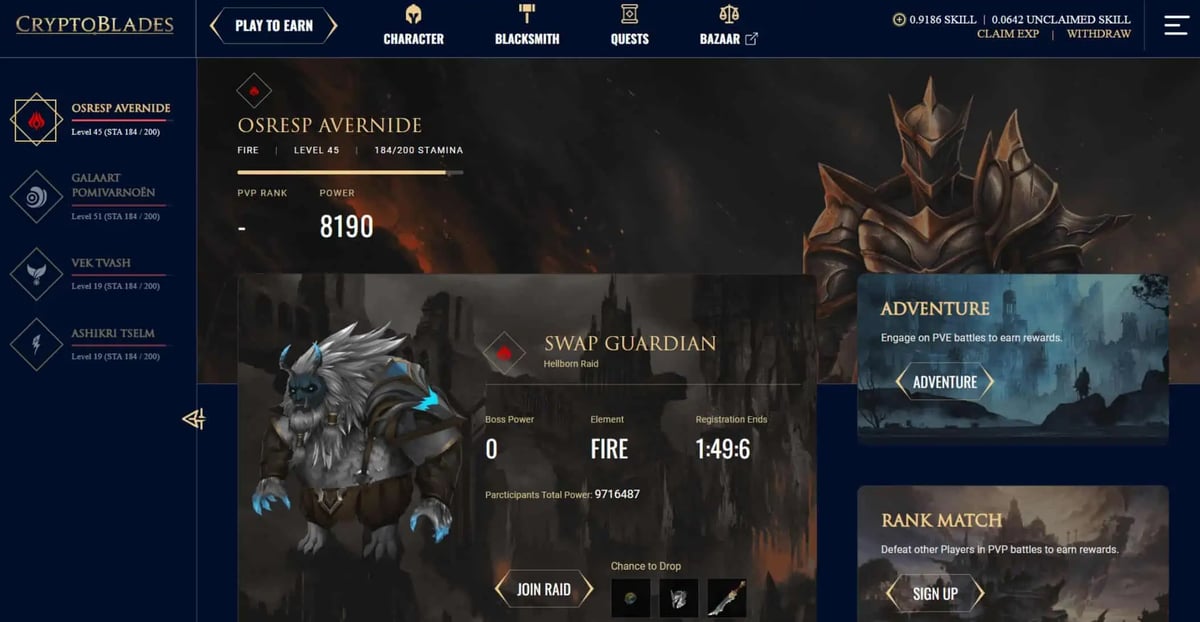 Cryptoblades is a multi-chain NFT-based game that takes you on an adventure where you can defeat enemies and craft powerful blade weapons in a digital world. You can buy and trade the game's native token, SKILL, which is used for various in-game activities. By offering players the ability to choose from several chains to play on, players can potentially earn more or less depending on transaction (gas) fees.
Providing a "Pros & Cons of the current blockchains" is a nice extra touch from the developers to help players choose which chain to play on: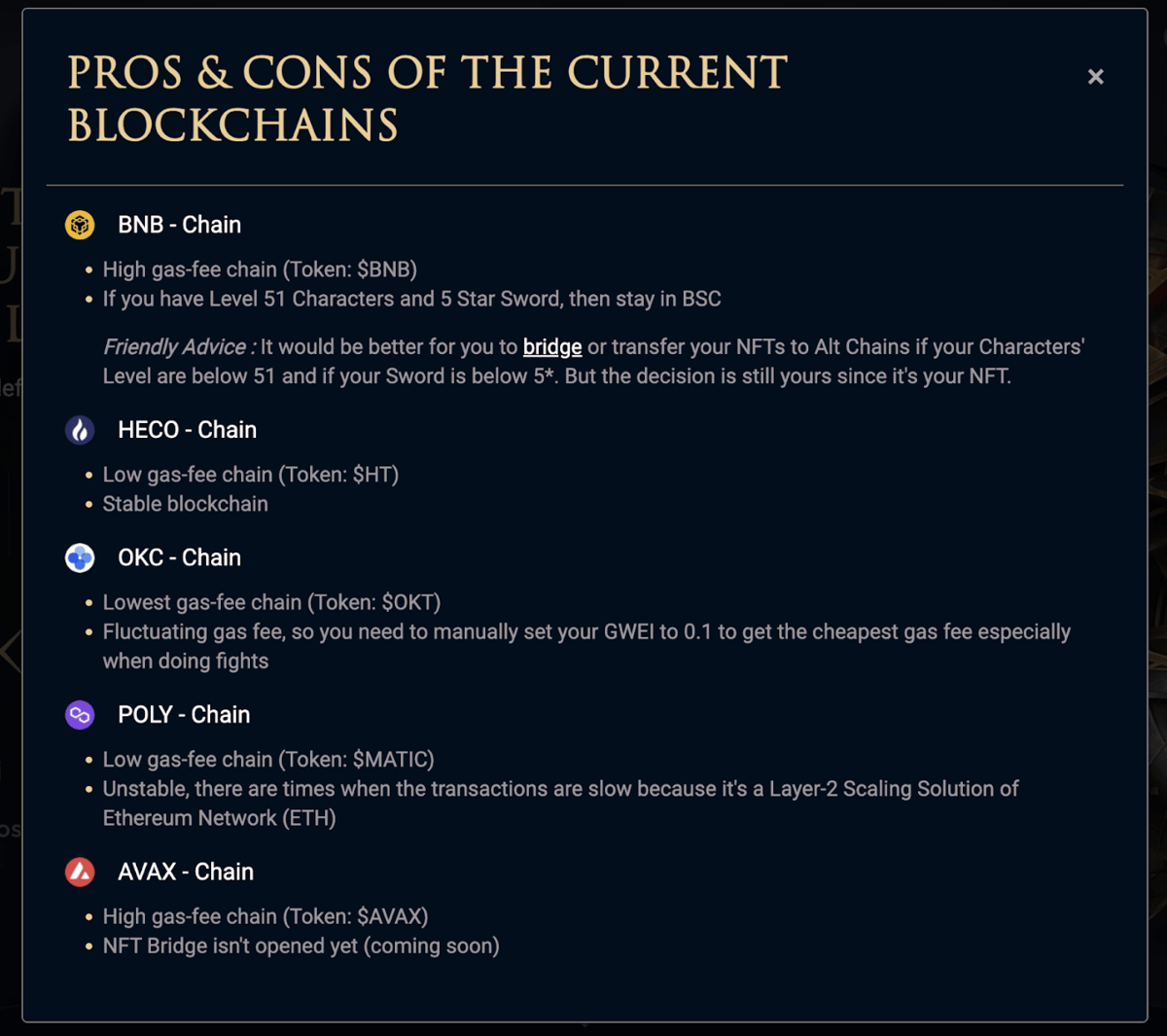 Developer: Riveted Games
Launched: May 2021
Networks: BSC, HECO, OKC, Polygon, Avalanche
Platform: Browser
Hunters On-Chain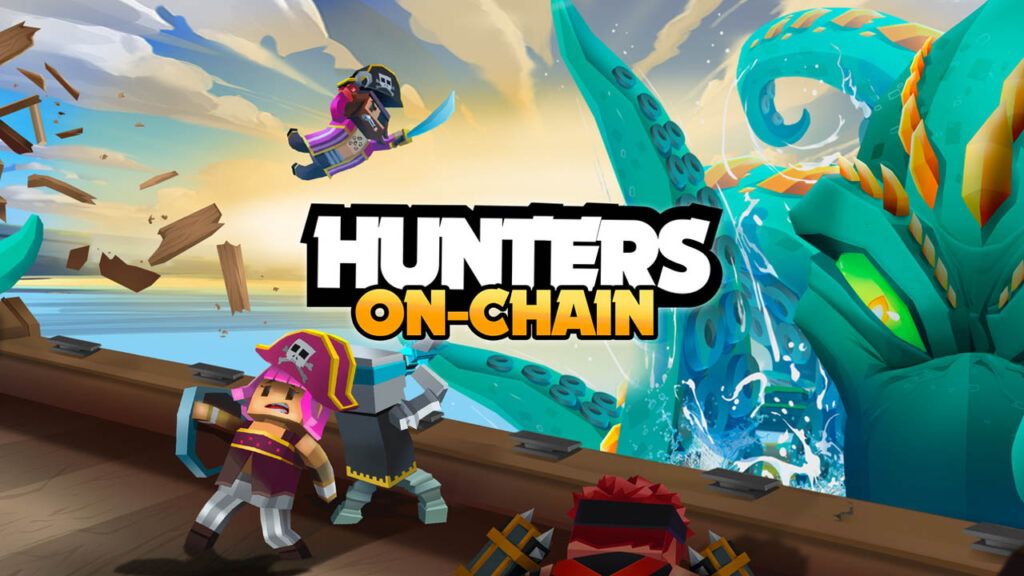 Image: Hunters On-Chain game - Source: Polkastarter
Developed by mobile gaming veterans who form the Web3 game publisher BoomLand, Hunters On-Chain is a free-to-play action-packed RPG game where you can hunt NFT creatures for rewards. This game brings competition to the forefront as players challenge each other and the game environment across diverse game modes.
Hunters On-Chain is a spinoff of the immensely successful mobile game Hunt Royale, which has been downloaded over seven million times across the (Apple) App and Google Play stores.
Developer: BoomLand
Launched: March 2021
Network: Polygon
Benji Bananas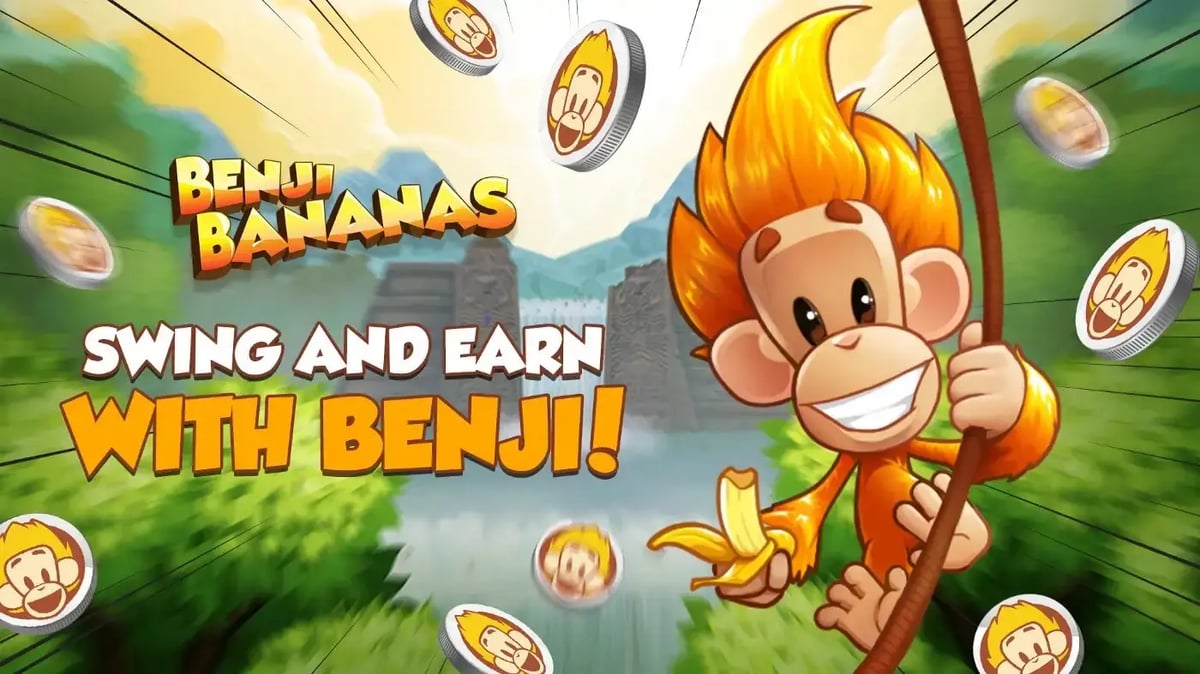 Benji Bananas started as a non-Web3 free-to-play mobile action game in 2013 and was downloaded 50 million times between the App Store and Google Play stores. In 2018, Animoca Brands acquired the game, and in 2022 they transitioned to play-to-earn. In Benji Bananas, players guide the protagonist, Benji, through intricate tree landscapes by swinging on vines to collect bananas, all while avoiding obstacles. The play-to-earn model means players can earn PRIMATE tokens for their achievements in the game, and trade (swap) the token for other fungible tokens including APE, GMEE, and ETH.
Developer: Tribeflame
Launched: March 2022
Network: Ethereum, Polygon
Panzerdogs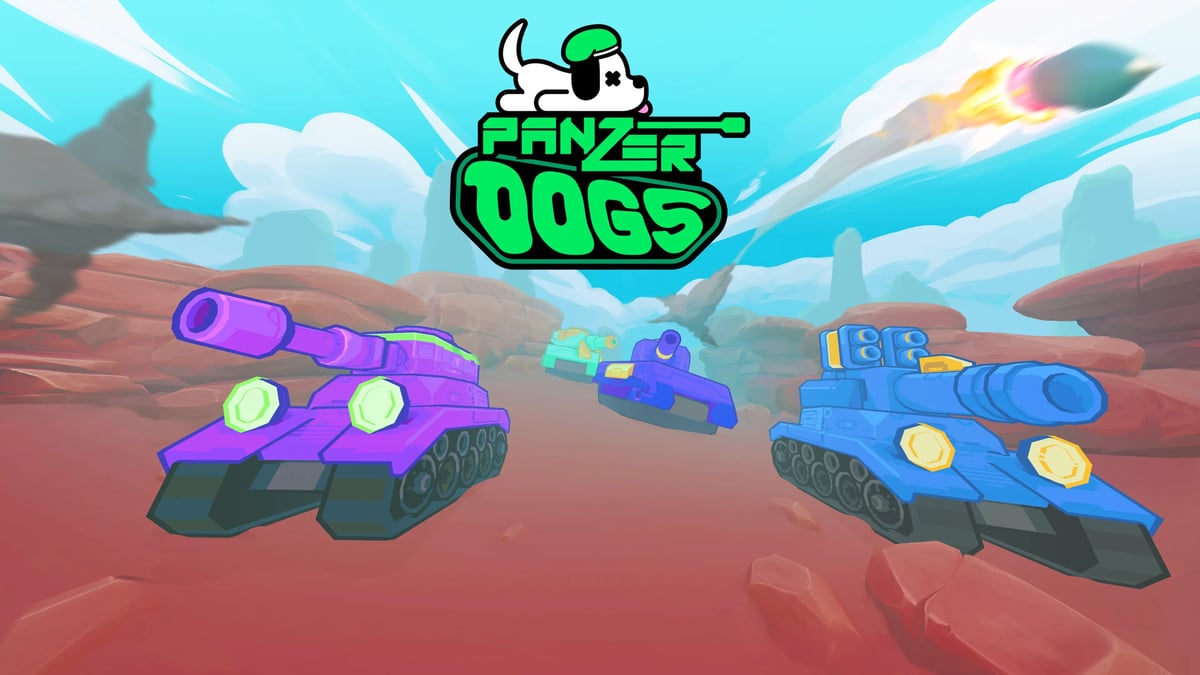 Image: Panzerdogs NFT game - Source: Polkastarter

Panzerdogs is a mobile PVP "tank brawler" where players can use in-game assets (NFTs) to improve their odds of winning battles. Players can earn rewards by winning through maneuvering, evading shots, and strategically outwitting opponents in real-time scenarios. The core game involves players participating in Player vs. Environment (PVE) or Player vs. Player (PVP) battles, accumulating Account XP, currencies, and rewards, ultimately leading to crafting, upgrading, or acquiring tank parts to win future battles.
Developer: Lucky Kat Studios
Launched: April 2023
Network: Solana
Skyweaver
Image: Skyweaver digital trading card game - Source: MMORPG
Skyweaver is a digital trading card game that invites you to explore a realm beyond imagination. Developed by Horizon Blockchain Games, this game brings together the elements of online and physical card games, offering a free-to-play experience that's accessible to everyone. In Skyweaver, you'll engage in thrilling player-versus-player battles where each card is a digital asset you own. Your journey in this alternate reality unfolds through gameplay where you'll summon creatures, cast spells, and compete to become the ultimate Skyweaver. And the best part? Your victories lead to new cards that you can play with, and trade, sell or gift them in-game or on secondary NFT marketplaces.
Developer: Horizon Blockchain Games
Launched: July 2019
Network: Polygon
Platform: Browser, iOS, Android, Windows, Mac
Phantom Galaxies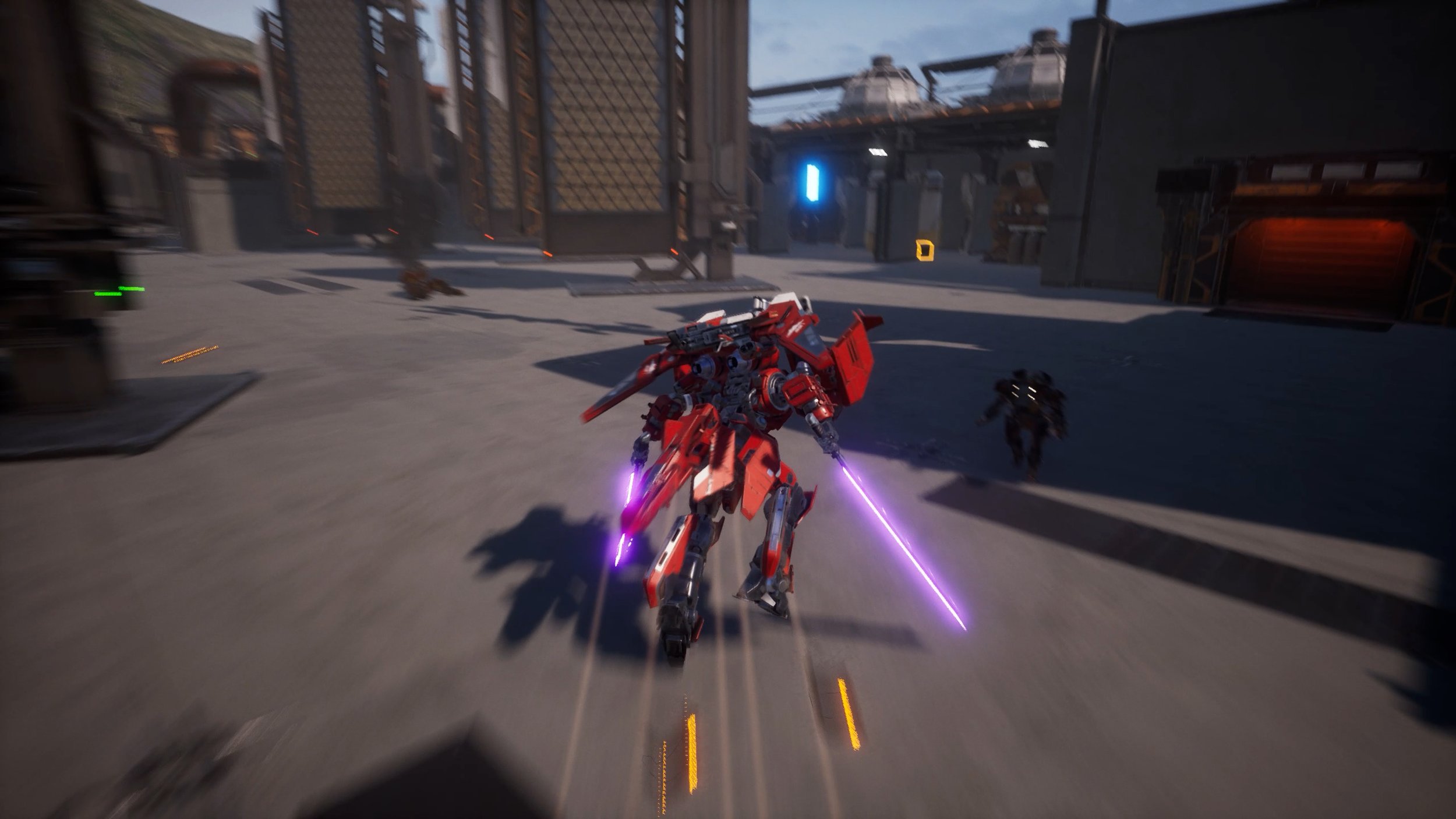 Phantom Galaxies is an open-world action RPG shooter where players take control of "Starfighter" mechs/starships to battle for supremacy across different sectors of Canis Major. In this game, you'll dive into frontline combat and space exploration to gather resources and discover potent weapons.
As a player, you can own in-game assets, including mechs, equipment, and avatars. You'll have the freedom to choose from Starfighter classes such as Lancer or Buster, and upgrade your mechs to suit different combat scenarios.
Developer: Blowfish Studios
Launched: May 2022
Network: Polygon
Platform: Windows
Closing
As gaming evolves, things are changing faster than you can say "game over." Whether you're battling it out in space, summoning creatures in magical realms, or swinging through trees for bananas, Web3 is taking gaming to a whole new level. Remember, while we've showcased these games, it's important to do your own research before diving in.
Whether you're actively building or passionately playing Web3 games, Dispatch can give you an edge:
For builders and game developers, Dispatch can power your leaderboards, keep your team or community automatically updated with which in-game NFTs are most popular, and alert you to unexpected on-chain events that might need your attention.
For gamers, Dispatch can help by alerting you when new in-game items, avatars, and add-ons become available, and help you track your hard-earned P2E earnings, as well as the earnings of other players, offering interesting insight into game developments. That's one of the benefits of Web3 gaming — just about anything that's "on-chain" (i.e. is controlled by a smart contract) is visible and trackable.
Get early, free access to Dispatch beta!
Want to stay in the loop for more gaming news and trends? Subscribe for future trend reports and stay ahead of the game!