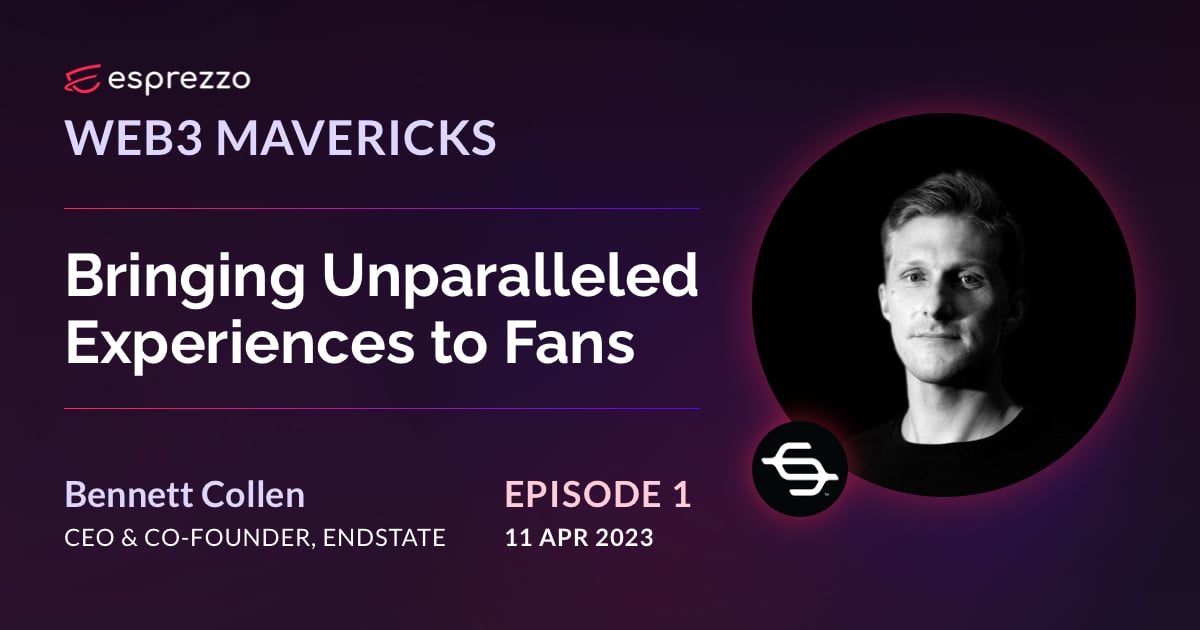 Welcome to our Web3 Mavericks series, where we bring you insights from leaders and teams building some of the most innovative products and services in gaming, NFTs, and phygital experiences.
In our first episode, we talk with Bennett Collen, the Co-Founder and CEO of lifestyle brand Endstate about creating unique and memorable fan experiences at the intersection of physical and digital with NFTs.
In our conversation, Bennett talks about how Endstate is using sneakers and NFTs to connect fans to their passions in a unique and memorable way, as well as how the company is tackling the challenges of building a phygital lifestyle brand in Web3.
We had a great time chatting with Bennett and we're thrilled to share the video and transcript with you, so you can learn more about Endstate's journey and vision for the future of fan engagement in Web3.
Quionie: Why don't we start with the basics — what is Endstate is all about?
Bennett: Endstate is a lifestyle brand that combines the physical and the digital to connect people to what they're passionate about. We do sneaker and apparel collaborations with athletes, artists, and musicians, to bring really interesting products to life for their fans, but then also create a set of experiences around product ownership that are unparalleled for the fans.

DeVonta Smith X Endstate NFT sneaker collection
So for instance, we did a sneaker with DeVonta Smith, who's a wide receiver for the Philadelphia Eagles. A company doing sneakers for an athlete is nothing earth-shattering, but connecting it to an NFT and having it in a chip inside the sneaker that can then reference the NFT allowed us to create these unforgettable experiences for the fans.
So for instance, every time that DeVonta had a catch of over 41 yards, we airdropped a certificate for a cheesesteak to the people who bought the sneaker which is this super cool exciting perk for people who are fans of the Eagles and fans of DeVonta. "I'm already a big fan, I'm watching the game, he has a great play, and then I get rewarded because I'm a fan of his and I bought his sneaker". It creates this more interactive relationship than just "I'm a fan of yours and I bought the sneaker".
The other thing that we're really excited about is IRL interactions, so we also hosted an event at a sneaker boutique in Philly, where people who bought his sneaker got to come and meet him. So we did this event and your ticket to the event was the sneaker and the NFT. So you scan your sneaker and you get to come in behind the velvet rope and meet DeVonta, take a picture, and get an autograph. We think that this intersection of physical and digital leads to these really unique and unforgettable experiences.
Q: What are some of the biggest obstacles that you've experienced in building Endstate?
B: There's been a lot — bringing a physical product to market is really hard. Coordinating manufacturers, suppliers, shipping, logistics, all of that stuff, bringing it together to actually get a high-quality physical product delivered to a customer is really challenging.
Then adding the digital component to that, making sure the two things work seamlessly together adds another layer of complexity.
Obviously, the bear market and the FTX collapse did not help any public perception. We've had some conversations with collaborators who really loved the idea and they may even themselves be bullish on Web3, but they're worried about the perception, their fans, and what they think about NFTs.
A lot of people are skeptical, understandably so, given that there were a lot of rug pulls that happened in the space and a lot of shady activity that was happening from supposedly trusted institutions like FTX, but now that's a perception battle that we and everyone else in the space have to face.
Q: Yeah, there's definitely been ups and downs but Web3 is here to stay. Which tools have helped your team in collaborating and building Endstate? This could be as simple as Slack, Google Workspace, or Discord — some teams I know work on Discord.
B: Yeah, we actually do use Discord for our internal comms just because if we're going to maintain a Discord for our users, we might as well use it ourselves just to be familiar with it and be eating our own dog food, right? I.e., "Okay we're going to ask our users to interact with us on this platform, we should do it ourselves".
I've used Slack for prior companies, I'm not a huge fan of it so that probably feeds into it too. We definitely use Google Workspace, and Zoom obviously — I mean we're mostly based in the Boston area, but we have some people who are remote and obviously having meetings with people throughout the country and throughout the world — those are probably the three primary tools that we use.
Q: As you continue to push the boundaries of what's possible, what are some trends you're seeing in Web3? Is there anything you would change about it if you could?
B: Change? I mean, I think the perception issue, right? You know, couldn't really change the perception but what I would change is the way some participants in the ecosystem talk about it. And I think there are some people, not all, who aren't very welcoming to new entrants into Web3. It could be intimidating.
I think there are a lot of high-profile people in the space — popular Twitter accounts that people follow — that make it seem like this is a really exclusive and difficult-to-access, difficult-to-understand space when at the end of the day it's not really. So having a more open-minded approach would be better for everyone in the space long term. I think maximalism — I get where a lot of them are coming from, but I think that can be destructive too.
Encourage more open dialogue and more open-mindedness.
Q: So for those who want to enter Web3, what do you think we need to do to make it easier for them?
B: So putting aside the infrastructure side of it — easier onboarding, easier wallet access — I think just having use cases that people care about. That's all that it really comes down to. Provide a compelling reason for people to use Web3 tooling or Web3 infrastructure and have an experience that they couldn't do without it.
I think that when it's done really well, people aren't going to know they're interacting with a Web3 project, they're just going to know "Hey, I've done something really cool or this is a really cool product experience that I've never seen before". That to me is more compelling than saying: "Hey you need to understand how to use Web3 to know why this is cool".
Give the customer something that they're going to be excited about.
Q: Yeah, I agree, exactly. What advice do you have for other founders and teams building in Web3 — especially teams working on phygital projects, such as yours?
B: That's a good question. For teams, my advice would be to tune out the noise. If you're really in this space for the long term and believe in the technology and what it can do, you know, don't pay attention to the short-term cycles — easier said than done, obviously.
You need to make your business work — usually in the short term, unless you're extraordinarily well-capitalized; so you have no choice but to be very well in tune with it. But if you really are bullish on the space in the long run, try and tune out the short-term sentiment swings cause it's just going to drive you nuts.
Q: For people who want to know about Endstate a little more, where can they go for more info?
B: Endstate.io is our website, and we're also on Twitter and Instagram @endstate.
Q: Awesome. Last questions: What is your vision for the future of Web3? How do you think it'll unfold? Do you think we'll reach mass adoption in five years, ten years?
B: I'm optimistic in terms of adoption; I don't think that it's going to take ten years. I think it'll take closer to five than ten. I think if there are compelling use cases that are sufficiently interesting for customers to want to interact with, figuring out how to interact with Web3 and figuring out wallet infrastructure and private keys, and what that means — especially as more and more tools pop up to abstract that complexity away — I don't think there's going to be any issue in onboarding users.
I think the onus is on the creators and the founders within Web3 to create interesting enough experiences to make people want to interact with them.
Q: Before we wrap up, what exciting things can we expect from Endstate in the near future?
B: We have a couple of exciting drops coming up — nothing that I can share publicly yet, but we've got a big '23 ahead of us. We've got a couple of projects that we've been working on for a while that we're excited to get out there. Some of them we think are going to be shaking up some industries that we're excited about seeing a little bit of a disruption in.
I think one of the things that we really like about this space is the availability of the data and the history that can be imbued into products, inheriting some of the history and the legacy that comes with it. Having products that have more meaning because of the history baked into them, like, for instance, ownership history is the obvious one that everyone goes to.
But that's something Esprezzo does a great job of — making that data easily digestible so that companies can then surface it to their customers. We see that going in many different directions, not just ownership history, but where has that product been? What has it done? We really think that those are interesting data points that we can start to bake into the product ownership experience.
Heading to NFT.NYC this week?
Check out these events if you're at NFT.NYC this week and want to check out Endstate IRL or learn more about phygital
Wed Apr 12

: Endstate is co-hosting an event for their Drop2 holders at Concepts sneaker store in NYC

Thu Apr 13

: Esprezzo CEO & Co-Founder Remy Carpinito is speaking on the panel, "Phygital Experiences, Connected Fashion, and the Future of Brand Engagement"

Get Endstate and other NFT alerts
Did you know you can get NFT alerts with Esprezzo Dispatch?
Access to the free Dispatch beta includes tracking for the DeVonta Smith x Endstate and other top NFT collections.
About Endstate
Learn more about Endstate:
Website: endstate.io
Twitter: https://twitter.com/endstate
Discord: https://t.co/RtqFWTcmkV
Instagram: https://www.instagram.com/endstate/
Want to get involved?
Sign up for the beta
Dispatch is currently invite-only, but we'll be sending the next round of invites soon!
If you'd like to start monitoring NFT transfers, balance changes, or other on-chain activity, request an invite.
Developers
Are you a developer that's interested in API access or chatting about your needs?
Project Teams & Potential Partners
Interested in partnering with us or being featured in our Web3 Mavericks series? Contact us 🤝
Follow us
Follow our progress on Twitter, join us on Discord, and/or subscribe to our monthly newsletter!