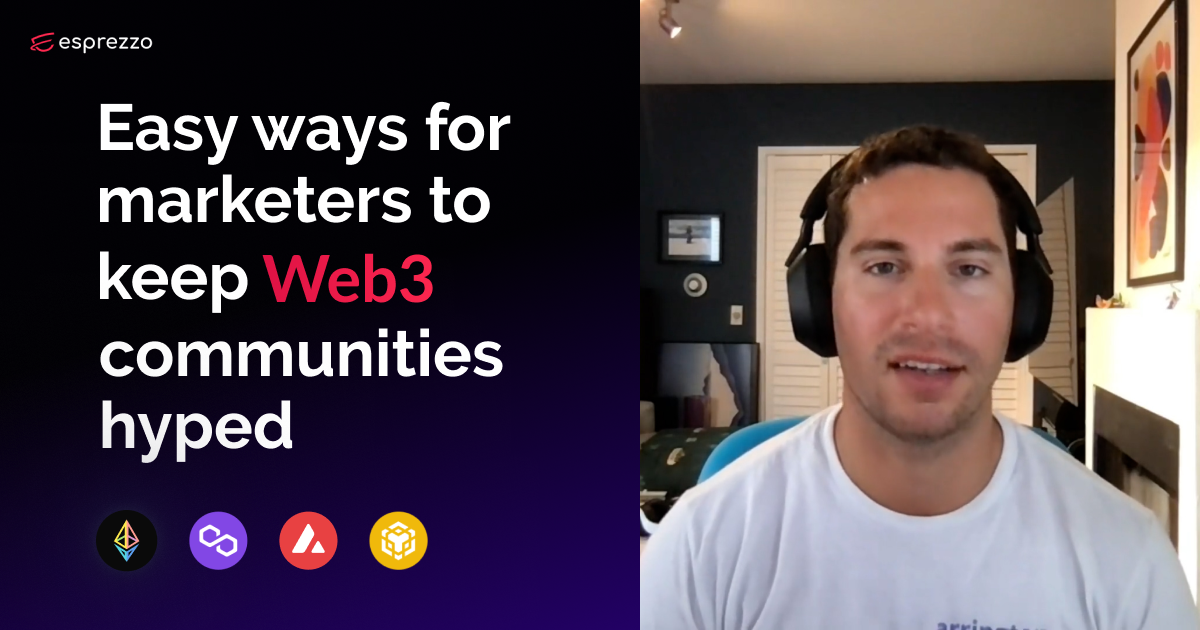 Being a marketer or community manager for Web3 projects can be tough. As with any other kind of project, you're responsible for keeping your communities engaged, and more importantly, taking key actions to drive your business forward. But the fact that Web3 projects use smart contracts is something you can use to your advantage.
As a marketer, smart contract events might seem like technical mumbo-jumbo. But you can harness their power to keep your community excited — with automation in a few simple clicks (set it and forget it!) — freeing you up to work on other marketing projects.
Update 8/3/23: We're discontinuing BSC for now to focus on other networks.
Want us to bring BSC back? Let us know
Welcome to our Dispatch Demo Series, where we share tips that save you time, and help you build and grow your Web3 projects faster. Dispatch is a no-code smart contract alerting and automation platform that can help your team in many ways, and we're excited to kick things off with a demo where we'll show you how a few simple alerts can help keep the excitement up.
We'll walk you through four use cases on four networks. These are just a few ideas of how Dispatch can save you and your team time, and help you grow your marketing engagement and product adoption.
Here's what you'll learn to create in this demo:
NFT mint alert bot for Discord
GutterMelo on Ethereum
Keep your team and/or community notified automatically when NFTs are minted.
An NFT mint alert bot can increase FOMO, help keep the excitement going during a new drop, and encourage your community to get involved with the mint.
Discord bot: New Event Forges & Campaign Activations
Galxe on Polygon
Keep community automatically updated when new projects and quests become available.
Automatically updating your community with events like these can help increase community participation in those projects and quests.
"Master of EGG" Discord bot for Chikn
Chikn on Avalanche
Keep community automatically updated with all EGG-related events from Chikn's FEED contract.
Seeing a stream of entertaining events like EggStaked, EggSwap, and MintedEgg can keep the excitement going in the community, and also bring them a chuckle anytime an EGG event occurs.
Internal game dashboard updates via webhook
CryptoBlades on BSC
Webhooks really expand the realm of what you can do with smart contract event data. Updating internal team dashboards is just one example.
See how easy it is to send New Characters and Level Ups from the CryptoBlades game to an internal dashboard without writing a single line of code. You'll just need to create or get a webhook endpoint from your developer. Learn more about webhooks here.
Transcript
Note: transcript has been edited for clarity.
Remy: Welcome to the Dispatch Demo Series. Today we're going to be showing you how Dispatch can help marketing teams increase community engagement, enable automated tracking, and rapidly create real-time internal alerts.
I'll show you how to accomplish these goals in Dispatch in just a few clicks.
In case you don't know us, Dispatch is a no-code, Web3 automation, and alerting tool to improve team efficiency, marketing growth, and product adoption.
All you need to get started in Dispatch is an account and your first Patch.
A Patch consists of a Trigger and an Action and we'll show you what this looks like later in the video.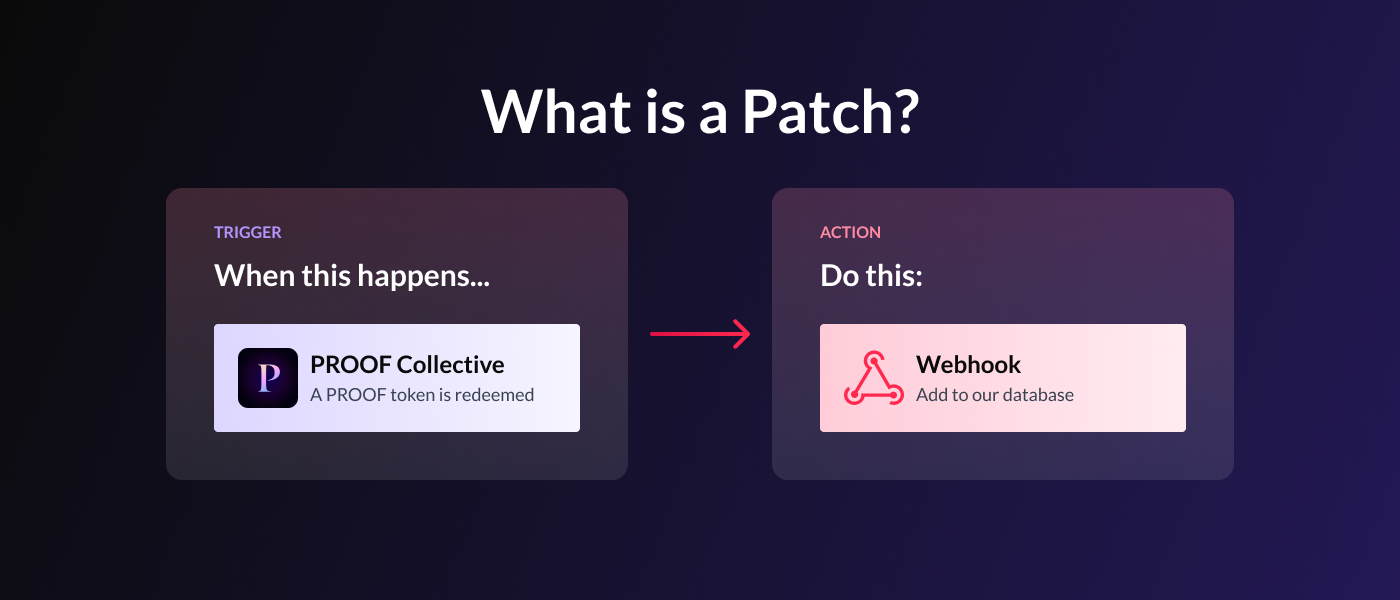 For this demo, we're going to be using Dispatch to create Discord bots and update internal dashboards using smart contracts on four protocols: Ethereum, Polygon, Avalanche, and Binance Smart Chain.
The first project is GutterMelo, a digital sneaker club with Gutter Cat Gang, Puma, and Lamelo Ball.
Next up is GALXE, a community quest platform.
Third is Chikn, a Web3 game including upgradable NFTS.
And the last project is CryptoBlades, a PVP NFT game.
Let's go ahead and jump right in.
First up is GutterMelo.
As you can see here, we land on the Dispatch dashboard.
First, we have pre-configured Patches (Patch templates) here on the bottom. You can think of Patches as alerts or automation; each Patch consists of a Trigger and an Action. And up top, you can create custom Patches. That's what we're going to do today.
So let's go ahead and create a new smart contract Patch.
We're going to create a new minting bot for this particular community.
So we select our particular options.
GutterMelo is listed on Ethereum, so we will select Ethereum as the network.
And we're going to add a new contract: simply drop in the contract address and give it a name.
You can typically get these addresses on Opensea, Etherscan, or if you already have it on hand, you can just drop it right in. We're going to go ahead and find all those events for you.
As you can see, this particular contract has a proxy and implementation contract.
What's great in Dispatch is that we watch both the proxy and implementation contract for you so you can follow the events that best suit your needs.
So for this, we're going to create a new minting box.
Let's go ahead and find that minting event.
Let's send that over to Discord and we're going to add it to the channel where we want mint alerts, which for this demo is the "GutterMelo mint bot".
You can send a quick test to make sure everything's set up properly.
Good to go as we can see and we can give it a name.
Perfect and that's it. You can turn that Patch on.
And now any time a new mint happens across that collection, your community will be notified.
The goal here is to keep everyone in the loop. And during the initial mint, it really allows the community to see the velocity of what's going on and hopefully drive them to the website to take action or be part of that particular mint.
Next up, we're going to create a bot for GALXE.
This is a community quest platform used by a lot of projects on a number of different blockchains.
Today, we're going to focus on their Space Station contract on Polygon.
For this one, we're going to look at the new events forged and newly activated campaigns.
Pretty much any time a new project comes on board and launches a new quest for a particular site here, you'll be able to follow that and get notified in real-time of that happening. So you can create this for your community, and keep them up-to-date with any new project coming online.
We're going to select Discord to post this into our general channel and we're going to go ahead and give this one a new name: GALXE, New Forge events.
You can see we just created about two Patches in two minutes. So we're on a good roll here.
We're going to go ahead and jump into another one. This is going to be the first game that we're going to be highlighting today. So this one's on Avalanche and it's called Chikn. I already have the Chikn contract in and Chikn is pretty good with words here, as they've named some of their events relevantly.
We're going to create a Master EGG bot.
Some of the various events that can come from this contract are EGG-related.
So we're going to do any time an EGG is burned, staked, swapped, or unstaked. We'll also make sure we catch that mintedEgg bot notification as well.
Let's go ahead and click Discord.
I created a perfect channel for this called the "Master of Egg" channel. And for those that really want to keep up to date with what's happening within Chikn and the EGG here, you will be covered. Let's go ahead and call this Master of EGG bot.
This third Patch was made in under three minutes. We are killing it!
Now we're onto our last Patch. This one is going to be a bit different. We're going to use a project called CryptoBlades, a PVP NFT game. This one is a multi-chain game, but we will pick Binance Smart Chain for this. I've already added the contract to Dispatch.
or this one, we're going to mix up the output a little bit. Instead of choosing a community channel that may be more externally facing, we're going to send event alerts to an internal endpoint via webhook.
So maybe you're a bit more technically inclined as a marketer and looking to create automation for your team internally to power, say, maybe a dashboard.
Or maybe you just want to create and feed contract event data into another system such as Slack and post that webhook directly into a Slack channel so you're notified anytime a new player levels up or creates a new character.
So again, this has a proxy and implementation contract. We're going to go ahead and go on the implementation and select the LevelUp and NewCharacter events.
Then we'll select "webhook" as the Action. I've already added a webhook to Dispatch, so we're going to choose this endpoint that I created earlier.
All you have to do is drop in a URL to create a new webhook and we're going to give it a name.
So let's call it "Level Up New Character - Dashboard internal". All right, going to go ahead and turn that Patch on.
Now I'm going to go ahead and jump back and view some of our Patches so you can see some of these new ones we've created here.
And the nice thing is you can always jump in and look at the specific way you've set up that Patch. If this Patch is firing too frequently, maybe you want to pause it. You can do that here, always turn it back on as well.
And in Patch History, you can see how some of these Patches have fired.
Here are some other Patches that have already fired, as well.
So this is an Avalanche-particular game.
And this is a betting bot that was set up.
So you can see the different info and anytime a bet was placed in this particular game.
Let's go ahead and look at all the contracts we've added here.
You can always add new contracts quickly and easily directly here as well beyond the Patch interface.
Another thing you can do is check out the Explore page to check out the Patch templates and see what kinds of alerts and automations you can create.
These templates are pre-configured Patches and allow you to quickly get up and running.
Let's go ahead and jump into the Discord test server that I set up and see what one of those Patches looks like.
So here's a Bored Ape Yacht Club transfer bot.
You can see that a new transfer was detected.
You can always jump right back into Dispatch and see that particular event when it happened, allowing you to keep up to date with exactly what's going on within your community.
That brings us to the end of our demo today.
I hope that you learned how Dispatch can help increase your engagement, grow your community, and keep a pulse on your project through our latest set of features.
If you want to take Dispatch for a spin, we're excited to extend beta invites to you here
We cannot wait to see what you build and hear your feedback on this latest release.
Be sure to subscribe and follow us as there is much more to come!
Closing
We're really excited to see the amazing things you'll create with Dispatch! Come say hello on Discord and connect with us on Twitter.
Want to be the first in the loop for our latest updates? Don't forget to subscribe to our newsletter 😄
Note: This content is for informational purposes only; you should not construe any such information or other material as legal, tax, investment, financial, or other advice. Nothing contained on our site constitutes a solicitation, recommendation, endorsement, or offer by Esprezzo or any third party service provider to buy or sell any securities or other financial instruments in this or in any other jurisdiction in which such solicitation or offer would be unlawful under the securities laws of such jurisdiction.