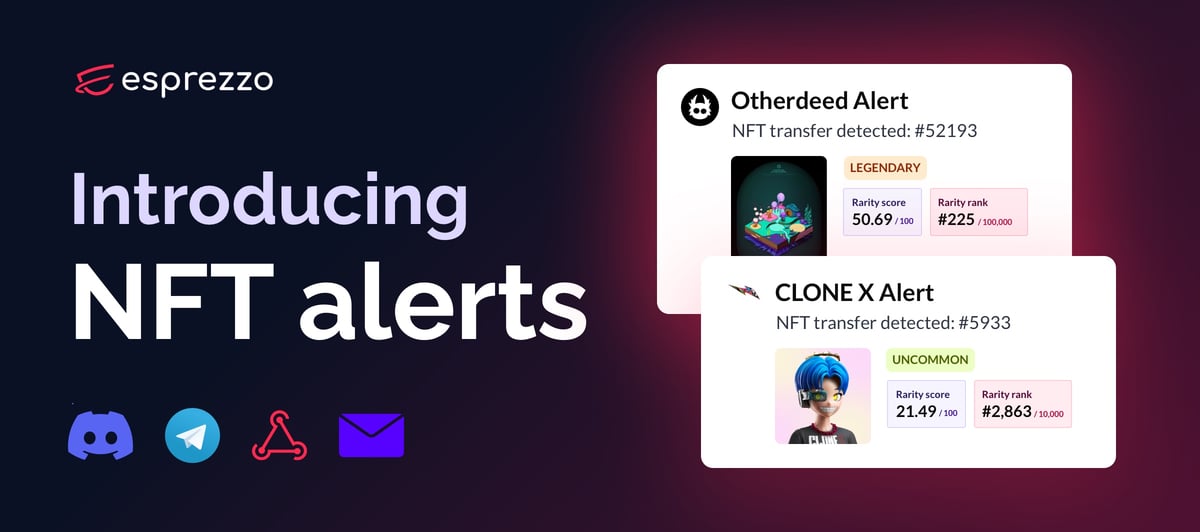 With the global NFT market projected to reach $97.6 billion by 2028 and new NFT projects being announced daily, NFTs are here to stay. And we can expect them to continue evolving as creators and brands explore new experiences and utilities NFTs can unlock. In response to growing demand, we're excited to announce our first NFT alert!
Update: We've been getting lots of great feedback from Dispatch beta testers. In response to that feedback, we've added the ability to create alerts for any smart contract events, including NFT transfers.
We've discontinued NFT alerts in this form for now.
Monitor NFT collection transfers with Dispatch
As you may have discovered, many Web3 apps can be difficult to use as they're not as user-friendly as the Web2 experiences we're used to. Knowing this, we're designing Dispatch to be intuitive, fast and easy to use. Dispatch is a no-code tool for getting real-time automated alerts and data streams on wallet, DEX, and NFT activity via email, Telegram, Discord, Webhooks and more...
Dispatch alerts, aka Patches, consist of Triggers — events, or what you want Dispatch to monitor for you — and Actions, what you want to happen when Dispatch finds what you're looking for.
Dispatch Triggers include token balance changes in wallets or smart contracts, balance threshold crossings, new DEX pair/pool listings, and now our first NFT Trigger: NFT collection item transfers!
NFT alerts for collection item transfers
Instead of monitoring collections manually, Dispatch makes it super easy to get notified automatically when items from an NFT collection are transferred from one address to another. This can be useful and save time, whether you're a project team looking for an easy way to keep your community updated in real-time, or you're a NFT collector/investor that wants to stay up-to-date on NFT activity.

Collections supported in this release: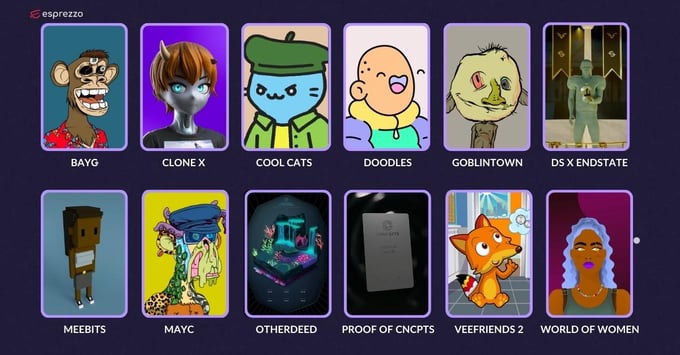 Bored Ape Yacht Club
CLONE X- X TAKASHI MURAKAMI
Cool Cats
Doodles
Goblintown
Meebits
Mutant Ape Yacht Club
Otherdeed for Otherside
Proof of CNCPTS
VeeFriends Series 2
World of Women
DeVonta Smith x EndState
This is our first NFT Trigger and the first set of NFT collections we're supporting; we have more in the works! Learn more about submitting requests for other NFT Triggers and collections below.
Data included in this alert
Here's an example of the data included in an NFT collection item transfer alert: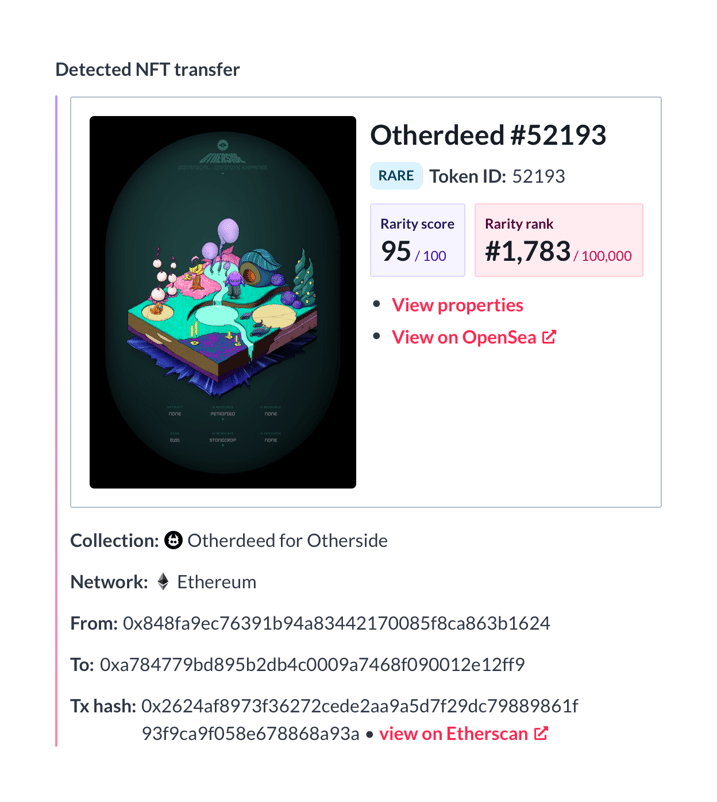 Some of the data you'll receive are the item's rarity score, rarity class, rarity rank, the addresses from which the NFT was transferred from and to, the transaction hash, and more.
NFT rarity indicators at a glance
When we surveyed other NFT rarity tools, we saw an opportunity to enhance rarity data to help you better evaluate NFTs. That's how we came up with rarity indicators: rarity class and a rarity score on a scale of 1-10 that makes it super easy to compare rarity of items across collections.
Other rarity tools allow you to compare the rarity of an item within a collection, but it's not so easy to compare the rarity of an NFT from, say, Bored Ape Yacht Club vs an NFT from CloneX.
In Dispatch, each NFT (item) in a collection is assigned 3 indicators of rarity:
1: Rarity rank
The numerical rarity rank of the item compared to all the other items in the collection.
The lower the number, the rarer the NFT. For example, out of 10,000 NFTs in a collection, #1 would be the most rare, and #10,000 would be the least rare.
2: Rarity score
A score of rarity out of 100 calculated from the combination of traits and each trait's rarity. The closer to 100, the rarer the NFT.
3: Rarity class
One of five classes, based on the item's rarity score and collection size.
From most to least rare:
Legendary
Very Rare
Rare
Uncommon
Common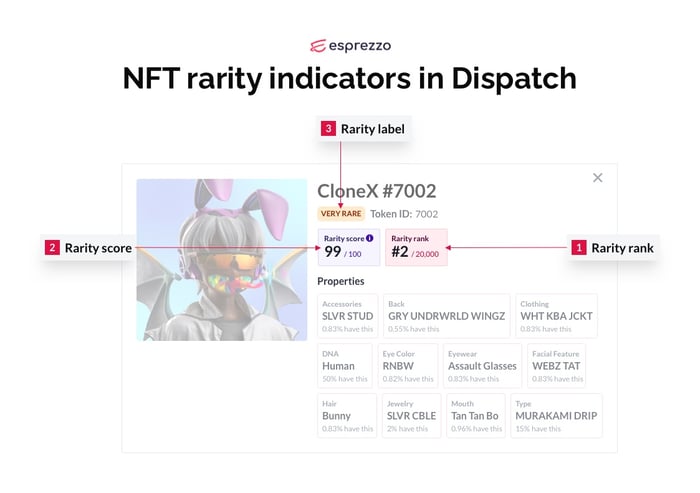 **Note: Rarity may not be relevant or apply to certain collections. For example, in collections that contain many copies of the same item. We provide teams the option to skip the rarity indicators if they're not applicable to their collections.
The NFT collection transfer Trigger is designed to save you the time and energy you would otherwise spend manually tracking collection activity on NFT marketplaces or block explorers, if you're a collector/investor, or building custom tools to keep your team or community updated, if you're creating and managing NFT collections.
How to get NFT alerts with Dispatch
Log in to

Dispatch


Don't have a Dispatch account yet? Request an invite

Select the "NFT collection items transferred" Trigger

Select the Action (how you want to receive the alert when collection items move)


The top-level "Action" is how you want to receive the alert when collection items move.

Currently you can receive alerts via email, Telegram, Discord, or webhook. "Dispatch Monitor" is the option for those of you who prefer to view all your alerts without leaving Dispatch.

Set the Trigger details




Choose the NFT collection you would like to monitor.

Set the Action details: Choose how and where you want to receive NFT collection alerts


If you selected...

- Email as your Action type: enter the email address where you'd like to receive alerts.

- Telegram as your Action type: select direct (private) or group/channel messages, then choose your destination.

- Discord as your Action type: select the Discord server and server channel where you'd like to receive NFT alerts.

- Dispatch Monitor as your Action type, your alerts will appear in the Dispatch Monitor tab of Dispatch.

Optional but recommended: Test your Action


Performing a simple test helps make sure Dispatch can send data where you want it to go.

Dispatch Monitor doesn't require any testing; your alerts will be displayed in the "Dispatch Monitor" tab of Dispatch.

Turn your Patch on and wait for alerts! 🥳
---
Here's a quick demo showing just how easy it is to set up an NFT collection alert using Dispatch:
What other NFT Triggers and collections do you want to see?
Are there other NFT Triggers or collections you'd like to see? Let us know!

👉 Request an NFT collection
👉 Request a Trigger (data source)

As we mentioned, this is our first NFT Trigger and first set of collections. To make sure you don't miss future updates, subscribe to our newsletter, follow us on Twitter, or join us on Discord.

📣 Calling NFT project teams
Are you looking for an easier, faster way to index and get access to your NFT's metadata, media files, or smart contract events to provide a better user experience for your team or community?
Do you want a real-time Discord bot to keep your community informed?
This alert can be valuable to your community and can be set up within minutes once your collection is indexed.
If you're a project that would like to connect with us and potentially be integrated into Dispatch, reach out to us!
Want a Dispatch invite?
Currently, Dispatch is invite only. We're sending out the next round of invites soon, so make sure to get on the waitlist if you haven't already!

Learn more about NFTs
There's so much constant news around NFTs, it can be overwhelming and hard to keep up.

If you're new to NFTs and want to learn more about them, check out our guide to NFT Basics! It's the first part in a series we're doing on helping decode NFTs. In The Basics, we break down some of the terminology used with NFTs, where NFTs came from, different types of NFTs, how they work, and more.

Legal Disclaimer
This content is for informational purposes only; you should not construe any such information or other material as legal, tax, investment, financial, or other advice. Nothing contained on our site constitutes a solicitation, recommendation, endorsement, or offer by Esprezzo or any third party service provider to buy or sell any securities or other financial instruments in this or in any other jurisdiction in which such solicitation or offer would be unlawful under the securities laws of such jurisdiction.