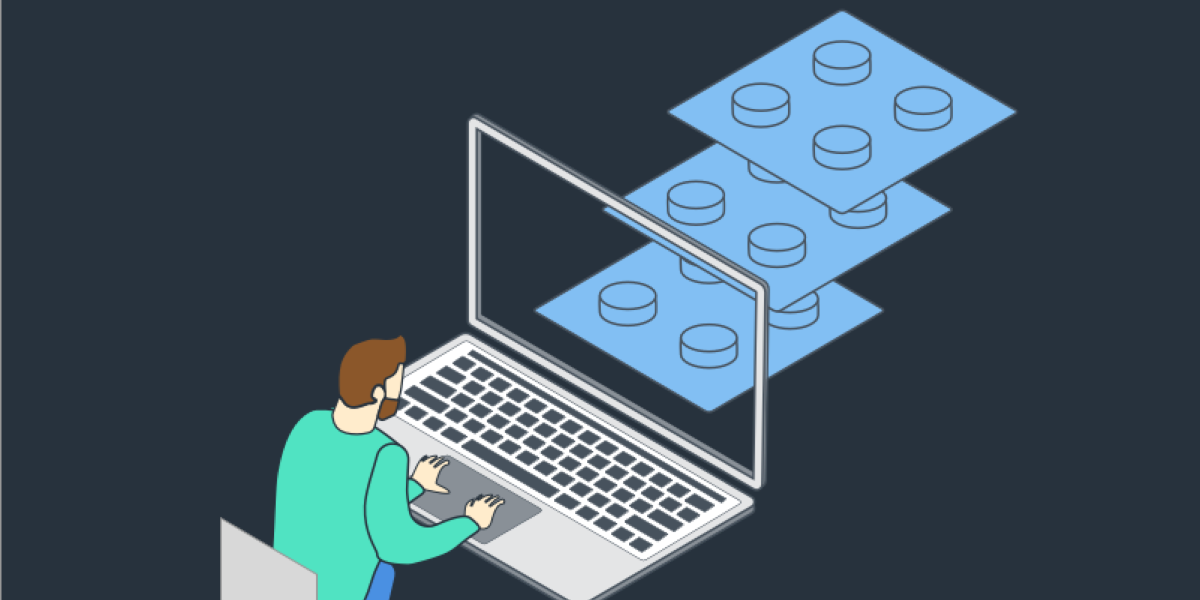 In December LinkedIn published their 2018 U.S. Emerging Jobs Report and unsurprisingly (to us at least) "Blockchain Developer" was listed as the number one emerging occupation in the United States with a staggering 33x growth in 2018 alone. While this news is encouraging for anyone involved in the blockchain ecosystem, it doesn't tell us anything we didn't already know. In fact, it creates more questions than answers: What industries are hiring blockchain developers? Where, exactly, are these jobs? How large are the organizations hiring? What skills does a blockchain developer need to have? And what are the most popular protocols?
At Esprezzo we're constantly researching the blockchain landscape to create the best developer tools and figuring out how to put them in the hands of the people who are most eager to use them. We decided to conduct our own study with an in-depth look at the companies applying blockchain technologies to their businesses. So in a lot of ways, we needed to answer these questions and today, we'd like to share some of our findings.
Overview
In this study, we attempted to gain insight into what types of businesses are actively moving into the blockchain space vs. in the planning and research stages. We figured that a good measurement of such activity would be the intention to hire professionals capable of building with blockchain technology. After collecting the data we grouped these organizations into four main categories: company size, location, industry, and which blockchains are they interested in using.
The Method
In order to identify the companies prepared to integrate blockchain technology into their business processes we surveyed active job postings across popular recruiting websites including LinkedIn, Indeed, Glassdoor, Angel List and ZipRecruiter. The job posting had to include the term "Developer" or "Engineer" and had to list blockchain as one of the skills (either "required" or "desired"). Postings with "blockchain" only as a hashtag or without specific mention within the job description were not included.
Our research focused on unique companies; if multiple blockchain developer jobs were posted by a single company, only one was included. For example, American Express had over 30 jobs posted for "Senior Engineer — Blockchain"on Zip Recruiter; we only counted this once.
The scope of surveyed companies includes blockchain infrastructure providers, cryptocurrency companies, along with a wide variety of businesses from many different industries. We categorized companies by industry using the Global Industry Classification Standard with the exception of the "Blockchain and Cryptocurrency", a category we created in order to accurately account for businesses in this emerging industry.
Some of the jobs were posted via recruiters and we have made the necessary adjustments to ensure we could avoid duplicates when possible Unless the data on specific industry and size of the client company was available, we excluded those metrics from the study.
The Results are in!
During the course of the study, we identified 367 unique companies with active job postings that fit the criteria outlined above.
Size
Out of 367 companies, 321 provided data on the size of the company.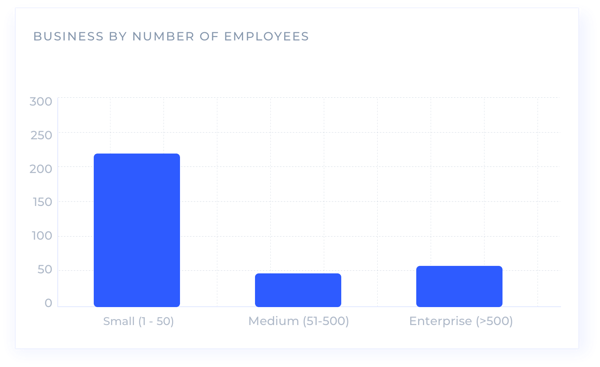 Companies hiring blockchain developers, by size
Of the surveyed companies, 67.6% had between 1–50 employees, 14.6% had between 51–500 employees and 17.8% fell into the enterprise category with staff ranging from 501 to over 10k.
The dominance of small companies provides evidence that we're still in the early days of the blockchain revolution. Many of the small business are aiming to disrupt established industries. Small companies may have some advantages, including the ability to move faster and with a higher risk tolerance, over larger organizations that have decades of data or layers of processes and bureaucracy.
Location
Out of 367 businesses, 364 provided data on where the hiring company was based.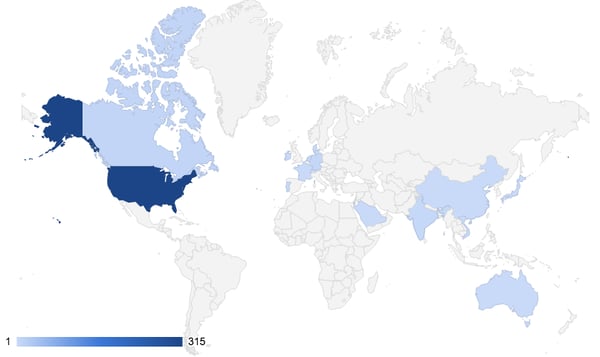 The vast majority of the businesses are based in the United States with 86.5% followed by the United Kingdom at 3.6% and Canada with 2.5%. The United States, led by Silicon Valley is still a powerhouse for emerging technology, blockchain included. Our findings partially contradict those from Deloitte's 2018 Global Blockchain Survey, which states:
"72% of companies surveyed are currently hiring or will be hiring in this calendar year, staff with blockchain experience (although only 45% here in the USA)"
This discrepancy is likely due to the fact that the recruiting websites we surveyed are mainly based in the US and are primarily for English speakers.
Industries
Out of 367 companies, 364 provided data on the industry.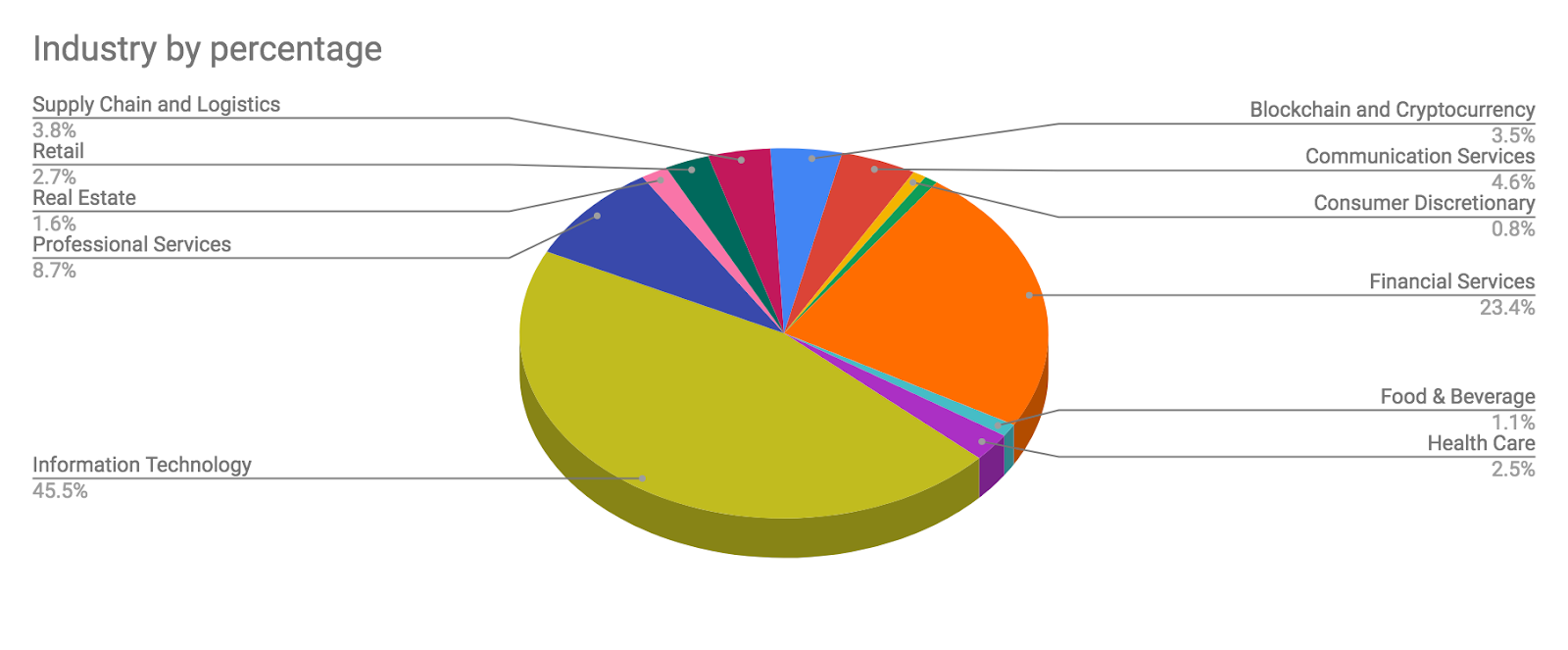 Blockchain developer jobs, by industry
The industries spanned a wide range with the top 3 being Information Technology (45.5%), Financial Services (23.4%) and Professional Services (8.7%).
To our great surprise, Blockchain and Cryptocurrency companies came in with a low 3.5% of all job postings. According to ICOData, in 2018, 1,257 ICO's raised over $7.8 billion. One would think that companies who ICO'd would line up to hire blockchain engineers with all that money. Which begs the question: who, exactly, is building the product?
The Deloitte survey highlights several obstacles to blockchain technology adoption with answers to the question,
What are your organization's barriers, if any, to greater investment in blockchain technology?
- Regulatory 39%
- Implementation (replacing legacy systems) 37%
- Lack of in-house skills/understanding 28%"
Regarding regulation, the lack of growth-friendly, clearly defined legislation serves as a roadblock for many money managers to inject much-needed capital into the innovators building atop the foundations laid for us by the first wave of "crypto" projects that started towards the end of the last decade.
The thought of replacing legacy systems may keep companies from seriously considering blockchain technology, especially those companies that have decades of data who have invested significant resources in existing business processes. Blockchain shouldn't necessarily replace entire legacy systems.
"We can help enhance legacy systems with distributed technology to create a more secure and transparent data set for various business networks," says Esprezzo CEO Remy Carpinito. "Pieces of application data will move to blockchain rather than a total replacement, not every piece of data should live on the blockchain".
Lack of in-house skills or understanding of blockchain reinforces the need for educational resources. Currently, there simply aren't enough developers that have blockchain experience to meet demand. Self-regulated, industry-specific alliances and organizations are cropping up (examples include the Enterprise Ethereum Alliance, Blockchain in Transport Alliance, Synaptic Health Alliance, and Trusted IoT Alliance) and should continue to grow. One potential fix to the shortage of experienced blockchain developers and reducing the high costs associated with hiring is to employ blockchain middleware software. It can not only significantly reduce the need for back end hires but also activate the existing developers already part of the organization.
Blockchain
Out of 367 businesses, 87 (23.7%) specified a blockchain(s) by name.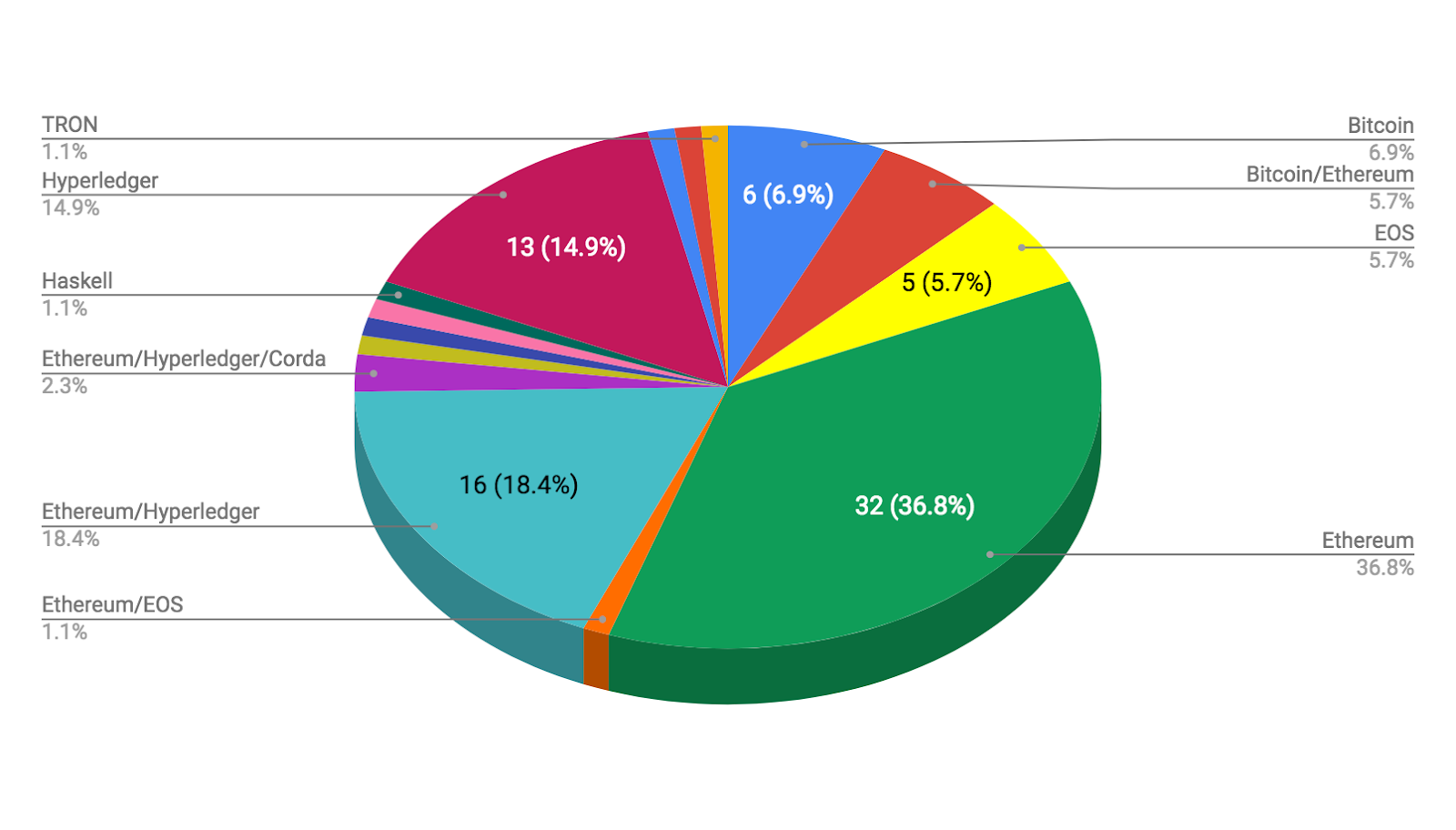 Among this subset, Ethereum was the most in demand, either listed on its own (36.8%) or in combination with one or more blockchains (64.3%). Hyperledger came in second with 35.6% combined and 14.9% individually. Bitcoin, the one that started it all, closed the top 3 with 12.6% combined and 6.9% individual. Ethereum's popularity might be due to the widespread attention it has received thanks to its status as the smart contact platform of choice, mainly for ICO token issuance.
Linux Foundation's private blockchain, Hyperledger, was more popular among enterprises as they tend to prefer "permissioned" networks that don't require extensive mining power to operate like most public blockchains.
Some confusion among those posting jobs was evident in statements like "knowledge of Ethereum and other Bitcoin-like blockchains needed". The need for accessible, basic blockchain education is once more highlighted.
Are you a developer interested in experimenting with building applications that talk to blockchains? Please consider joining our private beta; it's free!
Conclusion
Among the 367 companies we identified during the course of this study, we analyzed 800 plus unique job posting with an average salary of $100k, representing over $100 million in salary costs to those employers. The demand for skilled blockchain developers will continue to rise as more businesses adopt blockchain technology. Even at the current hiring level, the demand outgrows the short supply, most likely resulting in increased salaries and costs for employers. As universities and learning organizations around the globe introduce new blockchain curriculums, it will be years before those programs are polished and a new batch of qualified specialist hits the job market. These curriculums may also be challenged to keep pace with the rapidly developing technology.
Hiring itself is not only a costly process but also a lengthy one; finding the right person for the job takes time. Finding someone with the right skill set is only half the battle, for teams to work efficiently a candidate must also be a good cultural fit. Very few new hires are instantly producing at full capacity, onboarding, getting to learn the internal processes and understanding team dynamics all takes time. As every CEO knows, time is money. The efficiency and speed of achieving roadmap goals can be the difference between success and failure, especially among smaller companies.
In the technology lifecycle, blockchain is in its infancy, being explored and implemented by early adopters and technology leaders. We are just starting to see real-world case studies that can be used to justify ROI and investment, though many companies are beginning to explore how they can implement this potentially world-changing technology. And as evidenced by our research, companies are investing in talent to build blockchain solutions.
Blockchain has the potential to significantly impact the world around us and in many ways, revolutionize it. The improvements provided are not only economical but sociological as well. It can change the way future generations perceive fundamental concepts like trust and self-identity. And while we continue to speculate on the advantageous nature of blockchain in all walks of life, many benefits of this technology remain largely undiscovered. The progress that is being made on the front-lines of blockchain development, is being propelled forward by developers and technologists willing to explore often uncharted territory. These individuals bring a unique perspective to a completely unique new technology; let's put blockchain in as many willing hands as possible!