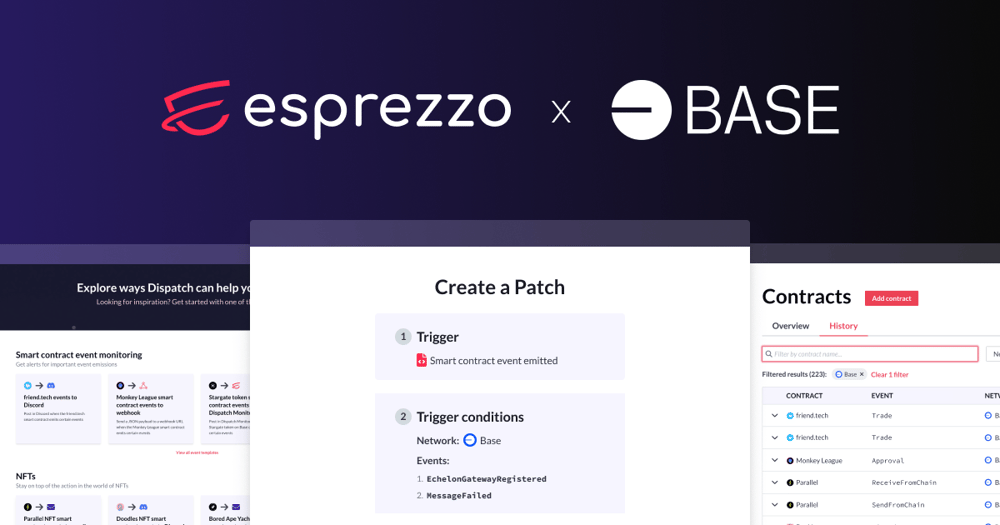 We're pleased to announce that we're now welcoming project teams and communities on the Base network to join the Dispatch beta! Whether you want to build better Web3 experiences faster, keep community engagement growing, or track your favorite (or competitor) projects on Base, Dispatch can save you time.
Our alert and automation templates for popular Base projects (friend.tech, Parallel TCG, Monkey League, New Era ETH by DeeKay Motion to name a few) provide an easy starting point to keep tabs on those projects or build your own Zapier-style workflows.
Alert and automation templates for projects on the Base network can save even more time
What is Base?
Base is a Layer 2 (L2) network, developed by Coinbase, one of the leading crypto exchanges in the blockchain industry. It's designed to be super secure, cost-effective, and friendly for teams who want to create performant and profitable dApps and games.
Here are a few reasons why we chose to add Base:
Developer-friendly: Base's EVM compatibility simplifies the experience for developers
Expansive user reach: With Coinbase having over 110 million users, Base potentially grants access to a huge existing user base.
Affordable: Base is EVM-compatible and offers gasless transactions for dApps, potentially lowering developer costs.
Inclusivity: Base is committed to decentralization, permissionless access, and inclusivity, so anyone can participate in building and improving the ecosystem.
What is Dispatch?
If you're new here, you might be wondering what Dispatch is. Dispatch is a no-code tool that makes it super easy for anyone to get real-time alerts for on-chain activity or use on-chain activity as triggers for automated workflows. Think Zapier, but for Web3: you can use address/wallet or smart contract activity as triggers for alerts or automation, connecting on-chain activity to other products or services.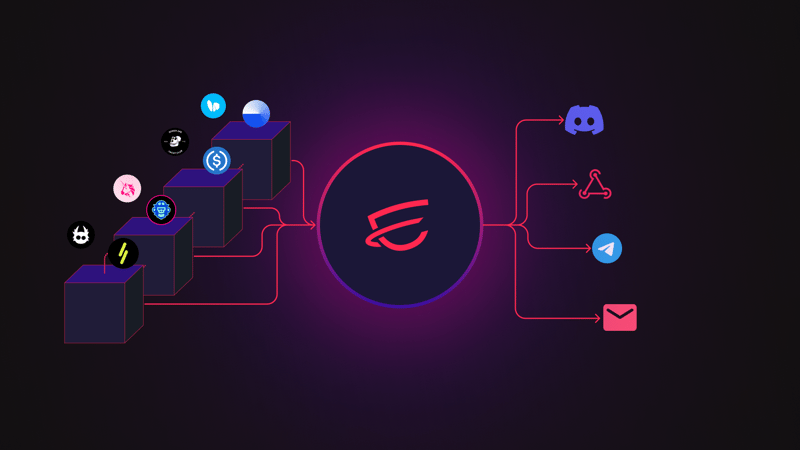 Alert and automation templates for projects on the Base network can save even more time
While there are other tools out there, they can be difficult to use or require writing code or understanding Solidity. We've designed Dispatch to be super easy and intuitive for anyone to use. Whether you're a marketer, inventory planner, or a Web3 newbie just getting your feet wet, Dispatch is for you: to help you save time, stay on top of the projects, and get to market faster.
Alerts and automations are called "Patches" in Dispatch and consist of a Trigger (i.e. balance changes or smart contract events) and resulting Action (something you want to happen when your Trigger conditions are met). It's as easy as adding a smart contract, picking the events you want to use as triggers, choosing where you want the event data to go, and turning your Patch on. This is perfect for quick development and monitoring.
Power app interfaces & get alerts via Discord, Telegram, webhooks
Once you've chosen your Trigger, your current Action options include getting automated alerts via email, Discord, Telegram, or webhook. If you're just interested in logging events, you can also select Dispatch Monitor".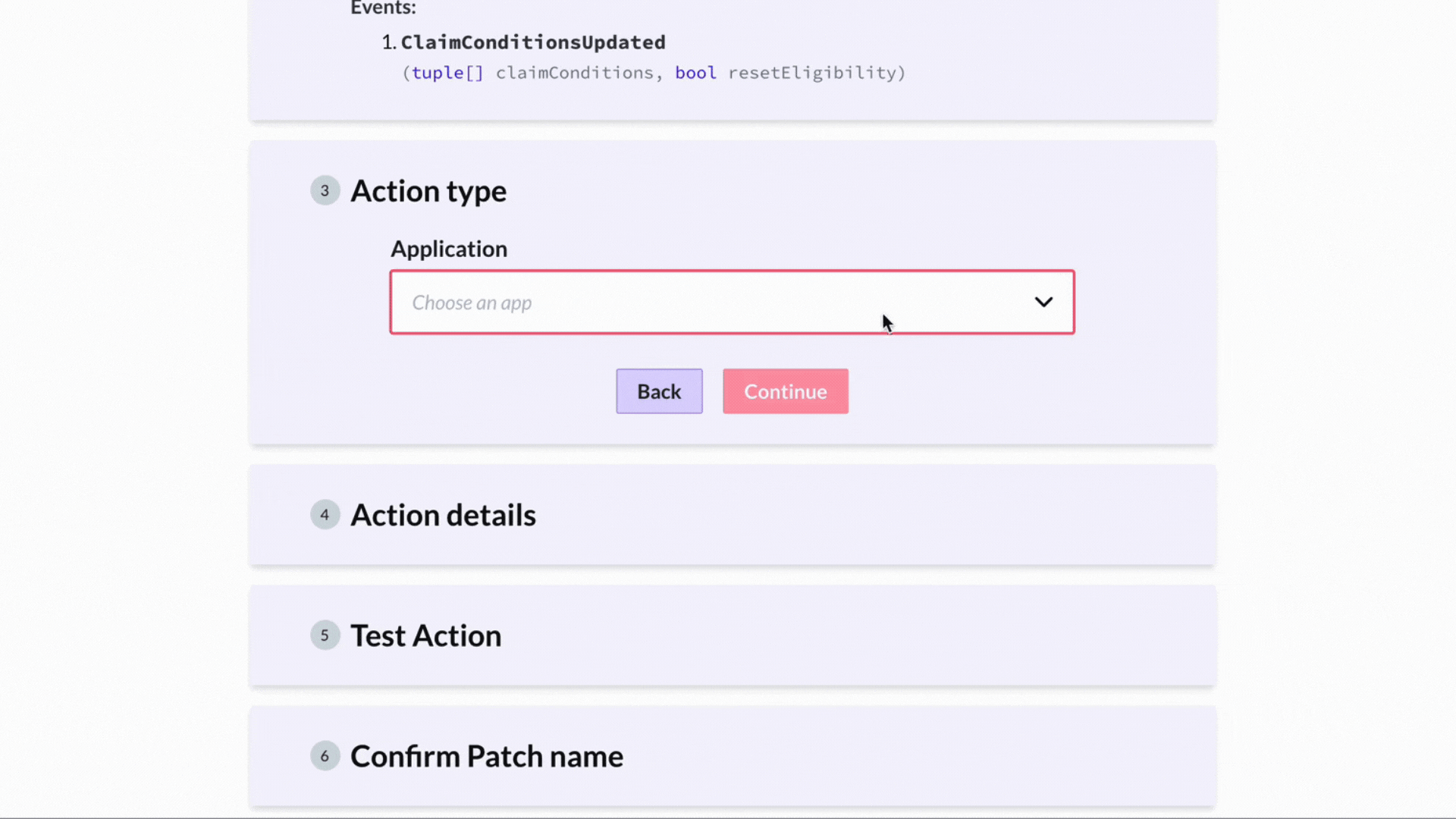 Picture this: Your Discord server members getting automatic updates about all the exciting stuff happening in your project. Whether it's new quests, token claims, avatar upgrades, or real-time collectible redemptions, Dispatch keeps your community in the know. That's just one example of how Dispatch can help. Check out some other cool ways Dispatch can help with marketing & community.

Whether you're trying to keep your communities engaged or your team members in sync, Dispatch makes it easier to keep them in the loop.
Start monitoring Base projects with Dispatch
Want to start using Dispatch?
Join the beta. With the exciting addition of Base, we're opening the doors to new beta applicants; click the button below to get started
Already have an account?
Check out Introducing Event Monitor: Smart Contract Alerts Made Easy to learn how you can get started.
Need more guidance?
Check out our Docs.
How Dispatch can help:
Efficiency through Web3 automation
You know those manual, repetitive tasks that eat up your time? With Dispatch, you can say goodbye to those tedious time-sucking activities (like block explorer lookups or creating alerts on multiple block explorers)manual work. Being able to create alerts & automations for multiple chains in one place can also save time, We give you the tools to automate those on-chain alerts, freeing you up your time for what really matters.
Intuitive and accessible design:
Had enough of those complex and confusing Web3 products? Us too! That's why Dispatch offers a user-friendly interface that's a breath of fresh air. We've made it simple, so everyone on your team can jump right in and use it without a hitch.
Elevate your team's Web3 experiences:
Whether you're the curator of a membership NFT collection, deeply involved in game development, or simply passionate about Web3, Dispatch makes sure that you'll always be at the forefront. With real-time alerts at your fingertips, Dispatch empowers you to stay informed, reclaim valuable time, and keep your communities engaged.
Eliminate manual effort
Say goodbye to endless block explorer searches and custom tool development for monitoring smart contract events. Dispatch simplifies your work process by sending automated alerts that come with all the important on-chain information you need. This saves you time and makes sure you don't miss out on crucial details.
Empower non-technical team members
Unlike tools designed exclusively for developers and coding experts, Dispatch's user-friendly interface is accessible to everyone. Anyone can set up alerts and automations without any hassle, making everything run smoother and more efficiently.
And if you get stuck in Dispatch, our help widget is there for you to easily get the help you need.
Example use cases
Monitor frozen/blacklisted addresses:
Keep track of NFT mints:
Stay updated whenever a new asset is burned:
The possibilities don't end there. Dispatch is a versatile tool with endless potential, including the ability to create alerts for DAO voting, DeFi automations, and much more. We're excited to see what you build with Dispatch. If you'd like to explore specific use cases or have questions, feel free to join our Discord and chat with our team.