As we start another year, we're looking back and reflecting on the events and accomplishments of 2022. The year was punctuated by ups and downs, but more importantly, 2022 was a time of growth and change.
Despite turbulence in the markets, it was an exciting period for Web3 as organizations pushed the limits of innovation. Notable progress from multiple enterprises revealed new opportunities and highlighted potential capabilities and new use cases within this space.
We're also proud of what we accomplished at Esprezzo in 2022: we launched Dispatch in private beta, onboarded our first users, integrated four chains, multiple DEXs, and released our first NFT alert. Even though the bear market took over headlines and put an end to many initiatives for other projects, we were able to continue pushing and connecting with other companies and projects at several Web3 events.
Table of Contents
In this 2022 recap, you will find:
How Web3 grew and evolved in 2022
2022 was a difficult year for the Web3 community as the collapse of FTX and the downturn of the crypto and NFT markets hit hard. However, Web3 wasn't the only industry affected last year; turmoil in traditional markets, war, and inflation cast a shadow over everything. Despite these challenges, several major Web3 initiatives launched last year, demonstrating that even in difficult times numerous projects are still pushing through the noise.
Let's take a look at some of the Web3 trends from 2022.
Web2 companies entered Web3
Even through market fluctuations and crypto winter, we noticed that more Web2 companies are entering Web3 and interacting with the crypto community. This is likely only the beginning of an increased level of collaboration and hybridization between the Web2 and Web3 worlds.
An incomplete sampling of Web2 companies entering Web3, by vertical:
Fashion
Nike: Web3 Pioneers?
Nike was one of the first companies to venture into Web3, and they continue to lead established brands in their Web3 initiatives. In December 2021, Nike acquired RTFKT, the creative studio behind CLONE X.
In 2022, Nike…
Announced .SWOOSH, their digital asset platform/virtual space for Nike fans on Polygon

Released the MNLTH NFT collection: their first RTFKT co-branded project

Launched RTFKT x Nike Dunk Genesis Cryptokicks, a line of customizable virtual sneakers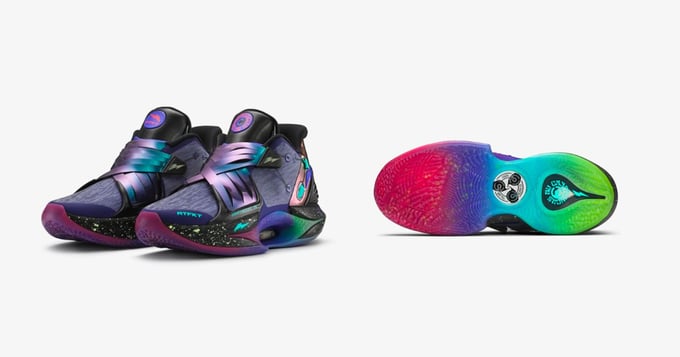 Cryptokicks iRL "Space Matter'' colorway, 1 of 4 colorways in the collection. Images from RTFKT
Automotive & Motorsports
Lamborghini: launched two NFT collections including the Epic Road Trip collection that come with benefits for some lucky holders like a VIP tour of Lamborghini's headquarters in Bologna, Italy

Mercedes-Benz

: teamed up with crypto art collective ART2PEOPLE for NF-G, their first NFT project paying tribute to the G-Class.
Entertainment
Food & Beverage
Starbucks: launched Starbucks Odyssey, a Web3 loyalty program built on Polygon. The program grants customers access to NFTs and other rewards.
Hennessy: released their first NFT collection in partnership with BlockBar. The 'Hennessy Paradis Golden Edition' includes "phygital" Hennesy-8 cognac bottles: digital art with physical counterparts.
Kellogg's: collaborated with Mythical Games to create Pop-Tarts-themed NFT characters for the Blankos Block Party game, the first blockchain-based multi-player game to launch on Fortnite creator's Epic Games marketplace last year.
Read more:
Want to know more about all the brands that ventured into Web3?
NFT creator royalties became an issue
Many creators flocked to Web3 in the last few years, seeing the opportunity to retain control and ownership over their art, as well as the opportunity to earn royalties on secondary sales. In 2022, some NFT marketplaces decided to eliminate royalties for creators when their NFTs are resold, causing controversy and backlash in the NFT community.
Some argue that royalties are core to the ethos of NFTs, as they give artists the chance to receive ongoing income when their artworks are resold. Others believe that lower fees might be more attractive to collectors and could encourage them to use certain marketplaces.
Big Web3 launches that happened in 2022
Ethereum 2.0: The Merge
In September Ethereum executed 'The Merge', an exciting milestone to transition the network from Proof of Work (PoW) to a more energy-efficient Proof of Stake (PoS) consensus model. This new setup replaced mining rewards with staking rewards for validators.
The Merge is a game-changer for Ethereum, according to the Ethereum team, it's intended to:
Introduce sharding — to alleviate network congestion, resulting in lower gas fees and faster transaction times

Reduce excess power consumption
There's an ongoing debate about whether moving to PoS made Ethereum more centralized, less egalitarian, and more censorship-prone. With the shift to validators replacing miners as the decision-makers on the order and selection of transactions in each block, validators may be centralized entities (Lido Finance, Coinbase, Kraken, Binance to name a few) who have a huge influence on network activity.
Read more:
Has Proof of Stake Made Ethereum More Centralized? - Decrypt
Ethereum Already Showing Signs of Increased Centralization - CoinDesk
Reddit NFTs onboarded 3M new crypto wallets
Reddit made a huge leap forward in Web3 with the release of Reddit Collectibles, their digital collectible avatars on Polygon. Since the series first launched in July 2022, 3 million new crypto wallets have been created. This shows how established brands with compelling offerings, existing fanbases, and partnerships with artists who have their own fans, can bring new users to Web3.
Even though we saw the floor price of PFPs like Bored Apes and CryptoPunks decline along with the rest of the market, the creation of three million new crypto wallets shows there's an appetite and huge untapped market potential for Web3.
Social media platforms integrated NFTs
In 2022, Twitter and Instagram joined the trend of social media companies embracing Web3 technology through NFTs. Additionally, in preparation for the next era of digital engagement, Meta (formerly known as Facebook) had also undergone a full rebranding of their company. While we expect to see more social media apps integrate Web3 technology in the future, it's exciting to see that NFTs and new promotional vehicles for their creators are already being explored by established social networking platforms.
Twitter opened up 2022 by announcing its new NFT profile picture feature. In November, Meta's Instagram joined the race by enabling creators to share NFTs on the platform . As an added bonus, Meta is also enabling its creators to mint and sell their NFTs. It's amazing that two of the biggest platforms out there are entering Web3; let's see what other forms NFTs will take as they continue to spread across the web.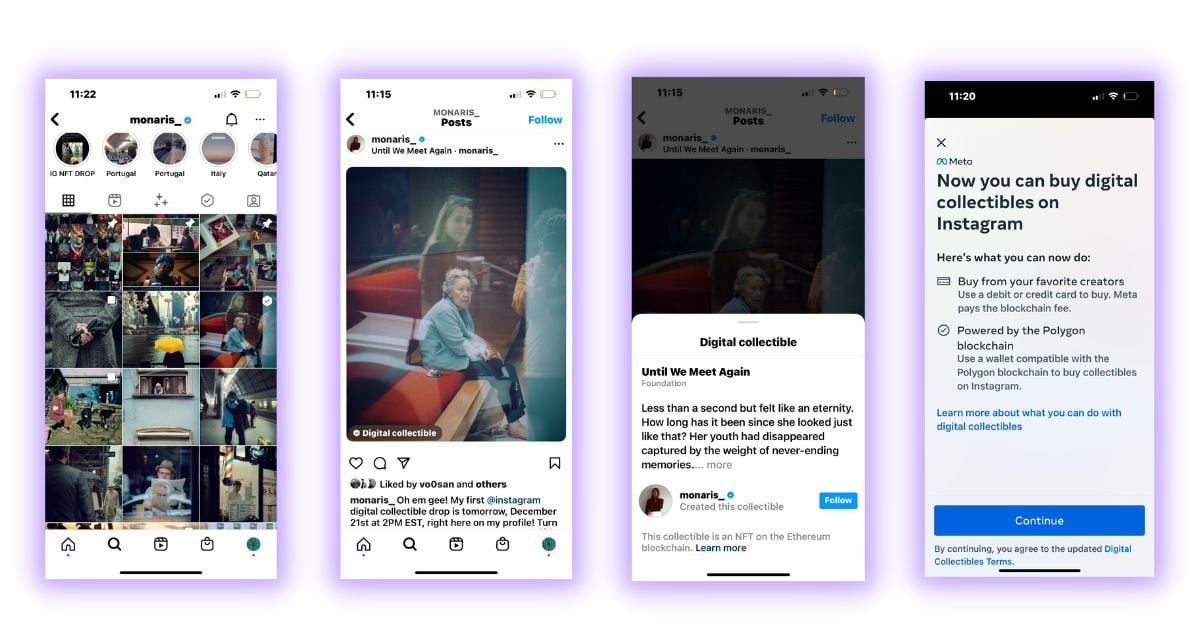 Instagram NFT post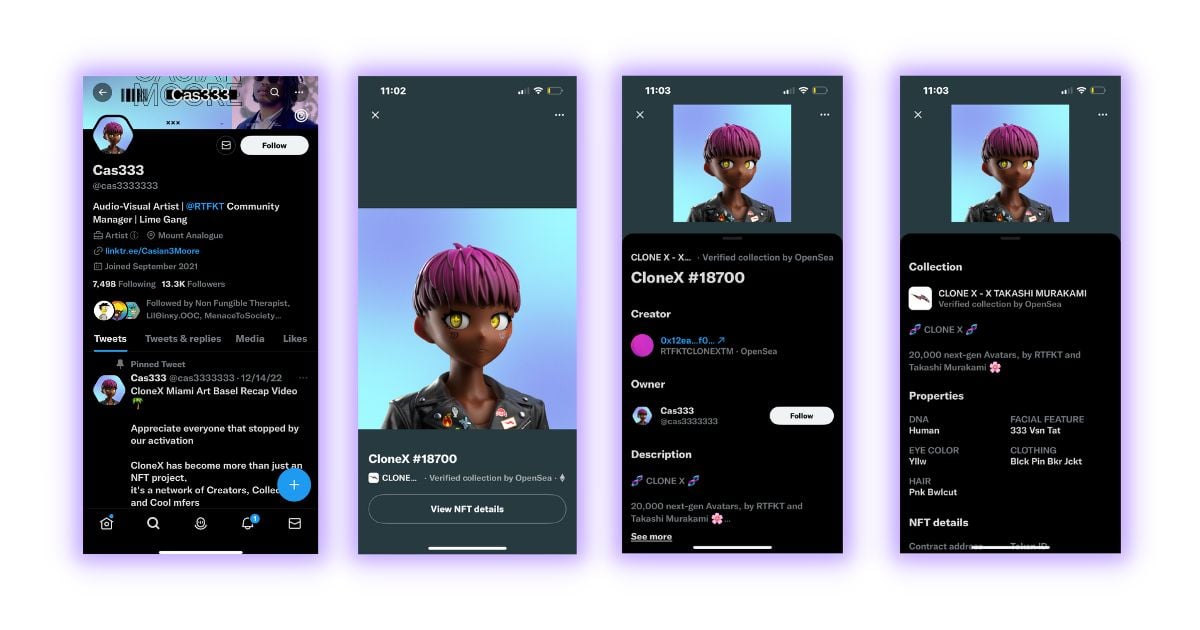 A CLONE X NFT profile picture on Twitter
Phygital NFTs took off
In 2022, we learned a new word: "phygital", which means a combination of physical and digital.
"Phygital" has been developing in Web2 the last few years, and came to Web3 in 2022 as brands continued searching for ways to grow and engage with their fans. Many fashion brands, for example, took advantage of the potential to create "phygital" experiences for their followers and buyers — Gucci, Adidas, The Hundreds, and Puma, to name a few. Emerging companies like EndState are also pioneering novel use cases, collaborating with NFL wide receiver Devonta Smith and three-time World Series champion David Ortiz.
The return of IRL Web3 events
In 2022, we had the opportunity to connect with a multitude of builders and fans at multiple Web3 conferences; Permissionless, Consensus, NFT NYC, DCentral Miami, and The Gateway. We were curious what the energy and sentiment would be like during this crypto winter and after the FTX fallout. After feeling everyone's spirit IRL at these events and hearing what people had to say about Web3, it's clear that while some of the hype may have pulled back, the energy is tangible amongst the emerging Web3 projects.
2022 event highlights:
Here are a few quotes that really resonated from events we attended in 2022:
"Web3 is hands down the most exciting sector of our generation. You hear people who constantly dismiss the space because it's not nearly as user-friendly as their Web2 applications, and they're right. Many of these people fail to see the big picture: the composable nature of what we do in this space.

It's essential to keep building because Web3 takes collaboration to a whole new level, and we all reap the benefits of recent developments. We fill in the missing puzzle pieces by building together with other projects until we have Web2-level functionality with Web3 principles.

– Austin Navarro, Moso Head of Business Development and CyberConnect Former Business Development Manager at Permissionless 2022
"2022 was a year full of twists and blunders. But regardless of the shortcomings, the community of builders and believers are strong as ever. Attendees who came to DCentral and [

Art

] Basel week were those who were not price-conscious of the market, but instead are focused on the future.

If this was the bear market like in 2018 then the events would be fully empty. Instead, there's still a strong vibrant community that is looking to build the future."

– Justin Wu, CEO of DCentral at DCentralcon Miami 2022
"Real shit takes time to build. You have to go through the battles that a lot of people are going through right now. There's a lot of people here I'm looking at that are part of this space— that have to go through this journey. It's part of it."
Just like many other teams, this isn't our first bear market. While Web3 is fairly new, just as with traditional markets, it's possible to navigate these downturns with focus, perseverance and patience. One thing that happens in such downturns is that the scammy projects without much substance fall away, and the remaining Web3 teams continue the work of solving real problems, improving user experience, and continuing to
make progress even with less-than-ideal conditions. We keep building until we reach product-market fit.
Esprezzo milestones
In 2022 we launched the private beta for Dispatch. Dispatch is an intuitive, user-friendly tool for Web3 teams and communities to track wallet and smart contract balance changes, DeFi events, and NFT activity. We onboarded our first users and added a handful of new integrations and features.
Dispatch private beta launch
We invited our first cohort to the private Dispatch beta and have continued to add more testers as we continue gathering feedback to fine tune things and make sure Dispatch is as helpful and easy to use as it can be.
We're still looking for beta testers who are building Web3 experiences and/or want to get real-time Web3 alerts and event data, whether to keep their teams, collaborators or communities up-to-date. Does that sound like you? Get on the waitlist.
Dispatch updates & new features
For our first beta release, we started by supporting Ethereum-based balance change alerts. By the end of 2022, we integrated Polygon, BSC, and Avalanche networks.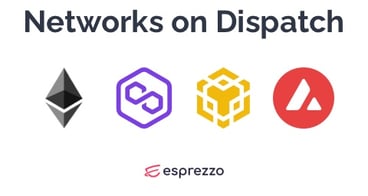 We also added support for some of the leading DEXs: UniSwap, SushiSwap, Trader Joe, Pangolin, QuickSwap, PancakeSwap.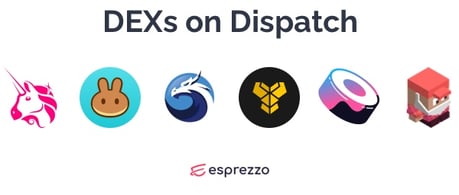 In November we introduced our first NFT alert — real-time alerts for NFT collection item transfers. Instead of manually monitoring block explorers and NFT marketplaces for transfer activity, Dispatch makes it fast and easy for you and your community to stay up-to-date on transfer activity in real-time through automated alerts via email, Telegram, Discord and more.
Take a look at how easy it is to set up an NFT transfer alert:
Learn how to set up NFT alerts here
Dispatch 2022 stats
# of Dispatch Actions fired in 2022: 62,469 messages sent since July
Most monitored fungible token: Ethereum
Most popular output channel: Discord
Top NFT collections monitored on Dispatch:


Bored Ape Yacht Club

CLONE X

Devonta Smith x Endstate

VeeFriends Series 2
We're looking forward to sharing more Dispatch updates with you in 2023.
2023 Predictions
2022 saw a variety of trends and patterns emerge, from social media embracing NFTs to fashion businesses joining Web3. There's no telling how this new year will play out.
However, here are a few predictions we have for 2023:
Emerging Chains in 2023
The increasing adoption of blockchain technology around the world is likely to drive the development of existing chains to scale, and we also expect to see increasing adoption of, or at least experimentation on purpose-built blockchains. This year, we're looking forward to seeing how different chains will revolutionize the gaming, entertainment, and social industries.
Sui Blockchain
Sui is a blockchain platform developed by former employees of the Diem project (formerly known as Libra). It utilizes a Proof of Stake consensus mechanism and the Move programming language, which aims to improve security and address issues with Solidity. Unlike Diem, Sui has gained significant attention. The project is marketed as a tool for debugging, storing and handling accurate on-chain data, and enabling the verification and tracking of assets and contracts.
Sui has gained a significant amount of attention. The chain's purported ability to handle a large volume of transactions simultaneously could position it to meet the demands of applications while maintaining low operating costs.
Aptos Blockchain
Aptos is a blockchain that offers desirable features including a focus on security, high- capacity multi-transaction handling, and scalability. This layer 1 blockchain was developed by ex-Meta employees and is another Move-based project. With support from key players in the industry, Aptos looks set to make an impact on Web3 innovation.
Steady growth of layer 2: Polygon, Arbitrum, Immutable x and more
Over the past year and a half, the layer 2 ecosystem has been growing, with a variety of networks such as Polygon, Arbitrum, Optimism and Immutable X. These protocols offer some great benefits over layer 1 networks, like increased scalability and faster transaction speeds.
These features make them especially useful for industries that need to process a lot of transactions quickly, like gaming and the Metaverse. As more and more projects start using layer 2 protocols, we can expect to see even more creative applications and use cases being developed on these platforms.
NFTs will continue to evolve
In 2023, we can expect to see more practical uses and real-life benefits (utilities) with NFTs. In 2022, we saw major Web2 brands exploring different ways to use NFTs, and it's likely we'll continue to see more experimentation as brands continue searching for new modes of consumer engagement.
We also expect to see more "phygital" experiences, which allow people to own and experience goods and events both digitally and in the real world.
Many of the Web2 brands entering Web3 in 2022 have spoken about Web3 as a new way to connect more directly with their communities, get feedback, and turn that feedback into new experiences. We look forward to seeing what 2023 holds in this arena.
Web3 will transform gaming
Web3 is an exciting new development in the gaming industry, and it has the potential to change the game for gamers around the world. 2022 was an important year for GameFi; from indie game studios leveraging blockchain technology for player data security, to creating games that enabled players to earn while having fun. This year, we expect to see many more blockchain-based projects focusing on building fun, high-fidelity games that can support many users.
CryptoSlate reported that in 2022, the Web3 industry raised a total of $7.1 billion in funding, with gaming being the top category, receiving 62.5% of the total amount invested at $4.49 billion. Web3 gaming is still in its early stages, but there's a lot to look forward to in the coming year. The top blockchain games in 2022 were Alien Worlds and Splinterlands based on Unique Active Wallets.
Web3 games we're keeping tabs on in 2023:
Metaverses will continue to grow
It is likely to see an increase in the number of new Web3 initiatives exploring digital worlds (metaverses). Several businesses are currently developing Metaverse-related projects. To name a couple, Epic Games announced a two billion dollar investment to further its Metaverse goals, while fashion giants like Nike, Gucci, Dolce & Gabbana continue to make inroads.
DeFi will regain interest in 2023
With numerous major hacks and scandals rocking centralized exchanges (CEX) in 2022, we expect DeFi to attract more people in 2023. Unsurprisingly, decentralized exchange (DEX) trade volume has reportedly increased significantly in the wake of the FTX hack. Some of the major CEX hacks that occurred in 2022 include Binance, Crypto.com, and FTX, which resulted in losses totaling over one billion dollars.
These high-profile hacks have likely contributed to the growing interest in decentralized finance (DeFi) as a more secure alternative. We expect to see even more people turning to DeFi in 2023 as a result.
Increased regulation
One result we are likely to see from the FTX fallout is governments around the world trying to exert more control through regulation in the name of consumer protections. This may be good or bad depending on what regulations are passed, as the industry has long been wanting clarity so they can operate within explicit constraints.
Demand for blockchain data & analysis will continue to grow
As Web3 adoption grows and more Web2 companies enter the space, assistance with blockchain indexing and the need for on-chain data analysis grow.
Companies like Nansen and Messari focus on leveraging blockchain data to discover new trends and opportunities. Similarly, Esprezzo Dispatch provides Web3 teams and developers the ability to react to Web3 events in real-time, and use smart contract events as workflow triggers. This can be a time saver for keeping project teams and communities up-to-date on balance changes, NFT transfers, and more.
Want a Dispatch invite?
Currently, Dispatch is invite-only. We're sending out the next round of invites soon, so make sure to get on the waitlist if you haven't already!
📣 Calling NFT project teams
Are you looking for an easier, faster way to index and get access to your NFT's metadata, media files, or smart contract events to provide a better user experience for your team or community?
Do you want a real-time Discord bot to keep your community informed?
This alert can be valuable to your community and can be set up within minutes once your collection is indexed.
If you're a project that would like to connect with us and potentially be integrated into Dispatch, reach out to us!
Welcoming the New Year! 🎆
Since this space is still in its early stages, there is plenty of room for experimentation and the emergence of new challenges to tackle. As Web3 evolves and matures, we expect to see even more adoption and a wider range of use cases this year.
Our team is looking forward to all the possibilities that 2023 has to offer. We're excited to connect with new builders and teams, as well as continue our progress with Dispatch.
Follow our Twitter to stay informed about our latest updates, and come say hi to us on Discord!
Here's to a successful new year!